What are the pros & cons of SEMrush?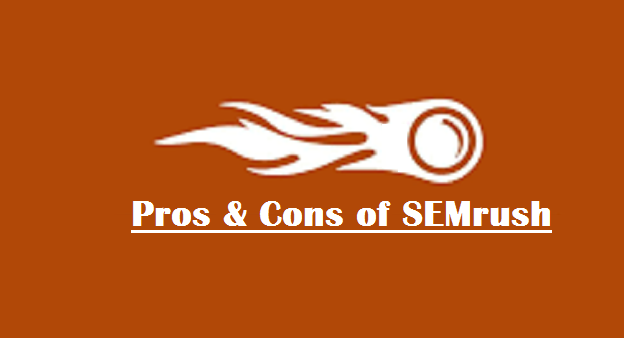 In the digital marketing world, it is very significant to take the help of the right SEO tool for your digital marketing management. SEO tools are what help you in gaining a competitive edge over your competitors. One such tool is SEMrush.
SEMrush: A tool for digital marketing business!
SEMrush is a digital marketing tool that is universally used by SEO professionals for their digital marketing strategies. It helps SEO professionals in giving them full visibility into traffic coming from multiple communication channels. It also gives insight into the effective marketing approach to marketers. SEMrush provides valuable information, data and competitive research to marketers. You can also say it is all-in-one search engine optimization (SEO)/search engine marketing (SEM) for digital marketers.
Furthermore, SEMrush calls itself "more than a keyword tool". Why? Because it includes competitive business intelligence data, social media listening tools, position tracking, site auditing, and backlink auditing capabilities. It is a leading and powerful marketing tool for digital marketers to do SEO for the website. Nevertheless, before you use this tool for your digital marketing business you first need to look at some of its pros and cons.
The pros of SEMRUSH!
Following are the pros of SEMrush SEO tool.
– Strategic Advertising
SEMrush helps you to advertise your brand products. And you can compare your advertising approach with those of your rivals.  By doing so, your brand can find what makes your competitors popular with consumer advertising wise. It also allows you to adjust the budgets that you spend on ads.
– Audit of Backlinks
Backlinks are very important for any SEO plan. And professional SEOs know how important they are. SEMrush provides external and internal links on your site and those backlinks to your website. It also suggests healthy and authoritative websites that would be a boon to your website's SEO.
– Expands Social Media Reach
Social media is a very big chunk for consumers. These platforms can be utilized to maximize customers' engagement.  It can also help you to measure the performance of a brand's social strategy. You can find better ways to reach out to your audience.
– A report for Paid Advertising and Keyword Tools
SEMrush shows you the importance of its keyword research when it comes to PPC. You can use Google Ad words, Bing Ads. It helps you in rating keyword difficulty and suggests long-tail keywords.
The cons of SEMRUSH!
Following are the cons of SEMrush SEO tool!
– Time-Consuming
Keyword list and management database is extensive in SEMrush. While researching keyword, you may find yourself sitting through a long list of hundreds of pages of keywords. It is indeed a hectic task to deal and manage an extensive list of keywords.
– Absolutely Technical
This tool is truly meant for SEO professionals. Though it is very straightforward and easy to use yet it is too technical for many startups and business owners to use it on their own.
– Lack of White Label Reports
You will not find any white label report in SEMrush. But you can find the option for 'branded reports' where you can use your own logo. It is really disappointing for SEOs as the ability to create white-label reports is indispensable for them.
Conclusion!
SEMrush is a wealth of information for SEO professionals. It is the best SEO tool that can help you to rank your targeted keywords and backlinks. You can say it's your tool kit to build and improve your website from content marketing and SEO perspective. It is the world's leading competitive research service for online marketing.  Nevertheless, you still need to focus on the pros and cons before using it.
If you're serious about researching and growing your online business, then do not skip SEMrush! For more interesting articles get in touch with us.
---