Ways to Get a verified badge on Instagram?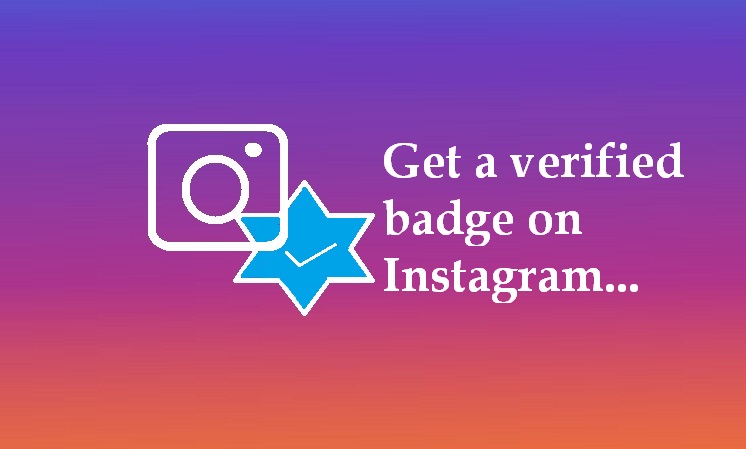 "I want to be verified on Instagram" any business person would say this if they have an account on Instagram. Every social media marketer wants to get verification but it can be confusing to figure out how to get that little blue check for yourself. So if you also want to know how to get a verified badge on Instagram then you have come to the right place. In this article, we will talk about different ways through which you can get your badge verified on Instagram.
Let's dive in I will start with the basics below.
What actually Instagram verification means?
Put simple, Instagram verification is a simple establishment of your account as the "authentic presence of a notable public figure, celebrity, or global brand." So any Instagram verified account gets a verified badge. How does the verification mark appear? The verification badge is basically a blue seal with a little checkmark that appears next to the username on profile. So whatever account you have either personal or business, you can apply for a verification badge.
Basically, the blue check helps people find the brands or public figures they want to follow. It makes sure that people find real accounts of people they are looking for. No doubt, the verification mark is a status symbol.
So let's learn the different ways to get Instagram verification.
Follow the process below to get a verified badge on Instagram
The good thing about verification is that it only takes your few minutes. So follow the easy steps below.
#Step 1: Log in
The first step or you can say way to get Instagram verification is to log in to your Instagram account. Without logging in, you can't even think of applying for a verification badge.
#Step 2: Request for verification
So how do you request for verification? Firstly, you need to tap the menu icon in the top right corner of your profile. Then click the setting gear icon at the bottom of the screen. Now tap account and after that finally tap request verification. So here completes your second step for requesting verification.
#Step 3: Confirm your identity
So to confirm your identity, you need to fill in your full name (as appearing on your government-issues identity), fill in the name of your company as people know about you. And also choose the category such as news/media, business, brand, sports, politics, music, fashion, entertainment, influencer, blogger, organization and any other.
Also, upload a copy of your government-issued photo ID or an official business document. Any individual can use a driving license, passport, or government-issued identity card. Or if you are a business, you can use tax return, utility bill of your company name, or any article of incorporations. Also, make sure that the name on your document matches the name you entered above.
Now you can tap the send button. Once you click on the send button, Instagram will review your application for verification. They will look to confirm the authenticity, uniqueness, completeness, and notability, of your account. So after verification, Instagram checks whether your account is approved or not. The notification you will get however remember that Instagram never asks you to pay for verification.
Here are some tips you can follow to get verified on Instagram
Why I am also providing you tips because anyone can apply and submit a request for Instagram verification. But Instagram is very concise it will accept your verification until your account is not appealing. Therefore follow the tips below.
#You should have a great bio
So bio is the pillar of any profile. And Instagram looks for a complete profile when deciding whether to verify your account or not. Therefore, you need to make sure that you complete all the Instagram biofields with accurate and relevant information about yourself and your business. Ensure that the information you provide is authentic.
#Always be honest
Honesty is also one of the most significant pillars of any business. Here you need to make sure that you are being fully reliable, trustworthy, and accurate in all stages of the Instagram verification process. So use your real name and select an accurate category for your account. The most important thing is to use a real and authentic document. Don't make any changes to prove your identity.
However, if you think that you can cheat or fool Instagram then it specifically says, "If you provide false or misleading information during the verification process, we will remove your verified badge and may take additional action to delete your account."
#Post content regularly
Posting content on any site is very important. And Instagram also says that you have to have at least one post to be considered for verification. But practically, you should not apply until you have a more robust Instagram presence than that. To boost your chances of getting the blue badge, ensure that your post new content regularly. This actually increases the chances of getting the badge as soon as possible.
#Make sure you have a presence outside of Instagram
Having an account on Instagram, in the beginning, might not fetch you lots of followers. You need to ensure that you have a presence outside Instagram also. How do you do that? You need to make sure that your website or blog is optimized to appear in search results. Furthermore, to grow your online marketing, you can also guest post on other blogs or sites. This actually will help you get more followers on your Instagram account.
The bottom line
There is no doubt that getting an Instagram badge is a matter of honor or pride. It actually looks cool and makes you feel important on the platform. However, you can only achieve if you follow the process mentioned above. Furthermore, don't think that if you apply for the verification you will get it in jiffy rather you need to ensure that your account is reliable, trustworthy, and provides accurate information to people visiting your account. So be the authentic, honest, and transparent to get a verified badge.
For more informative articles subscribe our website, till then keep reading.
---