Update Your WordPress with 5.5.1 maintenance Release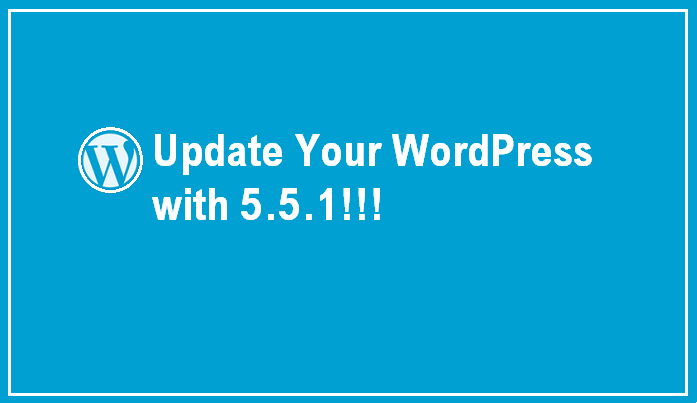 Are you a WordPress user? If you are a digital marketer or site owner I am sure you are using WordPress. Tell me did you update your website to 5.5 versions which launched in August 2020? If you upgraded your site then I am quite sure you might have faced some issues in it, right! Why I am saying so is because many user's sites have stopped working after updating to WordPress 5.5.
Are you also facing this problem in your WordPress site? If yes then I have good news for you. Do you want to know? So the good news is that now you can update your WordPress site with the new 5.5.1 version which is a maintenance release. Are you gear up to know what features this update brings in its bucket? Yes, let's jump in now. I will talk about every minute detail of the update and WordPress below.
WordPress new version 5.5.1 maintenance release is launched
On September 1, 2020, WordPress released its 5.5.1 version to fix the issues of WordPress 5.5. This new version is a maintenance release that fixes issues that broke millions of websites. This version is designed to serve as a patch to give time for plugin and theme developers to update their software.
The release includes 34 bugs fixes, 5 enhancements, and 5 bug issues, for the block editor. So the users who have updated to 5.5 and have automatic background updates enabled, the 5.5.1 maintenance release is automatic. The new version only released so that it can stop sites from breaking.
What are the issues found in WordPress 5.5?
WordPress 5.5 released in August 2020. Soon after its release, users started reporting issues they were facing. WordPress described the issues in a statement, "In WordPress 5.5 the global JavaScript objects listed below were removed without being deprecated. WordPress 5.5.1 adds a backfill for these globals so they no longer cause JavaScript errors."
Some other issues which made the users experience much cheaper are:
Users faced disabling of jQuery Migrate in WordPress 5.5 due to which many users encountered broken WordPress after trying to update to 5.5.
In case you don't know what jQuery Migrate is – it is a well-known JavaSript library used in themes and plugins. Developers use this to help older code run correctly.
So the company removed jQuery Migrate and encouraged developers to stop using deprecated code. This is one step that was taken in WordPress transitioning to using a currently supported version of jQuery.
When jQuery was removed, JavaScript errors occurred which stopped JavaScript from running. This caused WordPress sites that relied on plugins and themes using jQuery Migrate to stop working correctly. This issue thought to be small but it affected millions of WordPress 5.5 sites.
WordPress 5.5 version affected millions of sites negatively. This is the reason why WordPress 5.5.1 maintenance released on September 1.
Now look at the list of plugins and themes affected by WordPress 5.5
As per the Google Spreadsheet of themes shared on WordPress Core blog, more than 80 themes were affected by the removal of jQuery, Migrate. The list of affected these are:
Neve + 100,000 users
Storefront +200,000 users
ColorMag +100,000 users
Zakra
Hueman
Astra +1 million users
Customizer
Hestia +100,000 users
Responsive
Shop Isle
Colibri WP
Futurio
Airi
Some of the affected themes have already been fixed.
List of affected plugins with millions of users
Advanced custom fields +1 million users
SiteOrigin Widgets Bundle +1 million users
Ninja Forms contact form – the drag and drop form builder for WordPress +1 million users.
Child theme configurator
Max Mega Menu
Polylang
Ocean extra
WordPress SEO Plugin – rank math
Content views – post grid & list for WordPress
WooCommerce Services
Gutenberg block – Ultimate Addons for Gutenberg
Nextend social login and register
Though the list is not yet end, there are many more plugins that are affected by WordPress 5.5. Some of the plugins have already been updated, and others are on the list of updates.
As a WordPress site owner, what you need to do?
As a site owner, the only solution is available for you is update your WordPress 5.5 site to 5.5.1 immediately to receive the patch as well as other bug fixes, enhancements, and updates. Therefore, site owners and users who maintain their site should apply the given points below.
Try to find out what steps the developer plans to take to fix their code
Conduct an audit of the themes and plugins on your site.
Make sure to research online or contact plugin and theme developers to learn whether their product impacted by the 5.5 version or not.
If you are not planning to fix any issue, then identify an alternative theme or plugin that provides the features you want.
Let me tell you that the 5.5.1 version resolves the issues so JavaScript doesn't break. Developers must update their themes and plugins code.
How you can upgrade 5.5.1 maintenance release to your site?
To upgrade the WordPress 5.5 version into 5.5.1 version, you can directly download it or visit the Dashboard > Upgrades screen and click Update Now. In case, your site supports an automatic background update, then the update will automatically start. With this process, you will be able to upgrade WordPress 5.5.1.
The bottom line
WordPress 5.5.1 is a great solution for the bug issues, themes, and plugins which got affected in WordPress 5.5 release. As a WordPress user, you can upgrade your site and fix the issues. Let me also tell you that WordPress 5.5.1 is a short cycle maintenance release. The major release will be version 5.6 and 5.7 which might schedule in March 2021. So till then keep waiting for new updates in WordPress.
For more updates subscribe our website, till then keep reading and keep sharing.
---