Top 5 tools which will Help You Find Duplicate Content on Website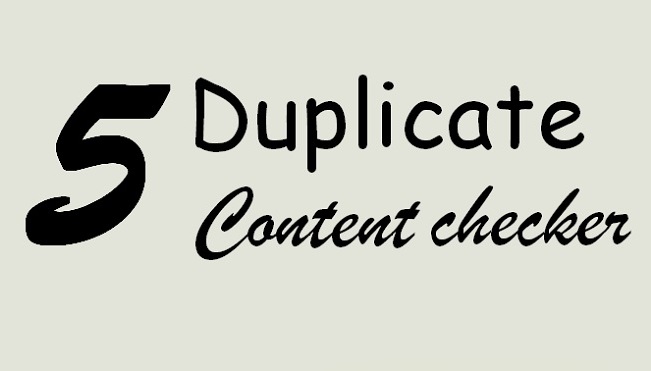 Do you know when your site becomes successful and ranks top on SERPs? The success of every site depends on high-quality, informative, and original content. As a website owner, your duty is to check that there's no plagiarized content on your site. In case, you don't know then let me tell you that Google and other search engines can penalize your site for containing duplicate or copied content. How do you get it from this problem? What is the way to check duplicate content and remove them? I am going to discuss about some tools to help you find duplicate content on your site.
Wanna know what these tools are? Read below the best 5 tools to help you find duplicate content on your site.
Top 5 tools will help you find out duplicate content on your website
1. Grammarly Online Plagiarism Checker
Grammarly is a known name in the digital marketing world. I kept it on the first number because it is highly in demand. Grammarly is the best tool for all the marketers, writers, webmasters, and SEOs to quickly check if the article is original or copied from some other source. If you're a website operator and want to check your content writers not copying the content from other sources, then Grammarly is perfect for you. Furthermore, this is a multi-feature tool for all the webmasters out there. You can use the tool to check the originality of the content. You can also check the spelling of the article.
2. Duplichecker
The second tool that comes in our list is Duplichecker. This is also a top-rated online plagiarism checker mentioned by Google query. The one good thing about this tool is – it's free and easy to use. It offers three plagiarism checking options:
You can copy/paste text
Upload file
Enter the URL of the web page to check
This tool helps you in deep research of the article and provides a comprehensive plagiarism report sheet. If your content contains duplicate words or line then it will be displayed in a unique percentage. You can also get the result printed.
3. Plagiarism Detector
Plagiarism detector is the third-best tool in the list of duplicate content checker tool. This tool is also a free and accurate one. You can find it on plagiarismdetector.net. Here you have option to copy-paste text, exclude URL, and check by URL. In the left column you will see the entered text and if there is any plagiarized sentence then it will appear in red color. The plagiarism detector is the best tool for scholars, students, writers, and teachers. Therefore you can use this tool to make your content authentic one and save your website from getting panelized by Google.
4. Copyscape
The fourth tool in the list is Copyscape. This is one of the oldest and popular plagiarized checkers. How do you find duplicate content here? You just simply need to URL to duplicate content. Moreover, it's a fast and cheap tool. Copyscape is the best tool for webmasters to analyze whether their site contains duplicate content or not. So when you add any URL, you will get a detailed report having copied content appear in red color. In addition, you can also buy a subscription to the tool for a nominal fee to check the plagiarism.
5. Quetext
The last and final duplicate checking tool is Quetext. This is also a free plagiarism checker tool. You will also see the paid option for checking more words. The tool will scan your website, academic papers, and books to find for duplicates. Here you get cite sources that will help you give credit to the original sources in case if your author didn't mention or add it. Here the pro plan starts with $9.99/ month and offers unlimited searches. The free plan is limited to 3 searches and 500 words per search. However, in a pro plan you get 25,000 words in a single search. Thereby, you can upload files to check for duplicate contents.
Final words
Guys, one thing you need to understand is that if your site contains duplicate contents then soon your site will be plagiarized by Google. Therefore, it is good for you and your site if you take the help of duplicate content checker tools to resolve this problem. Above I have shared the 5 best duplicate checker tools. You can choose the one which you find most helpful to fulfill your requirements.
For more informative articles get in touch with us, till then keep reading and keep sharing.
---