Tips and Tricks to personalize your Google Chrome browser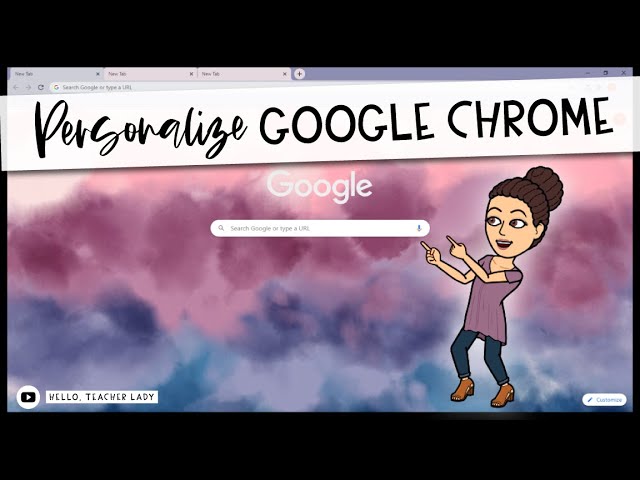 Google Chrome is one of the top priorities of smartphone and PC users in digital industry. The Chrome browser launched back on September 2, 2008 since then it has gone through a lot of changes. Google has introduced a lot of new features that are good to enhance user's experience. Now what user experience it enhances? First tell me, did you know you can customize the look of your web browser? Yes guys, not only can you change the colors of your toolbar or tabs, but you can also change the background of your Google homepage. Moreover you can bookmark anything and add your own theme without screwing up anyone else's account. So this is the quality of Google Chrome which allows you to personalize the experience based on your preference.
Now the question is how to personalize Google Chrome? In this article, you will get the answer to this question. I will enlist some tips and tricks that will help you personalize your Google Chrome Browser.
So let's now have a look at below given list right away.
Follow the given tricks to personalize your Google Chrome Browser
1 Create your Chrome Account
The first step in personalizing your Chrome browser is to create your Chrome account. Unless and until you launch the Chrome, you can't personalize it.
In this step only, you need to look for the little button in the top right of the page. It may hint at the person one or name of the person you share computer with. Just click on it, you will see two buttons i.e. 'Switch person' and other is 'Go incognito.' You need to select 'Switch person.'
Now you need to log into your account. In case, you don't have Google email account, create one. Your name will appear after you sign in.
2 Include a Theme
To add theme of your choice you must look for an icon in the bookmarks bar highlighting apps. After clicking on this you will get to see many apps like Google Drive and Google Docs. You must click on app named as "Web Store."
Now in the search bar type 'themes' just keep scrolling until you find the themes. Once you get it, click on it.
Download the theme of your choice. Many themes you will get for free and many will be paid. You can move ahead with paid and free themes.
Now go to a new tab, and look at new theme if you didn't like the current one. You can repeat this process unless and until you find the theme of your choice.
3 Include Bookmarks
Whenever you like any content, website, or page, you just want to save it so you can read it in future. On Chrome you will find the grey outline of a star in the search bar. Just click on it. You can repeat it for many other favourite websites. By doing so, you will be able to access to these sites very fast.
Just make sure you keep the bookmarks bar visible. So right click on a blank space on the bar, click on "show bookmarks bar," finally go to website to make sure the changes are saved.
Above three steps are amazing ways to personalize your Google Chrome.
Now have a look at some of the tips of Google Chrome
– Go Incognito – Secret Mode
Incognito is the secret or private mode of browsing. In this way, Google doesn't record your browsing history, data, download history, or anything you search. So whatever cookies are stored during the incognito mode will automatically delete when you close the browser.
You can launch incognito by pressing Ctrl + Sift + N, or go to Setting > New Incognito Window. One of the practical use for this mode is to log in to the same site using two accounts.
– Use Omnibox
The URL address bar where the link of any website appears is called Omnibox. However, the URL address bar in the Chrome browser is not only to enter your URL, you can also type the keyword you want to search and press enter, this will perform a Google search.
Additionally, you can perform calculations or conversions directly in the Omnibox.
– Change background image
If you don't like the default background images of Google, you can always change it by going to http://image. So go to Google, click on the change background Images. Log in with Gmail users and upload the images.
The way forward
Guys, Google Chrome is the number one browser dominating digital marketing sector. And growing number of users are making it the most preferred browser across the world. Google Chrome provides a great user experience with its features if you utilize and personalize it. Above I have mentioned ways and tricks to personalize Google Chrome; you can follow them and enjoy the personalized experience.
For more such interesting articles, you can Subscribe our website. Don't forget to share it among your friends.
---