Things to know before using 'Delete For Everyone' feature on WhatsApp.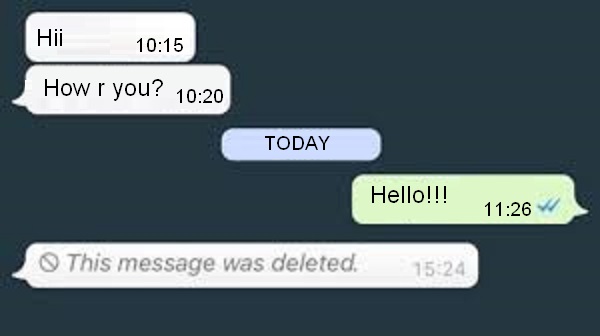 Have you ever sent a message to someone on WhatsApp and delete it immediately? Well, it's the normal thing to happen with all of us. Sending funny messages don't really matter but sending something which is offensive, disgusting, or irritating can be embarrassing. And the only solution to save oneself from being embarrassed is to delete that message before the person could read it. Thanks to WhatsApp's "Delete for Everyone" feature, as you know that this feature gives you a chance to delete a message both for yourself and the person you have sent it to. WhatsApp lets you delete the message immediately or within the time limit of one hour that's why message sent more than one hour back can't be deleted for everyone.
Though I personally like this feature of WhatsApp, it comes with some set of loopholes which Facebook-owned messaging app has revealed some information that you need to know before using the delete message feature.
Just read below.
Things to know before using "Delete For Everyone" feature
– Latest version of WhatsApp
The first point to look upon is version of WhatsApp. Both sender and recipient must be using the latest version of WhatsApp in order for message to be successfully deleted. This feature will only be availed if you have the latest version of WhatsApp installed in your phone. Moreover, this situation becomes more problematic when you try to delete message in a group chat as all member may not have the latest version.
– WhatsApp feature might not work for iOS photos/videos
Why this feature doesn't work for photos and videos? Actually it does delete the photos and videos sent by you but the people who are using iPhone automatically saved the picture in the gallery. So even if you delete the photos/videos, they get saved in the gallery and able to see. By default iPhone's privacy policy doesn't allow WhatsApp to access the gallery. Make sure to send something which is relevant.
– Recipient may read the message before you delete it
This situation is quite obvious. It happen many times with me also. No matter how fast you are deleting the message but there is always a chance that the recipient may have seen the message in his notification or he has the chat open. There's nothing you can do to avoid this situation. So try to send messages which you feel the most relevant for the person you're sending to.
– Time limit is 1 hour to delete the message(s)
In the introduction of this article, I have told you that you have only 1 hour to delete the sent message. This is the time limit given to you to fix your problem. Let me tell you that earlier this option was available for 15 minutes only. So make sure you delete your sent messages before it gets too late for you.
– WhatsApp doesn't notify you about the deleted message
By this I mean, if you try to delete message and for some reason it doesn't get deleted then WhatsApp will not notify you. So in case if you are able to delete the message for everyone from your side, you will not know for sure if the person was able to see it or not. This could be a critical situation for you, if you sent something which is irrelevant and hurting.
– The recipient will be alerted about the deleted message
How this happens? Actually when you delete the message from recipient window, they will get a notification like "This message was deleted" and in any way you will be interrogated about the deleted message from the person you sent. Thereby you will have to answer your recipient queries. So make sure you avoid this scenario to happen.
Over to you!
All the above points are worth considering before you start using the feature called "Delete For everyone." At last I would only say that the feature is quite good until you keep the above points in mind and do accordingly. So make sure you abide by these information revealed by WhatsApp about the feature. Though you can utilize this feature yet you need to pay attention to messages sent by you.
Kindly comment below to let us know how you find this article. For more information get in touch with us till then keep reading.
---