SEO Tips to Become T-Shaped Marketers!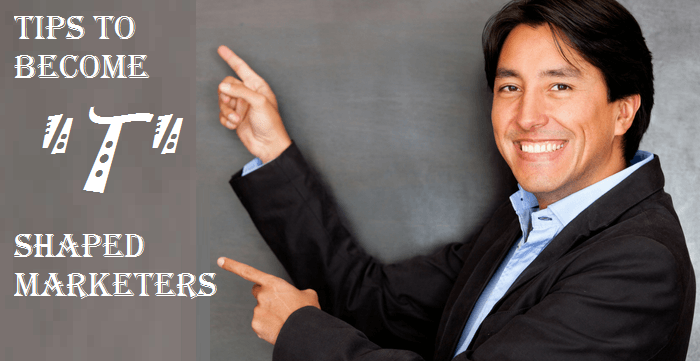 Digital marketing is a very broad category in the present era. And we can say there is an abundance of opportunity to specialize as a marketer. But just being a marketer will work for you? I would say 'No'. Because nowadays what's in a trend is T-shaped marketer. You don't know who T-shaped marketer is?T-shaped marketer helps you figure out the foundational skills you need and what channels you become an expert in. Sounds interesting, right! To know more about T-shaped marketers, just keep on reading!
Who is a T-Shaped Marketer?
The T-shaped marketer is a digital marketer who has complete in-depth knowledge of the function of marketing. He understands the overall function of marketing. You can also say T-shaped marketer is a 'jack of all trades' as he has a good amount of knowledge in all other aspects of marketing but in a depth deep understanding of one or few specific channels.
Therefore, having huge knowledge in digital marketing, T-shaped marketers are also hired by both small and big companies.
So, if you want to become T-shaped marketer then you must know some SEO tips that will help you in becoming T-shaped marketer.
Some SEO Tips to Become T-Shaped Marketers!
Following are the SEO tips to become T-shaped marketer. Just read them to have some idea.
– Know your audience
It's essential to know your audience well as everything starts with understanding your customers and your audience. And if you're well-versed in behavioral physiology, you can better understand why people do, what they do. It's a handy skill in almost any job, if you want to know why people click, like and share.
– Digital knowledge
You can say it's the best attributes of a T-shaped marketer in the breadth of knowledge acquired across digital tactics. Once you have digital knowledge, you can bring elements of creativity within your organization as bringing search marketing knowledge to your team of developer.
– Understand Technical marketing
You need to understand the technical field of architecture of a mobile or a website or to create a product feed to their affiliate channels. You must learn to implement changes to a website or mobile that embraces the need to interact with your customers.
– Research
The term 'research' is very essential for any marketer as you need to understand and serve your customer's needs. The research includes knowing your audience and their experience, their will and their queries.
– Have knowledge of organizational integration
According to a recent survey by Econsultancy, nearly 90% of respondents describe integration as "necessary and inevitable". It's important for a t-shaped marketer to understand the organizational integration to provide the vision and knowledge to an organization in understanding the number of various digital channels.
– Data and Analytics
To become a T-shaped marketer, you need to have a proper understanding of data with the aim of gathering insights, informing conclusions and decision-making.
Way Forward!!!
I hope now you have complete knowledge about how you can become a T-shaped marketer. Understanding above mentioned SEO tips for T-shaped marketer will help you determine which skills you can refine and which direction to grow in. So, make use of the above SEO tips to level up your skills to become a better T-shaped marketer. Becoming a T-shaped marketer will aid you in your marketing career. You will also get hired by companies specially startups.
For more info kindly get in touch with us, till then keep reading.
---