Quora Advertising: An affordable advertising platform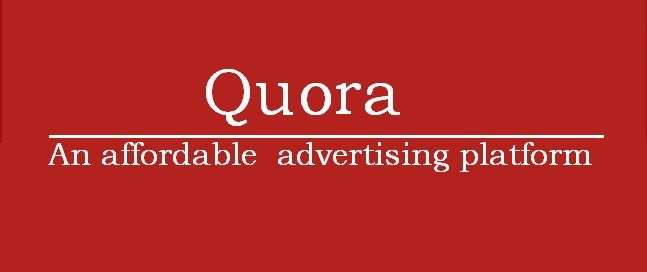 Quora advertising- how you ever heard about it? Quora becomes the most popular platform for advertisement after Facebook ads and Google Adwords. No wonder, today, marketers want to stay up-to-date with the latest, innovative offerings for paid digital marketing traffic. Though Quora was launched back in 2009 with the aim to share knowledge in the form of question/answer, now it has become an advertising platform. Did you know you can also advertise on Quora? If you are looking for a new online source of leads and customers then Quora is best for you.
In this guide, you will learn how affordable Quora advertising is. So just stay with this article and read it till the end.
Let's start with 'what'.
What is Quora advertising exactly?
Put simply, Quora ads is a self-service platform that enables users to create an ad account and begin running ads on Quora. So any advertiser can run ads by providing the company meets and following advertising policy guidelines. The platform enables advertisers to target specific topics and questions on Quora. Furthermore, you can also create and target based on pixel data. Advertisers can also create text or image-based ads.
Talking about the price of ads- ads are actually based on a cost-per-click basis. However, different factors are considered while determining CPC. In fact, advertisers can set daily and lifetime advertisement campaign budgets to pace spend.
So after reading about the concept of Quora advertisement let's move further and learn how Quora advertising works.
How does Quora advertisement work?
You all know that Quora is all about question and answer, right! And advertising on Quora is an amazing way to the international target. Why I am saying so is because the majority of Quora users are American. So undoubtedly, Quora ads is an amazing platform to get in front of your potential customers during the awareness and traffic generation stages of your marketing funnel. How does it actually help? It helps you build authority on topics; trends, drive traffic to your site, and finally, help you enhance your website conversions.
Don't forget guys, Quora is a self-service platform where advertisers can create native ads, text-based ads, target users by interest, geography, or platform mobile, desktop or both.
How your ads will appear? Basically, your ad text ill shows up under the main question. The ads on Quora are available on an auction basis which means they want advertisers to specify a bid value they can pay for a click. So it is actually the same concept as Google and Facebook ads pay per click.
If you're still reading the article then know about the advantages of Quora ads below.
Advantages of advertising on Quora
Quora has many advantages when offering you an option to advertise on it. The advantages are:
First of all, Quora is a cheap and inexpensive advertisement platform. The advertisement cost on Quora is very affordable as compared to Google and Facebook ads. However, the average cost on Quora is about $6 on some topics but if you're in B2B, the cost is nothing for you.
Using Quora for advertisement means your ads will show up in Google search results. No doubt, Quora will surely become a valuable platform for traffic driver for your website and blog.
Quora is a sophisticated platform where high-quality content is published and based on the topics ads are placed to target audience. This is actually the right way to target audience with your message.
As I told you the majority of Quora users are American basically foreign so advertising on Quora means targeting international audiences also.
Guys, Quora currently has 300 million active users which are very important for every marketer to target these users through their advertisements. Therefore, learning the tips to advertise on Quora is crucial for you all. Below are some significant tips you should use to advertise on Quora.
Effective tips to advertise on Quora to drive traffic
First of all, you need to create an aesthetic and a beautiful profile on Quora to show your ads.
Now try to find questions that have a lot of views and followers.
After finding questions, it's time to create authentic answers. Make your answer look like an article and make it feel like a cool story.
Don't just post text answers rather try to embed some interesting pictures and videos in. It will make your content visually attractive.
You can also include links to your website or blog covering the subject in depth.
You need to stay consistent and up-to-date for posting content on Quora as you don't want your audience to forget about you right.
Quora is a great advertisement platform since the self-serve ad platform rolled out in 2016.
Final words
In this final section, I just want to say that advertisement on Quora is one of the best ways to promote your business. In fact, Quora can help to keep an eye on the competitors. As a B2B and B2C business, you should consider testing Quora ads. I would say this is the new best platform to discover different trends in the market and to explore new ideas. Overall, Quora offers a solid offering for advertisers looking to promote a niche product. So what are you waiting for guys? If you don't advertise on Quora then it is the high time to give it a shot.
For more informative articles subscribe our website till then Happy Quora Advertising!!!
---