Pros and Cons of using the Linkody Tool.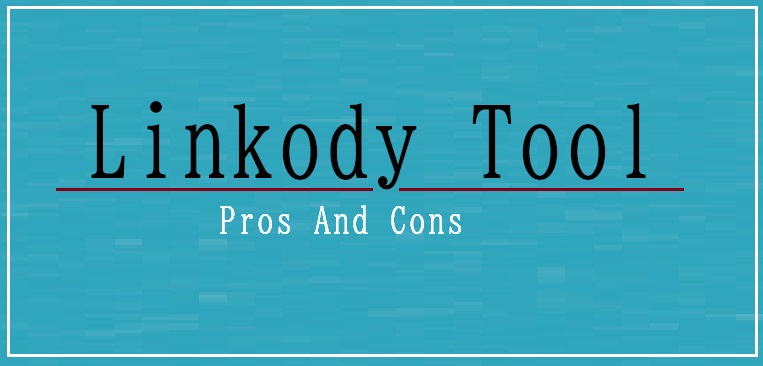 A backlink is one of the most important factors of SEO efforts. They represent the value of your page. Google and other major search engines consider backlinks "Votes" for a specific page. Let me tell you that pages with a high number of backlinks tend to have high organic search engine rankings. If your site doesn't contain any backlink it will be difficult for search engines to index your pages. And without backlinks, you are out of track. This is the reason webmasters use link building and link checker tool for their website. One such tool webmaster likely use is the Linkody tool. You might be using this tool irrespective of its pros and cons.
Even if you are not using this tool but knowing its pros and cons will help you in the future. Who knows you might end up using this tool. So let's start the article with the basics first.
What is Linkody Tool?
In very simple words, Linkody is a backlink checker and monitoring service tool. It is actually a search engine optimization (SEO) software solution for all the webmasters. The ultimate goal of Linkody is to simplify the link building process by helping you gain a better overview of your efforts and help you save time. Moreover, the tool provides a clear view of your website's backlink profile. It also makes valuable SEO data more readable and actionable to non-SEO-savvy business owners.
No doubt, the tool is best for all businesses which help with location tracking, link analysis, social sharing, white labeling, link building, backlinks checking, and many more.
Now let's move further and talk about the Pros of Linkody tool.
The Pros of Linkody Tool
– Landing Page Tracker
The first pro of using the Linkody tool is that it can measure the number of backlinks to each of your landing pages. It can also check the status of each page along with details like page title, URL, and Meta description. In addition, the tool also allows you to set a target keyword for every landing page. This is useful for measuring their on page-optimization for click-through in SERPs.
– Ease out the link monitoring process
Another pro of using the Linkody tool is that it simplifies the link monitoring process of your site. The tool majorly focuses on backlink profile monitoring and analysis. Its backlink tracking features are far more clarified than others as all containing SEO efforts. Linkody has the ability to keep all content organized on a single page.
– Highly cost-effective
The Linkody tool is highly cost-effective despite the significance of backlink profile management in SEO. Its entry pricing plan starts at $14 per month only. It makes it a very affordable tool for small marketers. However, the pro plan starts at $49 per month which lets you track up to 20 domains and 5000 monitored links
– Competitor research
The next pro of the Linkody tool is that it is very helpful when it comes to competitor research. You can use the Linkody tool to track the backlink profile of competitors. With the help of this tool, you will be able to cut up their anchor text strategy and find out where they are getting their backlinks from. Once you follow the complete process, you will be able to see the full backlink profile of your competitors along with all the metrics.
– Linkody offers a great support
Yes, guys, Linkody is a great tool as it offers great support to users. It has a very high design and supplies a lot of useful data. It also provides the best customer support as the tool support answers within minutes. Anyone can use this tool if they want to get great customer support.
Let's now move on to the cons.
The Cons of Linkody
– Improvement is required in user interface
If you use Linkody, you will see that the user interface of it is less satisfying. Unlike new platforms, Linkody is slightly outdated and is less responsive. Basically, you need to manually refresh the page to view results when conducting a backlink profile analysis. You can see that developer might have cut some corners in the design department.
– Reports you get after 24 hours
Yes guys, if you want to get final reports then you have to wait for one day or 24 hours. It is because Linkody generates 24 hours after your first request. There is no doubt that the report can create a big issue for SEO teams. It is because SEO teams are required to deliver timely reports to their clients.
– Occasionally crawl errors
Crawl error is one of the most annoying problems one can encounter in their website. And Linkody tool occasionally shows crawl error you might receive a warning with hundreds of errors. Checking each of the errors means the consumption of a great amount of time.
The bottom line 
Linkody is a great backlink profile monitoring tool easily available in the market. It does a great job of collecting backlink information effectively and efficiently. Also, it does have a few cons which slow down its performance for large companies. But it delivers everything it promises. Overall, it is a great cost-effective tool. Without having any doubt, you can use this tool for your website backlinks.
For more interesting articles subscribe our website, till then keep reading and keep sharing.
---