Pros and cons of using "iMovie".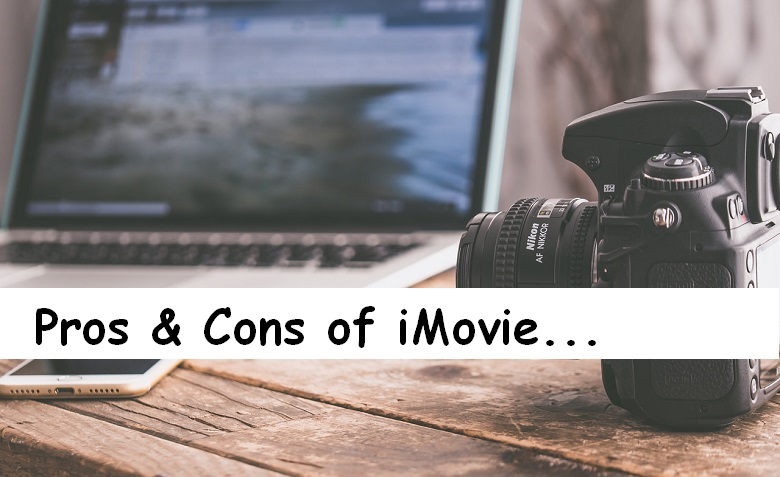 Are you an iPhone user? If yes, then you would be familiar with "iMovie" for sure, right. Even if you don't then there is no big problem because in this article you will learn a lot of iMovie. First of all, who likes making videos, doing editing, recording video clips, and creating amazing pictures? I would say not everyone likes doing this but those having iPhones must know that iMovie is the software that provides you all these features. As an iPhone user, you would be operating this software but do you exactly know what could be its pros and cons? If not, then stick to this article and learn about it.
Before I talk about pros and cons of iMovie, first let's have a brief introduction if iMovie itself.
So let's make a start.
iMovie – a little introduction
Put simply, iMovie is a video editing software developed by iOS and macOS that can create a complete storytelling movie. You can do it with credit rolls and studio logos, using photos and videos. iOS and macOS users can use iMovie to make videos commemorating special memories, moments, and sceneries and then share with their family, friends, and relatives. So you can say that it is actually a way for them to exercise their creativity with Hollywood-like trailers.
In fact, iMovie is specially made for all Apple products including iPad, iPad 2, iPhone 4, Mac, iPod 4, etc. In addition, you get accessibility to themes and templates to customize for your unique trailer. However, like any other products, iMovie too has its Pros and Cons that you can't afford to avoid.
So let's talk about pros and cons of iMovie below.
The Pros of iMovie
# A very user-friendly interface
The first pro of iMovie is the user-friendly interface. Apple knows that not every person is tech-savvy who can understand the technical part of everything. Some people have zero experience or knowledge therefore Apple provides you very-user friendly interface. It means any ordinary user can use this tool to create and edit videos. iMovie offers great tools for creating great videos so that anyone can easily identify and use them.
# Easy sharing
Another pro you have here is easy to share features. iMovie makes it easy to share its users to showcase their skills and share their moments with other people. But users need to use iCloud Drive, video sharing platform, AirDrop, and social media platforms to share the videos they produce with their friends and family to a wider audience. This will ultimately create a big persona of your skills on a digital platform.
# Easy to learn
The next pro of iMovie is that it is very easy to learn tools no technical knowledge or experience is required. With iMovie, you can easily and quickly import video files and begin working with them. You can add photos, music, transactional effect, voiceovers, with drag and drop ease. So any person in possession of an iPhone, iPad, or iPod can easily use this tool.
# Effects and enhancement
This is another advantage of using the iMovie tool in Apple devices. iMovie can improve your video when you use the system's built-in special effects and video enhancement features. You have ten filters here to choose from. Eight themes with music and sound effects. You can also add any of your favorite sound to the video.
The Cons of iMovie
# Requires high level of HDD space
Though iMovie is a simple and user-friendly tool, it has some disadvantages that make it a complicated tool. The basic video in iMovie is close to 1 GB in size. It actually makes the platform a little slower and takes up plenty of storage space. There is also an option to compress video to reduce their size.
# Importing MP4 files for editing is complex
Guys, iMovie is not designed to work with certain MP4. It must convert to H.264 codecs for the best results. However, if you change the codec, it will take only a couple of minutes. But other extra steps for editing might be annoying for you.
# Costly app
This is a major con of iMovie as some people don't find iMovie worth using at all for the cost it charges. Therefore, people think that it is not worth paying for. The cost of the tool is around $4.99. So this con makes the tool-less worthy for users.
The final words
Guys, iMovie is a great video editing tool you can have in your iPhones devices. Though the tool is only for personal use, not for professional use. Every day millions of videos are posted on social media to share with family and friends. And iMovie does a great job for you. Though it brings some of its pros and cons with yet you should not neglect this tool from editing your videos.
Subscribe our website for more interesting articles, till then keep reading and keep sharing.
---