Pros and cons of using Bright Local Tool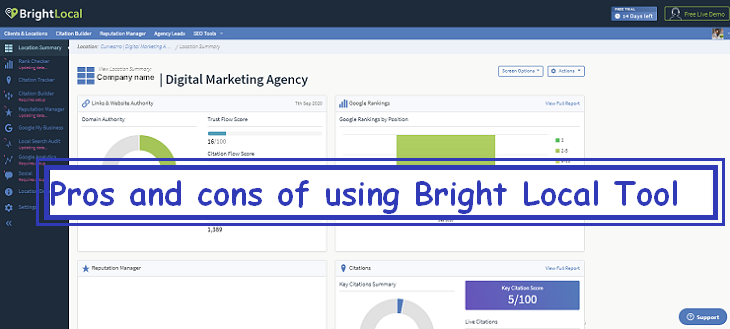 There are many SEO tools available in the market that can help you perform all your SEO tasks effectively, right. Google Analytics, Ahref's Backlink checker, Moz Link Explorer, Google Keyword Planner, Google PageSpeed Insights to name a few are renowned SEO tools in the digital market. But there is one more SEO tool also about which people might be (or not) aware of which is 'Bright Local.'
Bright Local is a great SEO tool that makes marketing efforts more simple and effective. Undoubtedly, many digital marketers, SEOs, and webmasters are using this tool to run their SEO campaigns efficiently. Do you also want to use this tool? If yes then let me tell you that no tool is perfect and provides you 100% results. It is because every tool has some kind of drawbacks which every marketer knows. Like any other tool, Bright Local also comes with handy features, pros, and cons.
Therefore, this article will talk about the Pros and Cons of the Bright Local tool below. I will also highlight the details of what the tool is. So let's make a start with 'what'.
What exactly Bright Local tool is all about?
In very simple words, Bright Local is all in one SEO reporting platform specially made for local SEO data for single as well as multiple-location business. The tool is a solution designed to make managing your local business branding online easier. With the Bright Local tool, you can have a control on your SEO, rank tracking, business listing, and reputation management. This is an all-in-one platform which allows you to:
Track local search ranking
Clean up and build a local business listing
Source agency leads
Perform local SEO audits
And manage online reputation by generating, monitoring, and responding to online reviews.
Let's move on to learn the pros and cons of Bright Local Tool below.
The Pros of Bright Local Tool
– Builds citations
The first advantage of using the Bright Local tool is that it helps you build citations for your business. Basically, citations are an online reference to your local business. It includes your business name, address, and phone number (NAP). They are a very significant part of any local SEO strategy. Therefore, Bright Local makes it very easy for you to get citations for your business. It removes duplicate citations, distributes NAP data via a local aggregator, builds new accurate citation, etc.
– Helps you track citation
Citation is very important to give a reference to another page or site in your content. Just obtaining citation is not good, you should track them. And Bright Local one such tool that lets you track citation. First, you will get to spot NAP issues. It is important to know the issue across different websites otherwise it can hurt your local search rank. Moreover, the citation can also highlight the top sites for citations.
– Spy on competitors
Another advantage of using this tool is that it lets you keep an eye on your competitors. Knowing the work of competitors helps marketers to know what are the works they are lacking in. And the tool does it by showing you their SEO citations. The more you know about your competitors, the more you will learn about SEO. Moreover, you can also compare your profile with your competitors.
– Provides you a local search audit
Yes, you read it right. Bright Local Tool provides you a complete local SEO audit in minutes. The tool does it by providing you an actionable guide on 7 areas of optimization efforts: search rankings, on-site SEO, off-site SEO, citations, social media, and Google+.
– Build you reputation in the market
Reputation is one of the most crucial and delicate assets of the digital marketing business. Managing the reputation of a business is more like a herculean task. With Bright Local Tool, it becomes easy as the tool helps you earn 5 star-reputation. The first tool helps you earn more reviews on the site then you can reply reviews within the app.
– Easy to use interface
Who doesn't like to operate simple and easy user-interface software? Bright Local is one such tool that provides a user-friendly experience. No such technical knowledge you need to know to use this tool. Any novice with a user guide can easily operate the tool.
The Cons of Bright Local Tool
– Slow performance when operating manually
The first disadvantage of using Bright Local tools is that it can perform slowly if you use it manually. For instance, if you run manually reports, it can be very slow. So the results you get are delayed sometimes.
– Less lead generation with lower-priced plans
Another disadvantage of the tool is that it won't fetch you great lead generation results if you purchase lower-priced plans. Let me tell you why it is so. With lower pricing plans, you get fewer features, and with fewer features you get less access to things which you use for converting traffic to lead generation.
Final way
Finally, let me ask you one question – are you serious about local SEO? If yes, Bright Local Tool is one solution for you or local businesses. This is a very affordable tool with different pricing plans. It offers you many features and comes with plenty of advantages that can add glory to your SEO campaign. Moreover, you can also try the tool for 14 days for free to know whether the tool is the right fit for you or not.
Comment below to let us know how you find this article. For more interesting articles subscribe our website till then keep reading guys.
---