Pros and cons of using "Blender", video editing tool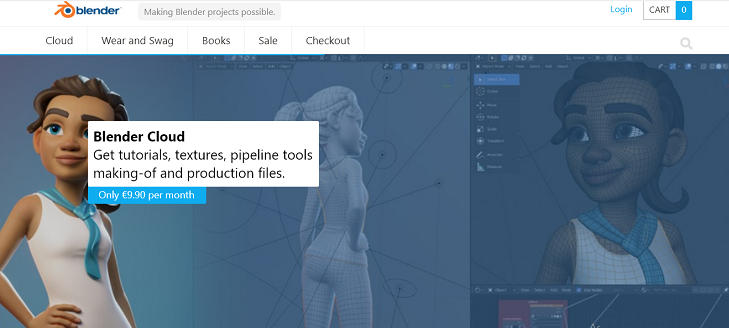 Video – the most crucial part of digital marketing and social media strategies. Undeniably, video dominates the market and attracts the audience. The interesting thing here is that almost 82% of traffic marketers get via video. This is because a lot of individuals prefer watching videos to know and understand the concept rather than just reading the information on the blog. It means, your videos must be interesting, eye-catching and engaging. However, making videos is all about creativity and a lot of effort goes into editing to get the final output.
So there is one such video editing tool that people use for editing and that tool is "Blender." However, using the tool without knowing its pros and cons might be risky for you. This is the reason I brought this article, here I will talk about the major Pros and Cons of Blender tool.
So, let's start with the basics first.
What exactly Blender tool is?
In very simple words, Blender is a free and open-source 3D creation computer graphic suite. The tool is built with the combined efforts of artists, students, scientists, animators, visual effects experts, game artists, and other professionals around the world. This is a great software which is used for creating animated films, arts, 3D printed models, visual effects, video games, and 3D applications. The features of the tool are amazing.
Undoubtedly, Blender is an amazing video editing tool but it has some undeniable Pros and Cons. So let's make a move and start talking about it below.
The Pros of Blender Video Editing Tool
#Create 3D Games for you
Who doesn't like play games? No matter whether you are young, middle age, or old, everyone likes playing games. Certainly, it is the best way to pass leisure time. So the first benefit of the Blender tool is also about games. Yes, Blender can create 3D games for you. The tool offers you a game engine that allows you to create 3D games. Moreover, you can also create interactive visualization and prototype for your games.
#Scripting
The game can be confusing and irritating if the script of the game is not understandable. People can leave games if they don't understand how to play it or find it difficult to understand its language. Therefore, Blender provides extensions that you can activate to get more functionality. You also get the option to add functionality via Python scripts (object-oriented programming language). The functionality includes animation, import, export, object creation, and rendering.
#Visual effect features
Another benefit users get while using Blender is visual effects. Basically, users can access the library while creating color grading, vignettes, and camera effects. Some movies use this high-dynamic-range (HDR) image file format include Men in Black II and Harry Potter and the Sorcerer's Score.
#Film Animation
The next advantage of using the Blender tool is Film Animation. Blender tool is very useful for creating short and lengthy films. So what does this to offer? It offers you a pose animator editor, as well as features for independent movements and inverse kinematics. Moreover, users can do automatic skinning to posable character, work on bone layers and colored groups through its various tools.
#Path-Tracer Engine for Realistic Rendering
Blender has a ray-tracer based production render engine which is known as Cycles. It is a path-tracer render engine that provides users with the ability to add more realistic lighting to their scenes by tracing the path of light as pixels in an image. Moreover, render engine is a set of codes that control the usage of materials and lightening and also the appearance of images in 3D scenes.
The Cons of Blender Video Editing Tool
#Not as easy to use
The first con of the Blender tool is that not everyone can use this. It means if you are a novice or do not have any prior knowledge about this tool then you will find it difficult to use. The tool has some overwhelming features with major design programs like Adobe Photoshop or illustrators. Therefore, it will take a lot of hard work to get into it. You need to learn about the tool before you use it.
#Bugs might hit
A bug is the most annoying problem you face in online marketing. So how it affects your video editing? Basically, if you have heavy projects then it will make it worse for you to handle. And bugs might affect your tool.
Other cons of Blender are:
The tool doesn't provide control media exportation.
It has no preview clip for you to view.
The bottom line
Blender video editing is a great tool. You can use this tool for commercial as well as educational purposes. The interesting thing about this tool is that it is a free tool and Blender can provide you the same results as paid tools. You can do a lot of things with this tool such as 3D models, video editing, sculpting, animation, and much more. Now that you know its pros and cons, you will know how to use it better for creating and editing videos.
For more interesting articles subscribe our website, till then keep reading and keep sharing.
---