Performance comparison between Mozcast and Algoroo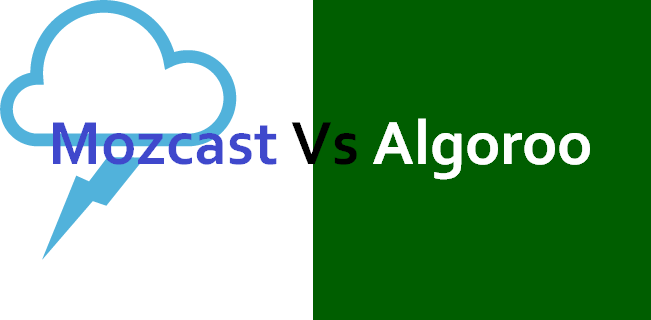 Google Algorithm is the term which no SEO or webmaster can avoid being in digital marketing industry. Believe it or not, Google makes thousands of updates in Google Algorithm every year. The changes can puzzle any online marketer if he doesn't have proper knowledge about it or a tool to control the site when Google updates Google Algorithm. Though there are plenty of tools available in the market yet two tools which are consider as top competitors are Mozcast and Algoroo.
Now the question is which one you should use? If you are puzzling and aren't able to make up your mind then you have come to the right spot. In this article, I will provide a deep performance comparison between Mozcast and Algoroo.
Are you gear up to learn the comparison? If yes, let's get stared with the basics.
Mozcast vs. Algoroo – a brief introduction
What is Mozcast?
Mozcast is a popular tool to track changes that take place in Google algorithm. It is a free tool available for all the webmasters in the industry. Basically, Moz launched Google SERP feature Graph called Mozcast tool. The tool is renowned for displaying Google algorithm updates in weather form. Primarily, Mozcast is designed to help you keep track of the day-to-day changes occurring in Google algorithm. Additionally, Mozcast is a part of Moz ecosystem which shows Google's Volatility similar to weather forecast tracker tool.
What is Algoroo?
Algoroo, on the other hand, is a Google algorithm tracking tool developed by DEJAN – an Australian based digital marketing agency having worldwide reputation in the digital sector. Algoroo is an exceptional tool for tracking all kinds of Google algorithm updates. It provides you a comprehensive overview and analysis of changes affecting SERP (Search Engine Results Page). The tool is known for monitoring over seventeen thousand keywords for your website. Moreover, Algoroo monitors some selected keywords and looks for fluctuations happening in your site.
Let's now move further and learn about the features of both Mozcast and Algoroo tool.
Features of Mozcast Tool
Mozcast allows you to see search results that show those features on the live Google Search results page.
You can also track all daily changes made in Google algorithm of the top ten pages on search results.
Any changes appearing in Google algorithm will appear in graph format.
Mozcast provides you SERP features for a deep analysis of you and your competitors on SERP.
Features of Algoroo Tool
Algoroo is best tool to provide you data both of mobile and desktop.
You can also alter the time period of report through drag and drop button.
The best feature of Algoroo is that it can give you data from 7 days to 2 years entirely.
The tool has positive and negative movement added up to create a single SERP flux matrix that you call 'roo'. The high roo value shows you high Google Volatility and low roo shows no change occurring in Google algorithm.
Let's now jump onto the performance comparison between Mozcast and Algoroo.
Mozcast vs. Algoroo: Performance comparison
1. Clearer Display of Reports
The main purpose of using any tool is to check the performance of the site and how the external factors are affecting it, right. If we first talk about Mozcast tool then it provides Google Algorithm report in weather like format. Though it is kinda nice way, it is little bit confusing and too busy for beginners with lots of aspects demanding the attention.
On contrary, Algoroo comes up with polished display with the crucial data front and centre. It also shows you weekly winner and loser data underneath the bar chart through which you can see to the top level who has positive and negative algorithmic week. Algoroo has some nice touches like the chart indicates the date on the X-axis of the graph which Mozcast fails to show.
So the winning party here is: Algoroo.
2. Data Analysis Performance
The accuracy of data is the most important part of any tool you use to monitor your website. Let me tell you that both the tools update regularly and you can also assume that they have contrasting ways to calculate Google's algorithm activity. Talking about Mozcast tool first, the tool provides big data showing Google algorithm activities on the site.
Whereas Algoroo is less concern with providing accurate data of Google algorithm activities taking place on your site. You can say that Algoroo shows you lowest volume of data than Mozcast tool.
The winner of this round is: Mozcast.
3. Speed and Productivity
Speed, efficiency, and productivity are the most important elements that should be present in every tool. Both the tools need to be high-paced to grab the attention of users in one go. Let's take Mozcast into consideration first. Mozcast updates its data 'every 24 hours' and it 'tracks a hand-picked set of 1,000 keywords and grab the top 10 Google organic results." It actually gives Mozcast an extremely efficient way to compare the data to the previous day.
Algoroo, on the other hand, has no information on the site when it drives data to show how fast it achieves this. There is no evidence when Algoroo generates and updates its data and under what circumstances.
So yes, Algoroo loses this round.
Over to you
Guys, I have provided you a brief comparison between Mozcast and Algoroo tool in this article. Moreover, features are also there which you can read again to know which tool is best for you. If you look at the comparison between Mozcast and Algoroo then Mozcast wins the race. However, it is up to you which tool you liked the most for checking the Google algorithm updates for your website.
For more interesting articles subscribe our website, till then keep reading and keep sharing.
---