OpenShot vs. VideoPad, which one is better?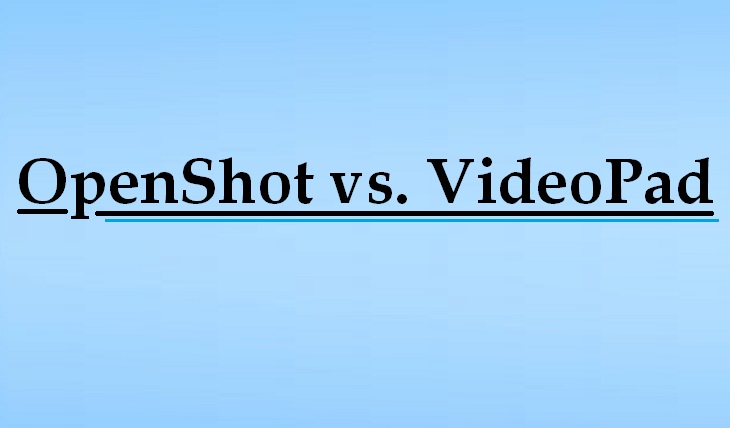 Will you agree with me if I say videos are the most engaging way to attract audience and drive traffic to the site? In case, if you don't agree then as per the Wyzowl's research, 84% of people say that they've been convinced to buy a product or service by watching a brand's video. Now you can see how valuable videos are for any business. Today, online marketers want to do every possible thing to make their videos engaging, interesting, and eye-catching. All this can only be achieved via a video editing tool, right! There are lots of video editing tools available in the market. But I am here to make a comparison between these two video editing tools which are OpenShot vs. VideoPad.
The purpose of this article is to make you aware of which editing tool is best for you. So if you want to know which tool you should use then keep reading this article till the end.
Let's start the article.
First let's understand the definition of both the editing tools below.
What is OpenShot?
Simply put, OpenShot is a free video editing tool. It is an open-source video editing for FreeBSD, Linux, Haiku, macOS, and Windows. The editor had released in 2008 with an object to provide a stable, free, and friendly video editor. No doubt, this is one of the best and simple video editing software people use worldwide.
What is VideoPad?
VideoPad is also video editing software developed by NCH for the home and professional markets. This software is recently released on 23 June 2020. The software is a fully featured video editor for creating professional quality videos in minutes. It can burn movies to DVD and Blu-ray or export your videos online and to your portable devices.
Now move further to know the difference between these two tools.
Major difference between VideoPad and OpenShot
# The tool is best for- (VideoPad is dominating)
VideoPad
Whether you are a professional, individual, business, or a digital marketer, this tool is best for you. It means anyone and everyone can use this tool who needs a video editor. People can use the tool for their personal as well as professional use. VideoPad caters to all with its easy to use interface. The tool is suitable for Windows, Mac, iPhone, iPad, and Android.
OpenShot
So the OpenShot video editing tool is best for Windows, Mac, and Linux users. The tool helps them with 3D animated titles, editing, audio mixing, clip resizing, frame accuracy, desktop integration, etc. It means not everyone can use this tool except Windows, Mac, and Linux users.
# Tools features (VideoPad tend to have more features)
VideoPad
The tool offers many features such as 3D video editing, Audio tools, Social Sharing, Speed Adjustment, Text Overlay, Video Stabilization, Special Effects, Chroma Key, Animation, 3D Modeling, Desktop integration, Slow Motion & Time Effects, and Transitions.
OpenShot
This tool also offers many features which are 3D video editing, Audio tools, Speed Adjustments, Text Overlay, Split/Merge, Title Editor, Trim & Slice, Desktop Integration, Audio Waveform, Animations, Keyframes, and Cross-platform.
# Ease of use (Both the tools are same)
VideoPad
Any amateur or novice can easily use this tool. There is no such technical language is required to use it. The interface is very intuitive to edit the video. There is nothing that you need to learn first and use it.
OpenShot
Though the software is good in making high-quality images and very easy to use. There many fair numbers of built-in filters, transitions, effects, etc. So nothing is difficult in using the tool.
# Payment model (VideoPad has easy payment options available)
VideoPad
The payment mode of this tool is very simple as it provides only a One Time Payment plan. Moreover, it also offers a free trial, freemium, subscription, requests a quote, and open source.
OpenShot
The payment method of the OpenShot tool is a bit complex. And it does not provide free trial either.
# Better customer support (VideoPad has more options for customer support)
Customer support is one of the most important parameters for anyone. So let's see which tool provides better customer support. '
VideoPad
The tool provides great customer support through email, live support, phone, tickets, and training.
OpenShot
This is also a great tool when it comes to providing customer support but it offers only email as support to its customers.
The final bricks on VideoPad vs.OpenShot
So, guys, this was a complete analysis of the major difference between VideoPad and OpenShot video editing tools. The above 5 points highlight a critical difference between these two video editing tools. After reading the difference from this article, anyone can say that VideoPad comes as a winning tool, which is right also. But it is all up to you which tool you find fulfilling your needs and demands. The ball is in your court you can take the right decision.
Overall, VideoPad wins the comparison here. Comment below to let us know which tool you like most. Subscribe our website for more interesting articles.
---