Latest update of SEMrush SEO tool.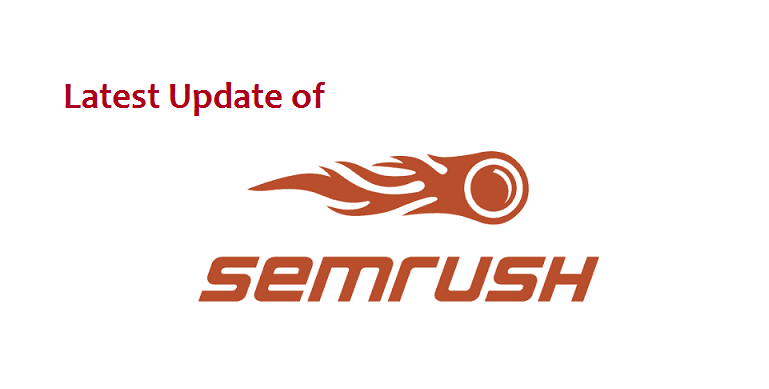 People who are into the digital marketing world must be aware of the SEMrush SEO tool. SEMrush started in 2008in Moscow Russia and since then it has become a major market player which is being used by digital marketers and SEO professionals across the world. We use SEO tool for keyword research, track the keywords strategy used by your competitors, runs an SEO audit of your blog, looks for backlinking opportunities, and a lot more. SEMrush provides valuable engagement information, insight into customers and prospects, and more engaging content.
But guys, as time passes we see many new features and updates in this tool. In this guide, I'm going to share some of the latest updates that are added in this tool.
Let's witness to what's newly added in SEMrush tool
Recently, in the month of October this year, many new features and updates have been added in the SEMrush tool – from a "Bulk analysis report in Traffic Analytics to an expansion of Market Explorer".
Another remarkable update includes the return of the "Target URL error filter in Backlink Reports", as well as updated capabilities to match Google's new link attributes, improvement to Site Audit Tool, and the expansion of Social Media Tracker that offers competitive Intel on LinkedIn audiences.
Now let's have a market analysis of New Bulk Analysis Report in Traffic Analytics
A new bulk analysis report is added in SEMrush tool and running this report can be beneficial to your marketing activity: you can access the potential of prospective partners with affiliate partnership management, discover media platforms for content creations, evaluate traffic with link building and media outreach, and evaluate more new leads and sales.
However, bulk analysis is available for paid traffic subscription with full access to Traffic Analytics. So you can filter by region and device, see historical data, and export data to a cvs. File.
Know how Market Explorer is expanding?
Market Explorer is a new and fresh tool added in SEMrush which investigates the new market, learn industry trends, discover the competition, and gain audience insights. It attracts a lot of user attention that's why it has expanded its space to provide you more relevant data.
Let's discuss the Backlinks Reports Updates now
A target URL error filter is added in Backlink Audit. This filter helps you find links in your or your competitor's backlink profile that lead to broken pages. You can fix the broken pages and redirect them to new ones.
Some sponsored and UGC Link Attributes in SEMrush Backlink Reports
Recently, Google has announced two new link attributes – Sponsored and UGC:
rel= "sponsored" for actively paid links.
rel="ugc" is for links within UGC content such as comments and posts on guest blogs and forums.
As per Google, "the new attributes do not transfer link juice are not taken into account in the ranking, but help to identify the nature of particular links."
Sum it all up!
Folks, many other features or updates are also included in SEMrush such as PDF Export from Position Tracking, Brand Monitoring, Search for New Customers, SEO Writing Assistant, Keywords, Content, and Social Media. But above I have talked about are the major latest updates that added in the SEMrush SEO tool.
So, let us know how you found these updates and features. And also share what features you would like to see in your SEMrush tool. For more updates kindly get in touch with us.
---