Is it necessary to respond on bad reviews?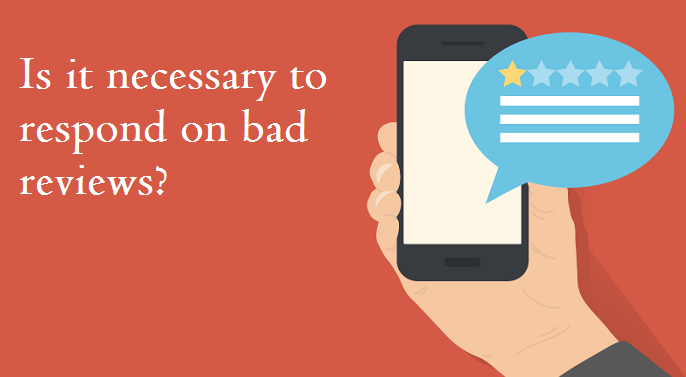 Let me ask you a question, what do you do when you encounter bad reviews on your site by your customers? Do you simply ignore it or you retort it back? One can see that bad reviews can be the most frustrating thing for any business or person. This becomes an inevitable reality when you own a business. That's why dealing and responding to negative or bad reviews is important while maintaining your online business reputation. But first, don't get panic if you receive one such!
However, some people or businesses take bad reviews or low star rating as a personal insult. So let me just stop you there, before you bone to pick with someone who bad-mouths your business. Retorting badly or fight is certainly not a point of this article. So is it a good practice to simply ignore a bad review? (Many of you would be thinking this, isn't it? The answer is NO.
But anyhow, it becomes necessary to respond to bad reviews. After all, as the saying goes, 'there's no point in crying over spilled milk', but you surely can clear the mess. And if you're finding yourself in such a situation then you have come to the right place. Because this article will talk about the best ways to respond to bad reviews.
Some best ways to respond on bad reviews!
First, you need to examine whether the bad reviews are genuine or false on your site. Then only you can able to respond to them in different ways:
Address the issue
In case of a bad review, you first address the issue and try to resolve it.
Try to look at the positive in negative
Try to carefully consider what the person wrote. If you evaluate what the customer has said, and if his review is genuine then you may also discover bigger issues that you need to work on at your company.
Be positive
Always try to be positive even in negative situations. When dealing with bad reviews try to find a way to fix issues it can improve yours as well as the customer's mood.
As for another review
For another review, first you need to resolve the issue then only your customers can write another review accordingly.
False bad reviews
In case if you face this problem you can simply respond below review pointing out that this person is not our client (but be polite and neutral). These false reviews can be written by your competitors who want to trash your business down.
Conclusion
If you are getting bad reviews then don't worry. It is a positive sign, at least you are getting attention. I know you are thinking how? Suppose your products and services are getting bad reviews then you have chance to improve it and make it better.
Any how you have to revert back either it is good or bad reviews. Be polite at the time of reverting back and try to make it positive.
For another updates kindly get in touch with us till then keep reading keep sharing.
---