Important steps to brand your content with storytelling.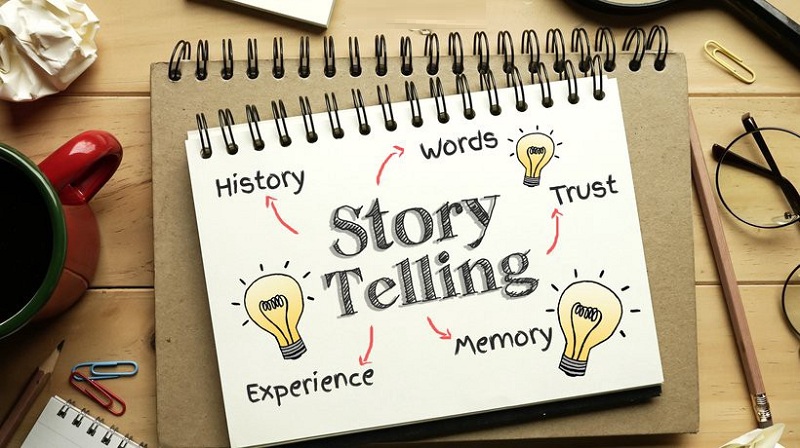 Connecting people with your brands emotionally brings the deepest level of faith and trust for your company, right? For every marketer or business, achieving customer's loyalty is important and it is possible only when you communicate with your customers and engage them emotionally with your content brand's story.
So, why 'Brand Storytelling' is important? 
As a marketer, if you want to attract more customers with your brand, you must incorporate your brand or content with storytelling. Brand storytelling plays a crucial role in sparking customers' interest in your brand, building loyalty, and inspiring engagement.
Storytelling is a powerful technique for building relationships. It's an age-old concept that brings people together and keeps them engaged with your brand.
If still pondering what brand storytelling is then let me help you understand with the following points mentioned below:
Show the reason why your company came to be
How your product came to be
What encourages your team to wake up and come to work every day
A transparent view of the people behind the company
A look into who you are as a company
A relationship building tool
What value customers find working with your brand and why
The above points tell your audience who you are, why you want to help them, and why they would enjoy working with you. It also helps you make an authentic, genuine connection at every stage of the buyer's journey.
How you can communicate your brand story through content?
What's the major tool of sharing your brand story? Obviously the content is the tool for sharing your story. Every piece of content you create supports your story. It's the best way to deliver your story to multiple audiences, on multiple platforms, in many ways. The contents storytelling includes are:
Blogs
Articles
Case Studies
E-Books
White Papers
Micro contents
Videos and Infographics
These communication tools are very effective, flexible and versatile in nature. It will help your company grow and expand in the future. You can see your company's performance is upgrading because of these communicating tools.
Some important steps to brand your content with storytelling.
It's important for every marketers to grab the attention of people so that they can get invested in story. What does motivate them? What do they like or dislike? You have to base your characters according to your audience's interest. Follow below-mentioned tips to make your content more effective in reading.
1. Pick out the right topic
Choosing the right subject and the right topic for your content will help you get more customers to your brand. You need to do something better and create or enhance their life in some way. Make sure you provide a relevant and authentic brand story that can easily attract the audience. It will ultimately help you grow your audience.
2. Present your content in the right format
Presenting the content in the right format will help you communicate your brand story as effectively and efficiently as possible. You need to present your content in the right package to show your audience that you value their time and attention. Every story format is important as it not only looks appealing but conveys the message to your audience about your brand's story.
3. Design your story with visual language
The visual language here is all about adding color to your brand story in the content. Designing content with colorful logo, images, pictures, infographics, etc. this visual language of yours will give an aesthetic experience of your brand. You can use photography and graphics in your content.
4. Make it shareable
If you want to propagate your brand in the market then you must encourage your audience to share your content as much as possible. You can use various methods to share your brand such as SEO optimization, working social buttons, proper dimensions, hashtags, etc. the more you optimize your content the more high rank you will get on the search engine result pages (SERP) on Google.
5. Expand exposure
For creating a best and unique content you must try to reach as many people as possible. To upgrade your visibility, you must concerned publishing partners and syndications. It will help you reach larger and this is how more people will hear your brand story. Your own channel is a great starting point but you must try ways to elevate your brand presence and performance.
Conclusion
Brand stories are powerful that will help you create strong brand recognition. You can always use them to push your ideas and thoughts forward. However, never make a mistake of getting stuck in your story and make it all about yourself or company. You must also talk about your customers as to why they are important to your business. The stories engage more audience, so keep on telling, keep on going, and keep on connecting with people. You have to keep your story alive by continuing to impress your audience or customers and give them the best possible experience.
Make sure you incorporate all the information mentioned in this article to create the perfect brand story for your business or company.
Get in touch with us for more interesting articles. Till then keep reading and keep sharing!!!
---