How to use the 'Acobot Virtual Shop Assistant app' to boost sales?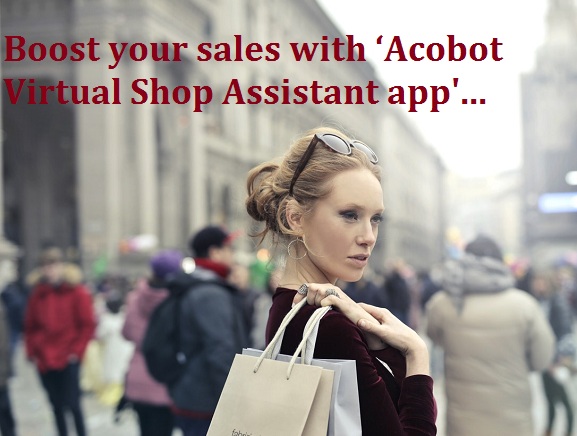 The competition among marketers has tremendously increased. No matter whether they're online marketers or offline, all of them use different tactics to boost their sales in the market. If I talk about offline marketers then they use traditional methods to boost their sales such as advertisements via television, pamphlets, radio, etc. whereas online marketers use more advanced approach they basically use innovative technology to boost sales such as promoting products on social media platforms, writing contents on websites, and usage of different apps. With advanced technology, AI (Artificial Intelligence) tools have also attracted a lot of marketers in boosting their sales. One such AI tool is the 'Acobot Virtual Shop Assistant App'.
In this article, I will talk about Acobot Virtual Shop Assistant App and how as a marketer you can use this app to give a boost in your sales. Let's make a start now.
The concept of 'Acobot Virtual Shop Assistant App', read below
Acobot is a virtual shop assistant artificial intelligence Chabot app that helps customers shop, answers their questions and nudges them to check out. Acobot is good for WooCommerce online stores. For businesses whose sites are based on WordPress, Acobot works as a lead machine that captures to 50% more sales leads on average.
In other words, Acobot Virtual Shop Assistant is an app in the sales and conversion optimization and customer support and productivity. It is a leading artificial intelligence Chabot provider for e-commerce and online retailers. Acobot is powered by advanced machine learning technology; it learns from your website and engages with users independently, no coding needed.
Some ways through which you can use Acobot to boost your sales
To give your sales a boost, you must follow the points given below on how to use Acobot app.
– Sign up – Acobot is a SaaS (Software as a Service) for which you need an account to use it. You just need to provide your site URL and email address to sign in.
– Connect – Now you will connect WooCommerce by enabling a WordPress plugin. After which Acobot will read your data from your store and create a virtual shop assistant for you in a few minutes.
– Set up – lastly, a wizard will guide you to set up your preference such as name, avatar or voice for your virtual shop assistant. In a single click also you are done with your setting.
How Acobot helps WooCommerce in sales?
Acobot helps marketers support all proven WooCommerce sales and marketing techniques. Let's see how it works out of the box.
Acobot searches products by their names, category, and tag.
Upselling, cross-selling
Sales price
Grouped products
Variable products'
External products
Virtual and downloadable products
Coupons and FAQs
Enabling the plugin, Acobot will start increasing sales for you in a few minutes. According to the study, the eCommerce business got 30% more sales using Acobot. Acobot creates a lead generation AI chatbot for your website, with which you can attract visitors and convert them into actionable sales leads.
Some features of Acobot which customers will definitely like
Acobot greets customers by sending them welcome messages based on the web page visitors are browsing.
When customers ask any question or query, Acobot will answer the questions based on your website. Thereby it delivers the conversational experience.
Acobot opens a web page for visitors without asking them to click which makes your site easy and fun to surf.
Through Acobot service, visitors can quickly search or discover your products, services or content.
Acobot provides your customers with an approachable contact point so that visitors can reach you conveniently with a conversational experience.
Acobot has the ability to interact via text as well as voice simultaneously. It makes your site more engaging.
Final Takeaway!
'Acobot Virtual Shop Assistant App' is an artificial intelligence tool which helps every online or eCommerce business boost their sales. Once you sign up the Acobot app, it will start capturing sales leads for you. It also saves your time by updating its system automatically. Hence, there is no need to allocate extra time to maintain Acobot. All you just need is to connect your store with it by enabling the plugin, Acobot then will do all the work for you!
For more informative articles get in touch with us, till then keep reading.
---