How to optimize content for Real Estate?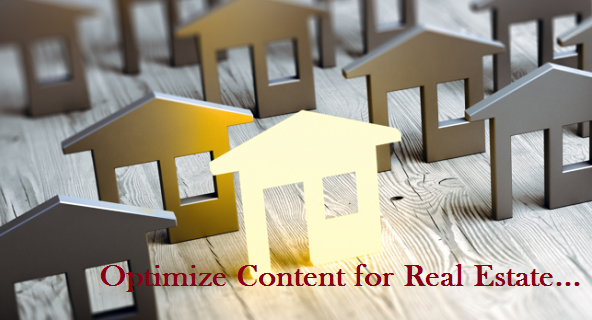 Maintaining a high-performance website of any business is a key to success in today's digital world. The performance of any site depends on how optimized your website is. With the growth of digital media and technology, real estate agents and investors have a plethora of ways to innovate their business model.
In this blog post, I will be talking about real estate and how you can optimize content for your real estate website.
The real estate world has altered drastically over the last few decades. And if you have designed, developed and launched your website and still not getting your site on the Google page then you're falling short of your expectations. Here, you're missing the optimization – the maintenance and nurturing your site needs to grow. So, to get a good rank of your site, you need to optimize your site content for real estate.
Before I talk about tips on optimizing content for real estate, you must understand why every real estate website needs SEO to be successful. Below you can read why:
Google searches for real estate has grown over 20% each year since 2008.
More than half of all homebuyers search online first.
Almost 90% of prospective homebuyers search for a home online.
The above data shows that agents and brokers must have real estate websites that should be SEO-friendly. However, understating how to get yourself or your website to the top of the search engine results is to optimize your site contents.
Learn some effective tips to optimize contents for real estate.
– Write SEO-friendly blogs
If you write proper, well-maintained content on your site, they will help you increase the effectiveness of your SEO strategy by more than 50%. It goes for your property description, your Meta description, and page tags. Always write SEO-friendly contents that increase interest and inform your visitors to make your website more useful and hence more popular o improve your ranking.
– Include keywords to photos and images
Writing content is not only about putting information in words only rather you should include photos to your content and then add relevant keywords accordingly. So if you add specific keywords to photos on your real estate website, this is will ultimately help your site to move to the top of real estate searches. This includes adding tags, using file names, etc.
– Include internal and external links in your content
Adding internal and external links to your site content is like increasing the number of visitors because more people will visit your site from other sources. One thing needs to keep in mind that the more popular and important a site is, the more links from that site matters. If your content is not getting enough traffic then you must add some links to your site.
– Avoid keyword stuffing
Adding relevant keywords in your content is good, but adding them in abundance is bad. It is what you call keyword stuffing for which Google can penalize your site. The keyword stuffing is black hat SEO tactics that were popular several years ago. You must pick-up a handful of high-quality keywords to implement in your real estate blog posts. You can also take help from the Google keyword planner.
– Nuts and bolts of Keyword targeting
Keyword research is the most overlooked aspect of any content or SEO. Suppose, people don't find your website for the type of homes you're selling, it simply means you're putting in a lot of effort without gaining anything. You have to start with the focus keyword. For example, you work in a community in Canada so here you'll begin with "Canada real estate" as your main and focus keyword.
Conclusion                                                                           
Writing content and just simply posting it on your real estate website is not enough. You have to make sure that the content you're producing is meeting your customer's requirements or fetching your desired result or not. If it doesn't happen like this then you must follow above mentioned 5 tips on optimizing your contents for real estate.
Just learn from these tips and then create valuable content for your real estate website. For more info get in touch with us till then keep reading.
---