How to Manage Multiple Social Media Accounts?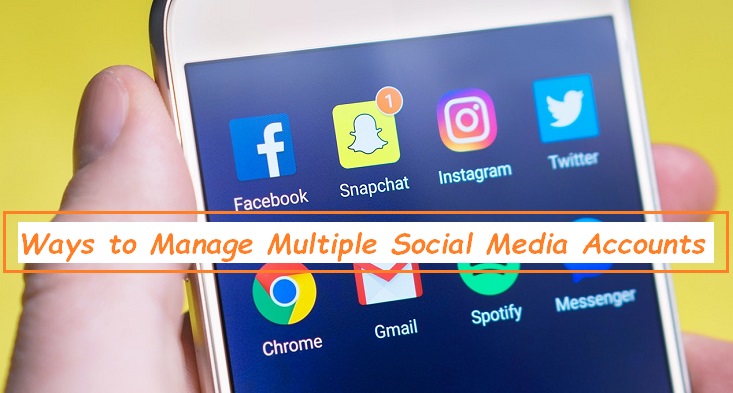 In this digital world, winning the market competition is a necessity. Social media has become the need of any marketer. This is the reason why businesses create multiple accounts on social networking sites such as Facebook, Instagram, Twitter, Pinterest, LinkedIn, etc. Having social media accounts are like having icing on the cake. Though businesses create multiple accounts on different social sites, the problem comes when they are not able to manage these accounts. This happens most of the time and then they look for ways to manage these social accounts. If you are one of them who is looking for ways to manage multiple social media accounts then you're at the right place. In this article, I will talk about various ways that you can implement to manage multiple social media accounts.
Are you gear up? If yes, let's make a jump into the pool below.
Follow the given steps to manage multiple social media accounts
# Make a powerful social media strategy
Before you step into maintaining multiple social media accounts, you first need to make a powerful strategy for social media. To be very clear, you cannot make everyone stand on your brand and manage multiple accounts. This will be a very hectic task if you follow. To effectively manage the accounts; you can draft a social media strategy that might include policies, style guides, procedures, and you can also give every contributor something to follow at all times. Moreover, if every account has different goals, a well-maintained strategy can help you stay in sync and not get away from your company's message.
# Use social media management software
The next step you need to follow to manage different social media accounts is by using social media management software. No doubt, if you operate multiple accounts then it will surely take too much time to copy and paste the same content to multiple accounts on different social media platforms. You can think of investing in social media software like Buffer and Hootsuite that will help you manage publishing and engagement all in one place. No doubt, the software will help you post similar or identical content to different accounts on different networks simultaneously with the click of a button.
# Now create an editorial calendar
No doubt, when you manage multiple social media accounts you don't want to miss the opportunities in your posting schedule. What you can do to not miss these opportunities? You can create an editorial calendar to provide direction and also make sure you are on track with your social media strategy. You can do it via social media management software or even by sharing a simple document with your social team. When you do so, it will put everything in one place and provides a reference for social media manager. Guys, it is also very helpful for finding out gaps and missed opportunities in your posting schedule.
# Also monitor social media activity and engage
Do you think if you don't monitor your activities it will help you manage all your social media accounts? No guys, you need to track mentions and keywords which is very significant especially when you set-up a support related account. You also need to know whether your customers need any kind of help or not. Here social media management software will help you in monitoring while providing collaboration within your team. It also makes a bad impact if you reply either to a year old post or to an inquiry which receives two replies.
# Finally analyze your own strategy
Finally, the last step you need to take to manage multiple social media accounts is to manage your own strategy. Ask yourself a question like – are some accounts doing better than my business? If yes, then what strategy they have followed, how they are operating a business, what tactics they are using to make their business successful, etc. When you get answers to these questions, you will see how beautifully you are managing your business. Moreover, you can also look at the analytics of your business. Reading the results of your own strategy will help you fine-tune your approach to social media.
Guys, the above-mentioned are the significant steps you can follow to manage multiple social media accounts. But there are some tools that can also help you manage various social media account. Here are the names of few tools you can use:
Buffer – Social media dashboard & scheduling
Nuzzle – digests of your favorite people's activity
BuzzSumo Alerts – provides you notifications when you & your content go viral.
SumAll – social media management report
SocialCount – helps you track social media shares for your content
The bottom line
Guys, social media is a great platform to run a successful digital marketing business. And having multiple accounts on multiple sites can add glamor to your business. But the problem people face is not maintaining the account properly. Therefore, in this article, I have mentioned all the significant steps that you need to follow to effectively manage multiple social media accounts. Also, I have shared the list of some social media management tools that can help you handle accounts on your own. If you find them interesting, you can use the tools as well.
For more interesting articles subscribe our website, till then keep reading and keep sharing.
---