How to make a WordPress blog?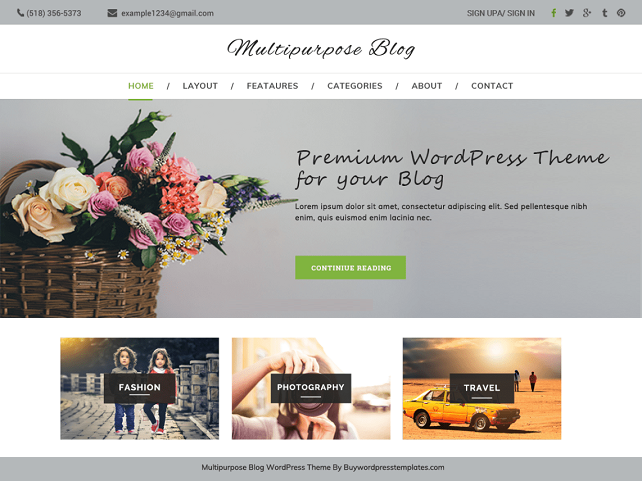 So do you want to start your own personal blogging site? Yes…
Felicitations! WordPress is a perfect solution for you. So before I proceed and tell you about how to create a Word Press blog. You need to first know what WordPress is.
WordPress Blog: An Introduction
WordPress is a free personal publishing site. It is software that manages content people put on their websites. Whether you want to start a blog about a passion you have, or start an e-commerce store and sell physical products online. WordPress might be suitable for you to go with. It is very easy to use as it comes with a great set of features, designed to make your experience as a professional publisher or writer. There are many things that you can do with WordPress such as:
Publishing and editing posts
Change your website theme and more
Find a variety of articles in categories
Manage users' access and many more.
So WordPress is a good way for writers from a personal perspective that allows them to connect directly with their readers. It allows you a direct connection or interaction with your readers. It also allows you to build trust with your readers.
Let's discuss more the importance of WordPress Blog!
So, why you should use WordPress blog? 
It's has become a very common question for anyone that why should I use word press blog? As I have already told you about WordPress Blog in the starting of the article. Now it's time to know more about it. The reasons why you should use WordPress Blog are given below:
Being a Free software, WordPress allows you to post your blogs or article free on your website. You are free to download, install, use and modify it accordingly.
It allows you to easily customize with themes and plugins. Its themes are easy to customize as it allows you to change colors, upload logo, change the background, create beautiful slides, etc.
Word press is SEO friendly that means it makes Google and other Search Engines love Word press. That's why it tends to rank higher in the search engine result pages.
WordPress gives you a safe and secure experience while using. It is considered to be a very safe platform to run a website. However, you need to follow a few things to make it more secure because the internet is an uncertain thing that's why anything can happen.
Now, let's move further and see the creation of a WordPress blog as my free guide on this article will show you how to create a blog that is beautiful and easy to use.
WordPress Blog : Creation
 Following steps will help you in creating a WordPress blog. Just follow them step by step!
Step 1: Purchase hosting and select your domain name
To open your account, you first need to register a domain name. And it's important that you pick up a right domain name for your website that is easy to type and remember. You can go for a branded domain name such as ProBloggers.com, OptinMonster.com, and Killercopywriting.com, etc. It will help you get a positive SEO impact in the long run.  
You can also use right domain extension such as .com, .net or .org etc. You can also take the help of domain name generator that will save you time. It will simply tell you domain name ideas in one or two keywords.
Step 2: Install the free WordPress software
After selection or purchasing domain name, in the next step, you need to install free WordPress software. After installing, you need to sign in and you will get an email from the Blue host with details on how to log into the customs area. The blue host will give you a simple idea on the process of installing Word Press on your site. It's very easy to install WordPress with the Blue host. Just go to My site area and click the Create Site. Here you will find important details about username/password etc. that manage your word press blog.
Step 3: Move ahead and write your first blog post
After creating your WordPress blog, now you need to get excited to get blogging. It's very easy to write a blog post on your new website. To start writing you first need to log in to your Blog's Word Press dashboard, you will see a screen then click on Posts and then on Add New. This is how you will see WordPress Editor that will let you write your blog posts. To add text, you just click and start typing.
Step 4: Change your Block appearance accordingly
To change your blog external look you need to apply themes and plugins. Themes describe how your blog looks and Plugins add functionality to your blog. So when you go to WordPress themes, you will need to pick between free and premium theme. For Free themes, you need to go to official word press.org theme dictionary whereas for the premium one you can go with ThemeForest, ThemeIsle, and StudioPress. For installing WordPress themes, you need to click on Appearance, select themes, and then click the Add New button. After installing your theme make sure you to click the Activate button to make it active on your site.
Step 5: Finally add functionality to your blog
As themes are about appearance, Plugins are about functionality to your blog. It allows you to add more advanced functionality like contact forms, social network buttons, backups, improving SEO, etc. There are thousands of premium plugins that can add and boost your blogging page. You can find plugins at the official WordPress.org plugin dictionary. For premium plugins, you can search on Google and buy from a well-known developer. And for a free plugin, simply go to wordpress.org, it offers plugins with features.
To install plugins-you first go to plugins – Add New, you will see two options for plugins i.e. free or purchase one. After getting plugin just click on the Install button and then click the Upload plugin. Make sure you activate the plugin after installing it.
Now your WordPress blog is ready to use.
Way forward!
If you want to start your free blogging site then WordPress is the best option for you. It gives you the opportunity to share your views, ideas, and thoughts publically. And once you put in the efforts of creating great blog content, you can also earn money through your blogs. Once you have a popular blog, advertisers will be honored for the opportunity to advertise. That's how you have chances of becoming freelancer blogger. Through blogging, you can make your followers and your site can rank high in the Google search engine result pages (SERP).
So, create your own blog and share your ideas! For more info get in touch with us till then keep blogging.
---