How to increase Google Crawl rates?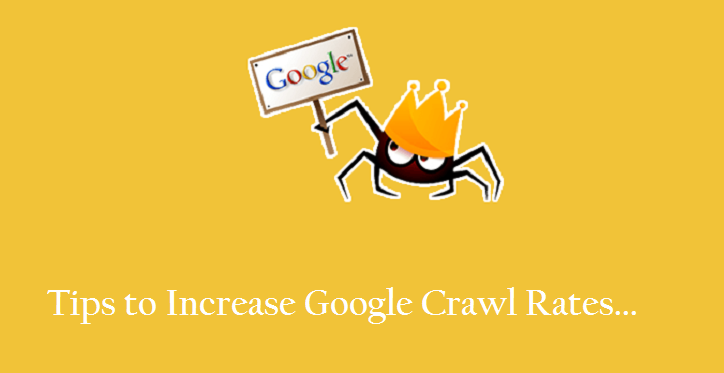 Are you an operator of a website? If 'Yes' then you probably have heard about Google crawl rate. As its very well-known fact that operating a website is not tough but making it at the top of the Google search engine result pages is a herculean task. To be very honest, it's all in Google's hand. How? It might be your question. So if you put relevant data, information, and content on your website page, Google will automatically go through your website and make it to the top of the search result. In a way, you can say that it's too in your hand to make it to the top of the list but the condition is to put RELEVANT DATA & INFORMATION.
Let's go deeper and understand what Google Crawl Rate is.
Google Crawl: A description.
Google crawling refers to the process of fetching, scanning, and indexing many new and updated web pages. The Google crawler is also known as 'Robots' or 'Spiders' that visit websites which include specific keywords. In other words, when you add some new pages to your website then Google bots will come and analyze them or crawl them then they will index your page in Google. This is how Google bot will discover new and updated pages that will add to the Google Index.
The main work of the Google crawl is to determine the keyword on various websites or platform, and shows all the information regarding the searching of a keyword, analyzes the backlinks, all information, and quality of the content.
Now let's see what is crawling in SEO!
What is crawling in SEO?
In the world of SEO, crawling defined as 'following your links' and 'crawling' around your website. In other words, In SEO, search engines will crawl your website information to display search engine. Crawling is basically refers to a 'robot' in the context of SEO which is automatically surfing the web, and analyzing each site it encounters.
Therefore, Google crawling may sound good if you want to achieve useful and high speed and maintain a current database link. But Google crawling is futile if you don't know how to increase the Google crawl rate of your website.
As Google crawl rate is the persistence at which Google bot visits your website and Google bot can't visit your website properly then there are chances that your pages and posts will not get indexed.
Ways to increase Google crawl rate
Here are some points mentioned below that will help you to know how you can increase Google crawl rate for your website.
Make sure you update your site content regularly. (post unique contents)
You can create site maps and try to avoid publishing duplicate content.
Reduce your site loading time; try to make less time-consuming.
Make the job of Google crawler easier by making your site crawler friendly. It means you have to optimize the overall performance of your site.
You can also use social media and can create more high-quality backlinks.
Improve your server response time because if your server response is time is slow, and then your pages will display slowly.
Always optimize images and videos. Because crawlers will not be able to read images like humans so only if your images are optimized then only they will be displayed in search engine.
You can use ping services to inform bots about the site updates.
Hope this article helped you to understand Google crawling and how to increase the crawl rate. For more updates and another article get in touch with us.
---