How to Enhance Customer Service on Twitter?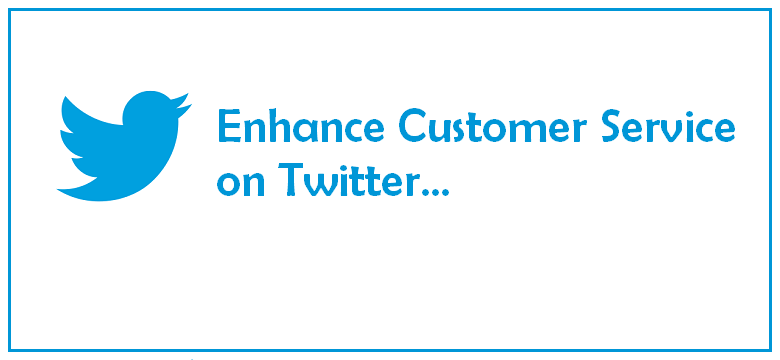 Social media platforms have become the most significant part of digital marketing. Businesses use this as a customer service platform where people ask queries and get solutions in return anywhere worldwide. Gone are the days when people would visit brick and mortar stores to solve their queries. Today, the social media platform provides marketers a great opportunity to give customer service. Twitter is one such platform that has become an amazing channel for customer support. Companies that use Twitter as a social customer service channel as a 19% increase in customer satisfaction.
As a brand, if you're also using Twitter then this article is for you. I will explain the ways through which you can enhance customer services on Twitter.
Are you gear up to learn? Yes, let's get started then.
Apply following given ways to enhance your customer services on Twitter
1. Be as fast as possible while responding
The first tip in enhancing your customer service on Twitter is to be quick in responding. Today, customers are fast and don't want to waste their single time waiting to get respond. Many customers get frustrated when they don't get a reply on time and choose to live your site. But this is the mistake that most marketers make by not responding to their customers on time. According to the study, 77% of US online adults believe that valuing their time is the most important thing a company can do for good customer service. If you don't respond quickly, your customers won't be there waiting for there.
2. Make it personal
To enhance your customer service, you need to listen to what people are talking about you. For that, you need to go personal. Guys, bots, and auto-response might be fine for email and phone support, but these are not good for Twitter support service. But on Twitter, you only have 140 characters to make up a conversation. Therefore, you need to keep your conversation short, to the point, and casual. One of the simplest ways to make your tweet more personal is to sign all the tweets with your name or initials. This is a great way, when your customers feel like they are talking to a person, and not just someone abstract. Here are a few other ways you can use:
You can use your face as an avatar instead of a logo
Try to include a photo of the team for the Twitter header
You can also use CSR's personal Twitter handles in your company's Twitter bio.
3. Track conversions
To provide good customer support to your customers, you can track conversions you have built with your customers. You can also track other mentions about your brand. What you need to do is keep your customer's information such as their name, username, product name, and comments so you can get a clear idea of what people think of your business and can monitor any trends. Furthermore, you can also monitor existing tools to help you with this task. You also get alert by email when information about your business or products is published online. When you track trends, you can refine your customer support by enhancing overall customer satisfaction.
4. Make use of embedded links
Do you know Twitter allows you to use embedded links in your tweets? If you weren't aware then now you can take advantage of it. For instance, if any customer asks you about your policy then you no need to write an entire policy rather you can embed a link to your return policy page. That will direct your customers to the policy page of your site where the customer will see full detail that is required to make a decision. There is no doubt that embedded links are very helpful for you as well as for your customers. So don't forget to take advantage of embedded links on your Twitter profile.
5. Don't neglect negative feedback
Negative feedback is a crucial part of social media marketing. No business can afford to ignore negative customer reviews. If you fail to address your customer queries, it will only hurt their perception of your brand. As per the study, responding to a complaint increase customer advocacy by as much as 25%. Ignoring it, on the other hand, decreases customer advocacy by as much as 50%. Rather you need to use every negative tweet as an opportunity to gain valuable insight into your customers. You can use negative customer reviews to improve your business. Just try to learn from the negative feedback and address the issue. It is in your hands to turn negative feedback into a positive one. The only job is to turn your customer's frustration and anger into happiness.
6. You can measure your customer satisfaction
This is the last way of enhancing customer satisfaction in this article. Guys, as a brand, don't just implement ways to enhance customer satisfaction rather try to measure the results of your customers whether they are satisfied with your services or not. To measure the results, you have to collect customer's data and leverage it correctly to show a lot about your customers and how to keep them happy. Moreover, you can get a lot of data just from Twitter Analytics or from Sprout Social and other such tools.
Way forward
Twitter is an excellent platform to provide better customer services to your customer. There is no doubt that Twitter customer service is rapidly transforming the definition of great customer engagement. Guys, you can apply the above-given tactic to enhance customer service on Twitter. I hope you enjoy reading this article.
For more interesting articles subscribe our website till, then keep reading and keep sharing.
---