How online contests can boost your sale?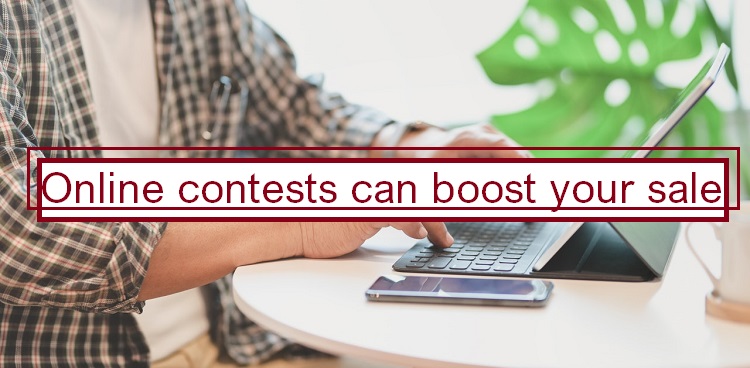 If you are in digital marketing, you might be aware of how online contest is important for your business to earn from. Contests are the best way to engage with your audience and potential customers. Not only online contests help you engage with the audience, but also they boost your sales. This is the reason, why many marketers hold contests online. However, holding online contests is not a cup of tea, it takes lots of time and effort to make the contest successful in the market.
But in this article, I will show you how online contest boosts your sales. If you too want to enhance your sales and ROI then you should read this article to know how to run an online contest.
Let's make a start now.
Before we talk about how to run online contest, first know why you should run this.
Why you should run an online contest?
Today, everything is online. No one has time to go out and attend the contest to know about your products and services. Therefore, the online contest becomes as a way to get marketing results quickly and help accomplish the following:
The online contest is a great way to generate new social media followers
Helps you grow your email list
You can boost engagement with your followers
With an online contest, you are able to produce more leads and sales for your business
You get more traffic to your site by conducting online contest
Let me also tell you that this is most interactive by nature and people often love to attend them. In fact for digital marketers, online contests are an opportunity to win something that people want to know, read, and make purchases from you. Furthermore, if you conduct the proper and right type of contest, that means you can surely generate more sales leads for your business. However, while running an online contest, you must be very clear about your goals and objects to attract large audience towards your business.
Following are the benefits your get by running an online contests
If you are wondering how online contest help you boost your sales then look at some of the benefits of running an online contest given below.
# Brand awareness
Do you think without awareness, people will know about your brand? The simple answer is 'No.' Let me make it very clear to you – if nobody knows about your brand, you will not able to make sales. To generate sales, your brand needs awareness and it is only possible if you conduct the online contests and let people know about your brand, products, services, and offers you can give them. A promotional campaign allows you to connect with a wide number of audiences online. The more you conduct a contest, the more people will get to know about your brand, and this way you generate sales for your business.
# Website traffic
If you have newly set up your business then people will take time to know about your products and services. And of course, it will take time to visit your website. If there is less traffic on your site then fewer sales you will generate. So how to boost sales now? While conducting online contests, you can talk about your website so people could know about the products you are selling. This is the best way to expand your business in the market and grow website traffic as well as sales.
# Helps promote new products and services
So your products are new for people in the market? If yes then running an online contest is the best way to draw the attention of people to your new products. If you briefly explain your products and services to customers they will likely buy it just to give it a try. Therefore, be enthusiastic and make your online contest run beautifully in the market.
The bottom line
Online contests are very powerful if conducted properly. Any marketer can increase their sales, traffic, and visibility of their eCommerce site if conduct online contests. It can offer a highly-effective, super-fast way to get results. They can provide you more leads, more engagement, and more traffic to your site. The more engaging the content you make, the more sales you make for your business.
Comment below to let us how you find this article and subscribe our website for more informative articles.
---