Here's everything about Facebook's new name: Meta
If you're reading this article that means you're also curious (like me) to know about Facebook's New Name: Meta. Isn't it? This news of Facebook is quite shocking for everyone who has account on this platform. What's more eye-opening is that Mark Zukerberg, the chairman of Facebook has declared to build a metaverse ecosystem. What heck is it? Why Facebook is changing its name? What's the reason behind? What Facebook is up to? A lot of such questions will be harbouring in your mind right (I'm also sailing through the same boat).
Here I can say one thing that "Social media giant Facebook is unpredictable." Anyway, the purpose of this article is to make you aware of Facebook's new name Meta and Metaverse ecosystem. Are you ready to know about it?
So, without any further delay, let's deep dive into the pool below.
Facebook's new name has been announced
Yes, that's right, On Thursday dated 28th October, 2021; Facebook's CEO Mark Zukerberg made an announcement that he's altering his company's name to Meta Platform Inc. Where Zukerberg revealed the name? On Thursday, Facebook conducted AR/VR conference where Zukerberg revealed the new name of Facebook. In the event, Zukerberg highlighted the company's virtual-reality vision for the future.  
Note: Facebook changed its Corporate Name to Meta as a part of whopping rebrand. The change doesn't apply to individual platforms like Facebook.
Additionally, the change escorted with a new corporate logo designed like infinity shaped symbol which is slightly askew. But let me tell you that Facebook and other apps like Instagram and WhatsApp, will be under the Meta Umbrella.
Now jump on to the most awaited part of this article….
What exactly Metaverse is?
The word metaverse is made of two terms: meta and verse. The word meta comes from the Greek, which means 'beyond' and verse means 'language.'
In other words, Metaverse is a virtual computer-generated platform where people can interact. The platform gives opportunity to grow their businesses that aren't its namesake sites like virtual reality hardware branch Oculus and Horizon Worlds. This virtual reality software is still in beta testing mode.
What is the reason behind the change in name? Have this question. Let's talk about it below.
The reason behind the change of name
Let the cat come out of the bag – through Metaverse, Mark Zukerberg visualises an online world where people can game, work and communicate in a virtual environment, often using VR headsets. He further said, "the existing brand could not "possibly represent everything that we're doing today, let alone in the future", and needed to change. Through metaverse, Zukerberg is looking to expand its business in two different segments: one for our family of apps, and one for our work on future platforms.
From new brand, Zukerberg also wants Brand Company to encompass everything to reflect what they're and what they hope to build in the future.
Moreover, the company reveals that a new sign at its headquarters in Menlo Park, California, where the company replaced its thumps up logo 'Like' with a blue infinity shape. Zukerberg also said that if you want to avail other services of the Company, you have to use Facebook.
In case you want web design in Noida, contact Curvearro.
Will Facebook and other change will their name?
Social media giant Facebook is the favourite social networking platform of people where people post personal updates and register likes, is not going to change its name. Instagram, WhatsApp, and Facebook Messenger, none of them are going to change their names. Let me tell you that the company's corporate structure will also not alter.
How did Zukerberg showed metaverse to people? Through video demo. Yes, Zukerberg showed videos of what the metaverse could look like, with people connecting as avatars and transported to digital versions of various places and time periods. He further said that metaverse would take care of privacy and safety of people in mind.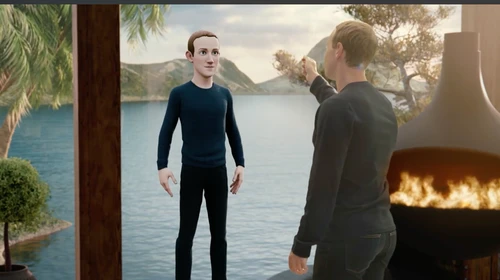 Some important facts about Metaverse at a glance
– Mark Zukerberg calls Metaverse 'Virtual Environment'
– Metaverse is fully privacy and safety controlled
– The company will recruit 10,000 jobs in Europe for the next five years aid in building metaverse
– Metaverse will club physical, augmented, and virtual reality in a shared online space.
The ending note
If you have come to the end of this article, I hope you found this article informative and relevant about Facebook's new name Metaverse. No doubt, the new name of Facebook will open up new opportunity for the company and businesses that are looking to expand their business virtually. So, in the coming years, people are going to call Facebook as a Metaverse Company. So, wait for the company to finally make announcement of 'Metaverse' as official name of the Facebook Company.
If any further update comes for the same, I will let you know. Till then keep in touch and subscribe our blog.
---