Google Updates the Infrastructure of Search Console API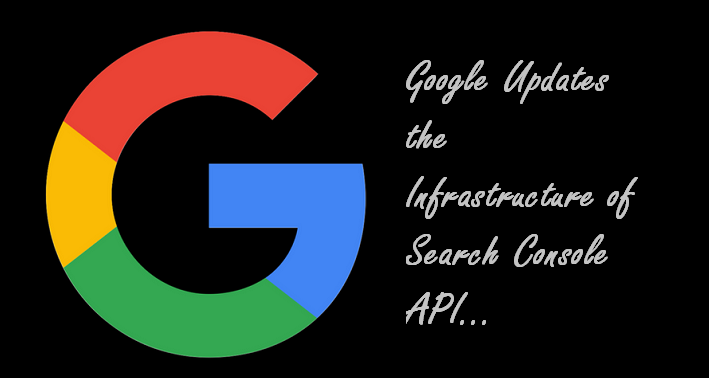 Google Search Console is a very helpful tool that lets you know the traffic of your site, its performance, fix issues, and make your site shine like the sun. Every digital marketers knows how significant the search console is for their website. And Google search console' API (Application Programming Interface) is a software that allows two applications to talk to each other. However, it might not be as compatible as it seems to be. Why I am saying so, guys it is because recently Google made an announcement to upgrade the infrastructure for the Google Search Console API.
Are you aware of this update? If not, you have come to the right place. In this article, I will talk about the recent update which Google made in Google Search Console's API.
So let's make a start.
Recently, Google updated the infrastructure of Search Console API
On August 6th, Google made an announcement for upgrading the infrastructure for the Google Search Console API. Actually, Google had been working on this for so long. With this update, Google stated that it is mainly a thorough infrastructure change and API is compatible backward. In its official announcement, Google said, "API is backward compatible and there are currently no changes in scope or functionality."
However, there are certain changes that you should be aware of. But Google said, "there have already been minor changes that some folks may have already noticed, and will help Google improve API's performance in the long run."
The Search Console software engineer, Nati Yosephian wrote, "This change will help Google to improve the performance of the API as demand grows."
So what changes Google actually made? Google made three primary changes to the Search Console's API infrastructure. Read below.
Primary changes in Google Search Console's API
1. New changes in Google Cloud Platform dashboard
This is the first change that Google made in the Search Console API. The change you will see here is an increase in the new API usage report and a decrease in the old one. In the report, you will notice a traffic drop for the legacy API and an increase in calls to the new one. However, the tech giant Google points out that it's the same API but it is under a new name. Now users can monitor their API usage on the new Google Search Console API page.
2. API key restriction changes
So the second major change you will see in the Search Console API is key restriction changes. With this new update, you have to change your previous API key restrictions. How will you check if you have key restrictions on your API? You can follow the below-given points to make sure that the Search Console API is not restricted. In case, you have added an API restriction for your API keys you will need to take action by August 31st.
If you want your API calls to migrate automatically to the new API infrastructure, make sure the Google Search Console API is not restricted.
In case, your API restrictions are set to "Don't restrict key" you're all set.
If your API restrictions are set to "Restrict key."
3. Discovery document changes
The last change of the Google Search Console API is a discovery document changes. Those users who are querying the Search Console API using a third-party API library need to update this before the year-end. The same is for people who are querying for Webmaster Discovery Document directly need to update it by the end of the year.
Google said that it will drop support in the Webmaster discovery document. Google said its "current plan is to support it until December 31, 2020." But it promises to provide more "guidelines in the coming months."
Should you care for this new Google Search Console API update?
I would only say that if you do not use Google Search Console API then you can choose to ignore this update. But if you want to build or have built your own software using the Google Search Console API, either for internal reporting or other purposes or if you use software service that uses Google Search Console API, then you have to be aware of these changes. You might need to notify your software development team or digital marketing company about the new changes made in Search Console API to further make necessary changes in your projects.
The final track
Guys, I hope you found this article informative and interesting as well. The new update Google made in Search Console API is quite significant especially for those users who use this tool. All the three major changes that Google made I have briefly explained above. You can read again if you didn't get the information in the very first read. However, there is also nothing to worry about these changes if you are not querying the API yourself. Overall, I would say the changes are good to adopt as it will only enhance your experience and grow your performance in the market.
For more updates subscribe our website, till then keep reading and keep sharing.
---