Google My Business Service Area Businesses has bug issue when changing address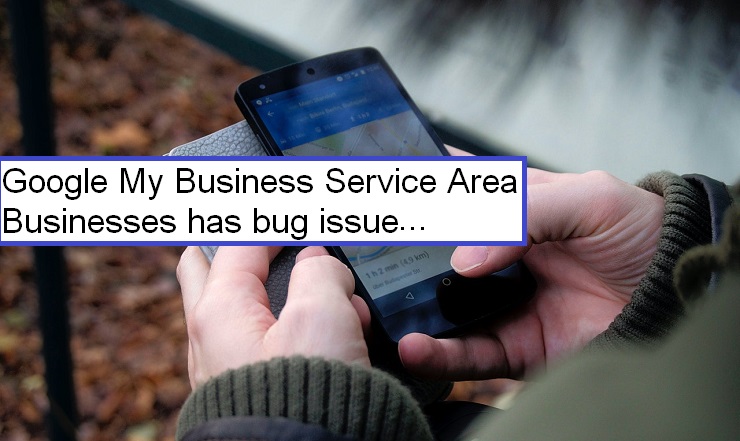 Technology has become so advanced that any digital marketer can attract millions of audiences without having a physical store in place. And this is only possible through Google My Business (GMB). Yes, guys, Google My Business is a great online platform for all the digital marketers who can use this to advertise their brands worldwide. The visibility of any business is important but especially for service-area business (SAB) which covers a particular geographical location which is also very crucial. The purpose of this article is to make you aware that there is a bug issue found in Google My Business Service Area Business.
If you are planning to change your address in Service Area Business (SAB) then this article is very important for you.
Here I will talk about the recent bug found in Service Area Business in GMB. So let's make a start now.
Let's fist talk about Service Area Business in GMB
What is the service area business? In very simple words, a service area business is a business without a physical store. It is a business that offers a service outside of its own immediate location and a business that serves at the customer's location.
It simply means there is no need for any physical store when having a service area business in GMB.
Now jump on to the bug issue below.
A bug issue detected in Service Area Business in GMB when changing address
Recently, there has been talking about a bug issue detected in Service Area Business in GMB. Anyone can see bug issue when changing the addresses of some service area businesses (SABs). This issue is first shared by Ben Fisher who is a local SEO.
The local SEO Ben Fisher on Twitter said, "If you are trying to change an address for a (SAB) Service Area business, adding an address and clearing it is not working. In most cases, it will revert back to the initial address."
It means if you move your business, you can't change your address right now.
Now the question is when will you face this bug problem? According to Ben Fisher, you will not see this issue unless you use API (Application Programming Interface). He said, "You would not know this unless you were using the API." In addition, many of these get stuck in the reinstatements queue.
Ben Fisher also shares good news about the bug. He says the good news is that this is a "temporary bug."
As per Ben Fisher, the bug issue occurs in two situations:
The first situation when the bug will appear is – when you add an address and clearing it for a move. It will then revert the address back to what it was before as a service level business.
In the second case, you see the issue when you going from a storefront to service level businesses remove all traces of an address.
This is an issue that online marketers should consider because he said what, "happens is if you get suspended there is no recourse at the moment since the address will be wrong in both cases."
Role of service area businesses in Google My Business
With the service area business, you will organically have a geographical area where you can deliver your services. It is up to you what ranges your business will operate within a particular zone and beyond it. Why it is so because you perform service at your customer's location.
Let me tell you that like any other business, SABs can also appear in Google Maps and in the local pack. Moreover, you can set your service area based on the cities, postal codes, or other areas that you serve. You have the option to add up to 20 service areas. Read below to know more about setting up a service area business in Google My Business.
Follow the steps below to set up a Google My Business profile for service are business
First of all sign in to create a new business account on Google My Business. To create a new listing, click 'Manage' and then add your business name in the search box. You will see a drop-down list appearing and showing any businesses with that name with an existing GMB profile.
Now select a business category. Just enter the main category and then add an additional one later if you find appropriate.
It's time to select specific services relevant to your offering. Here you will get a few suggestions from Google to add your profile.
In the next screen, you need to add an address to your business listing if you wish to.
Now Google will ask you to define your service area. You can enter up to 20 locations here. Just use a mix of city names, zip codes, countries, etc. Make use of zip code to know if your service area is fully covered or not.
Next, provide your contact information so that people can easily contact you. Moreover, you can add your web address, and a local business website URL listed. You can also ask Google to provide you with a free website.
Finally, your service area business profile is set up. Simply click 'finish' to end the process.
Note: Point number 4 is an important step for your service area business profile creation. You can simply select "No" if you are a pure service area business with no physical location for example a showroom that customers want to visit. If you have any kind of physical store then do mention the address in GMB.
The bottom line
Guys, finally I want to tell you that bug problem occurs almost every time when something new launches and new changes happen in any app or anything. In this article, I talked about how you can also encounter a bug issue of service area business in GMB. I will only suggest you – don't make changes in SAB in Google My Business as of now. Just hold off on making any changes for SABs in Google My Business until the bug issue is fixed.
Subscribe our website to keep yourself updated also comment below to let us know what you want to know more.
---