Geo-Targeting Feature Removed in the new version of Bing Webmaster Tools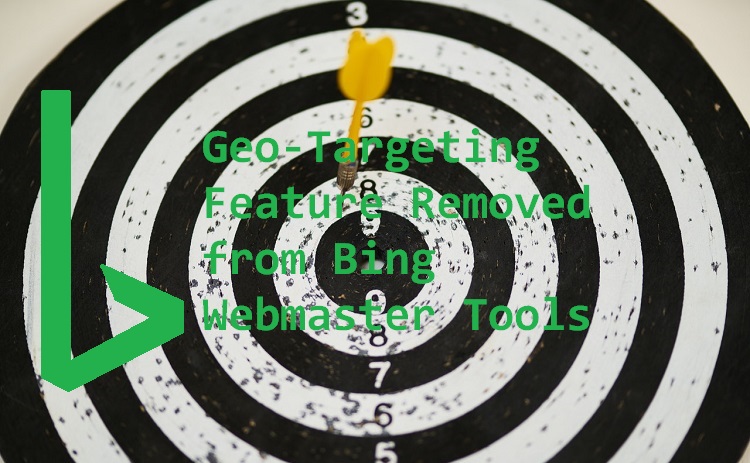 Bing is a Microsoft search engine, and Bing Webmaster Tool is a site where webmasters can add their websites to the Bing index crawler. It allows webmasters to see their site's performance in Bing and a lot more. Every Bing user would be aware of that Bing revamped Bing Webmaster Tools in July this year. With this launch, Bing introduced a new URL inspection tool, a new Robots.txt tester tool, the site scan tool, and new webmasters guidelines. All the features are quite good but the recent update that has come about the new Bing Webmaster Tool is that it has removed the Geo-Targeting feature.
This update is quite shocking for all digital marketers and webmasters. Do you want to know whether Bing provided users any other alternative or not? Just read the article till the end so that you don't miss out on any important information here.
I will start from the scratch.
New version of Bing Webmaster Tool removed Geo-Targeting feature
Recently, Microsoft Bing made a big decision to remove Geo-Targeting from the new version of the Bing Webmaster Tool. The feature was available in the old version but it has not been migrated to the new version. Fabrice Canal from Microsoft Bing confirmed it on Twitter that it is not coming to the new version. He also said to SEOs to use Metadata in HTML or HTTP header to communicate geo-related information to Bing.
Jackson Lo is the person who first spotted this difference and posted about it on Twitter where Fabrice Canal from Microsoft responded:
Jackson Lo: @Bing WMC did the geo-targeting option get removed? I'm not seeing it in my setting.
Fabrice Canal: Yes, we did remove that. Metadata in HTML or HTTP Header is the best way that most search engines adopt.
Let's understand the concept of Geo-Targeting in Bing Webmaster Tool below.
Geo-Targeting and Bing Webmaster Tool: a significant mixture
Geo-targeting is a crucial part of international Search Engine Optimization that can benefit your search engine rankings. With the help of Geo-targeting, you can tell search engines which of your domains, subdomains, and subfolders are the most relevant for users in a specific country.
In the Bing Webmaster Tool, the Geo-targeting feature allows you to provide Bing with hints about the intended audience for your website by connecting it to a country. Bing Geo-targeting provides you with additional flexibility, allows you to define a country audience for your entire website.
It shows that Geo-targeting was a specific part of the Bing Webmaster Tool, now it is removed from the new version of the Bing Webmaster tool. So is there any alternative that Bing provides to its users? Read the next section to know the answer of this question.
Alternative of Geo-targeting that Fabrice Canal provides to SEOs
– Meta data embedded in the document
This is the first option that you can use for Geo-targeting in the Bing Webmaster tool. Here you need to use the "content-language" meta tag to embed a document location in the <head> section of your documents. The content attribute you will see is made up of a 2 letter IOS 639 language code, accompanied by a dash and the appropriate IOS 3166 geography code. Now you can alternatively embed the document location in either the <html> or the <title> element using the same format:
<html lang = "en-us">
<title lang = "en-us">
Note: The order of these tags is: <meta>, <html>, <title>
– HTTP Headers
Another Geo-targeting alternative you can use is the HTTP header. For host-wide location tagging, you can select to embed the document location using the "content-language."
– Top-level domain
The next tactic you can use to communicate geo-related information to Bing is top-level domain (or ccTLDs). For document location, only the country code top-level domain you can use out of the top-level domain categories distinguished by the IANA (Internet Assigned Numbers Authority).
Furthermore, top-level domains other than ccTLDs include .net, .com, and .org. These domains don't influence the document location.
– Reverse IP lookup
The last alternative of Geo-targeting you can use to communicate in Bing is reverse IP lookup. Bing performs a reverse IP lookup to determine the document's location. No doubt, reverse IP location is another signal you can use when other signals are less precise. Let me also tell you that third-party data providers provide you reverse IP information at highly regular intervals. However, you can also continue to report errors through the Bing Webmaster Tools.
These were some of the methods which Bing asked SEOs to use rather than Geo-targeting to communicate geo-related information to Bing. However, the old Bing Webmaster Tool still provides a Geo-targeting feature.
Summing up all together
Bing is very serious about providing its users with a great experience when using the Bing Webmaster tool. This is the reason that Bing upgraded the Bing Webmaster tool in July month and now removing the Geo-targeting feature from the new version. Many webmasters and SEOs might not be satisfied with this decision. But Bing does provide instructions to determine the definitive document location for ranking. I have mentioned the alternatives that you can use in lieu of Geo-targeting. I hope the article was helpful to you.
Subscribe our website to keep yourself updated, till then keep reading and keep sharing.
---