Follow the best E-commerce SEO checklist for 2020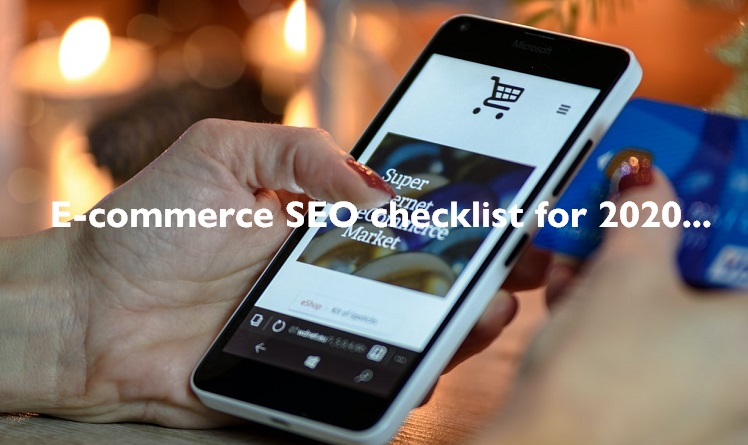 Search Engine Optimization – The most important part of eCommerce websites. To get a good rank, quality traffic to website, or finding relevant keywords for your content – all these are only possible when you effectively integrate your site with SEO. Now you can see how important SEO plays role in any website. However, there are many webmasters who while optimizing sites ruin the overall experience of their website and user experience. Don't commit this mistake folks! You must find a path to rank your site better, get quality traffic and much more. But how you gonna do this?
Folks, if you want to learn how to do SEO for an eCommerce website then you're at the right place. In this guide, you will learn some of the best SEO checklist to follow in 2020 to rank your eCommerce websites.
So let's jump into the list now.
Implement the following best E-commerce SEO checklist for 2020
1. Optimization of SEO title
The title is what attracts the eyes of the people and enables them to visit your site. And this will only happen if you create a unique and interesting title for search engines and users as well. Let me tell you that all your products are optimized with SEO titles. That's why try to create a unique title as possible. Use less than 60 characters to create a title.
2. Enhance your page loading time
I will not visit the site which takes a lot of loading time, so will you. You will find many eCommerce sites taking average load time 6 seconds but the well-optimized site will take around 2-3 seconds in loading. If your site is taking more load times then try to reduce it by improving certain things such as reduce redirects, minify HTTP requests, reduce extra plugins, try to get better hosting, etc.
3. Optimize your images and video contents
Nowadays people like images and video content more than textual contents. Having well-implemented images and videos to the site means your website is rich in media content. If not then you to use proper and relevant Alt Text in your images, name the image file properly, try to reduce image and video size, use embedded codes for videos, and write all details and required descriptions for all your videos.
4. Create relevant and unique contents
You know when do most people leave your site? When people find your site has plagiarized content. Not only will people leave your site, but also Google will not give a good rank to your site. You need to think about the topic before you start writing on it. Always make sure your contents are authentic, informative, relevant, unique, and well-structured. Having all these qualities in your content, you will end up getting quality traffic, site visitors, and a good ranking of your site.
5. Make your site mobile-friendly
Let me tell you that people now use smartphones to access any websites than a desktop or laptop. So having a site that is mobile-friendly means more chances of getting site visitors who will convert themselves into potential customers eventually. If you remember then Google launched Accelerated Mobile Pages (AMP) for eCommerce sites. AMP speeds up website pages for mobile by adding AMP snippets to the website code.
6. Add relevant keywords to site contents
Keywords are the most important ranking factor for websites. To get the good rank of site, webmasters make a mistake of stuffing their contents with irrelevant keywords. The overdose of keywords on-site contents will not fetch you good ranking rather it will harm your site and Google will also penalize you for doing so. So make sure to add relevant, authentic, and organic keywords only.
To summarize!
Guys, the above-mentioned are some of the best eCommerce SEO checklists for 2020. With the help of the above SEO tactics, you will surely improve the performance of your eCommerce website. Make sure you follow all the above points given in this guide and enhance your overall site performance. I hope you got the relevant information through the article for your eCommerce SEO checklist.
Kindly comment below to let us know how you find this article. For more informative articles get in touch with us, till then keep reading and keep sharing.
---