Top 10 Free Tools to Improve Email Verification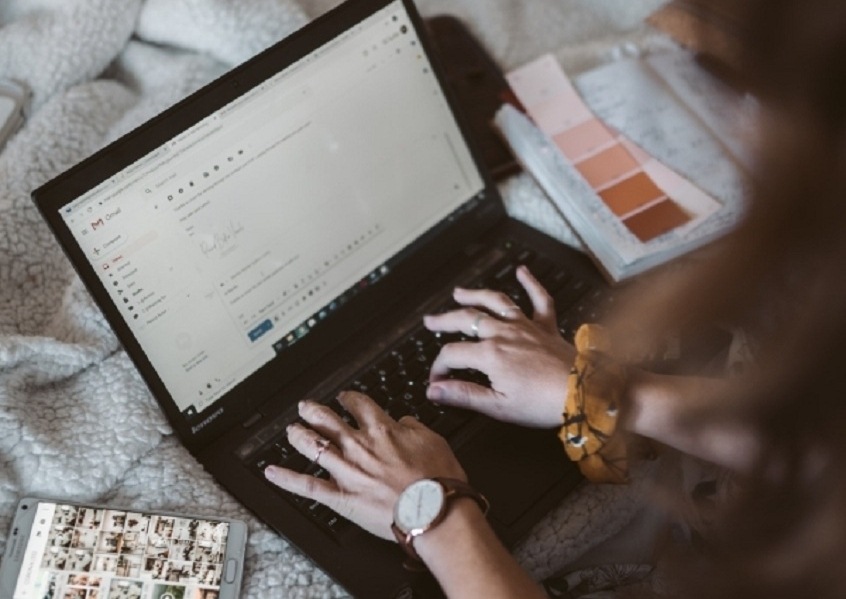 Though we all know that email marketing is the traditional form of marketing yet the demand of it is growing every day. What emails can do for a marketer, other marketing methods may not work. That's the reason email marketing is still at peak but it doesn't mean every time you send an email to your customers will reach to them properly. Sometimes, your customers receive emails in spam box which mark that you aren't an authentic business this increases the bounce rate on your site thereby scaling down the performance of SEO. Therefore, it is crucial that you verify email before sending them out to your customers. But how do you do that? With email verification tools, yes you read it right. Email verification tools ensure that all your mails are delivered successfully. Moreover, they also ensure business hit real, active recipients and avoid the spam box.
To help you verify emails, I am going to talk about top 10 free email verification tools for you. So let's get into the pool of tools below.
A list of top 10 free tools to improve email verification
1. MyEmailVerify
The first free email verification tool you have in the list is MyEmailVerify. It is one of the famous tools available in the digital marketing sector. Also, the tool helps remove junk emails and reach more people. MyEmailVerify tool performs syntax verification, checks domain/MX record, role account detection, and temporarily unavailability detection. Moreover, if you want to know the email belongs to real domain or not, then this tool will help you identify in real-time. Of course, the tool is free to use.
Features of MyEmailVerify
Reduce email deliverability through latest anti-greylisting technology.
Its email validation API identifies spam domain
Free domain email checker
Syntax verification is a top notch feature
2. QuickEmailVerification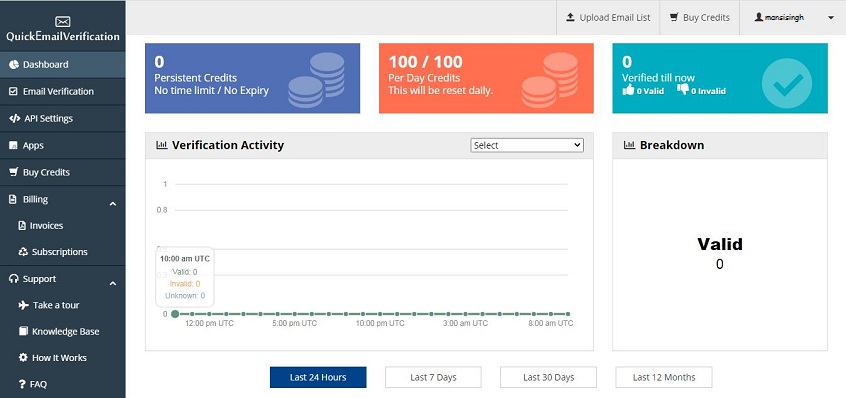 Another tool to verify email is QuickEmailVerification. It is the most advanced and accurate free bulk email verifier and email validator tool which top professional marketers use. However, this is the most reliable email checker that ensures to provide more open rate and deliverability. Moreover, it ensures and checks fake emails from entering your email list. In fact, your team will feel more confident to move ahead the list after the verification.
Features of QuickEmailVerification
Suitable for all industry type such as E-commerce, retailers, finance, education, technology platform, etc.
Spam trap detection and checks syntax
Checks mail server validation
And single email verification
3. ZeroBounce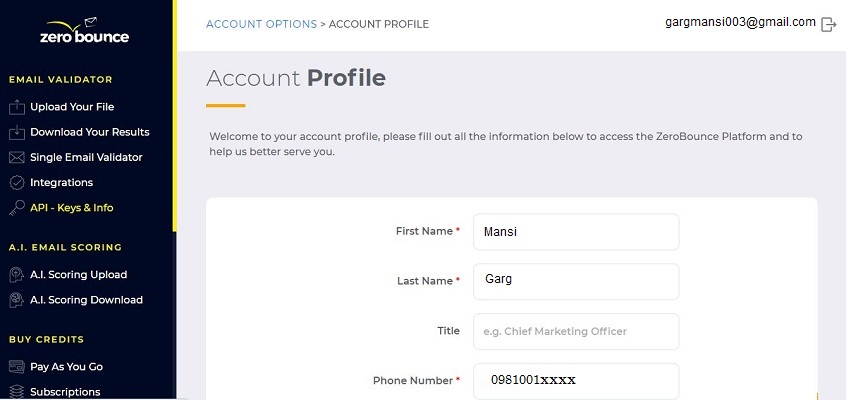 Do you want tool that is innovative to verify your emails? If yes, the ZeroBounce will be the right tool for you. It prevents bounces and preserves your sender's reputation. Moreover, it helps in removing email addresses that doesn't exist ad misspelt email address. With this tool, you will encounter less bounce rate and get your IP reputation secured and increase deliverability, and enhancement in email campaigns.
Features of Zerobounce
Improve inbox placement
The tool comes up with a spam trap
Helps in removing abusive addresses which mark email as spam.
The tool helps you control spam rate
4. BlazeVerify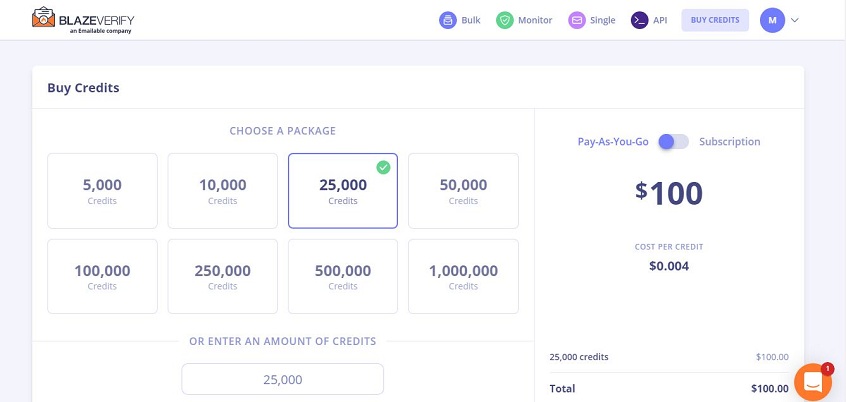 BlazeVerify is another reliable email verification tool. It helps marketers and developers create effective marketing campaigns. Basically, this tool helps in eliminating the dead email addresses from your list which ultimately reduce your bounce rate and boost deliverability. Certainly, the tool will work best in email marketing sector. The tool has many amazing features given in the list below.
Features of BlazeVerify
Drag & drop interface
Real-time results
Improves email quality scores
Email provider integration
You get more customized reports
5. ClearOut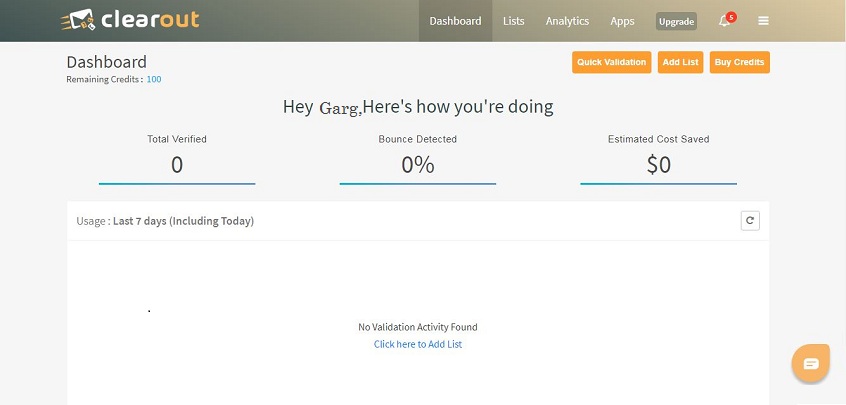 Another free email verification tool comes in the list is ClearOut. The tool is very secure and reliable which guarantees 98% accuracy in the results. Moreover, it offers a real-time email verification service. With the help of this tool, you can eradicate all duplicate emails ids and identifies catch type addresses to avoid emailing to enhance email deliverability. In fact, the tool also works and performs mailbox error verification by verifying all types of mailbox errors.
Features of ClearOut
Verifies syntax of your mail
Disposable email detection
Risk verification and API
Checks domain of the email
6. DeBounce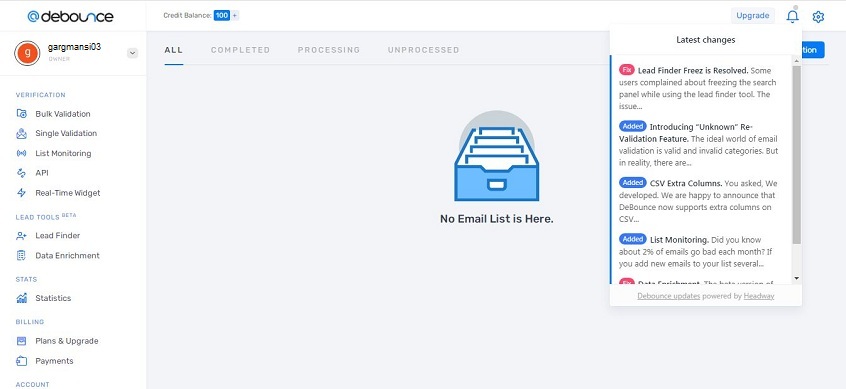 DeBounce is one of the best free email verification tools available in the market. The tool works best and eliminates bad and spammy emails. It also clears your lists by detecting invalid and spammy mailboxes. With this tool, you can upload and validate lists of email addresses quickly and securely. Additionally, the tool identifies catch all-domains that return valid for all emails.
Features of DeBounce
The tool minimizes bounce by using an SMTP check.
Its powerful integration helps you to automate import and keep your lists consistently clean
Bulk email verification
Syntax check and spam detection
7. NeverBounce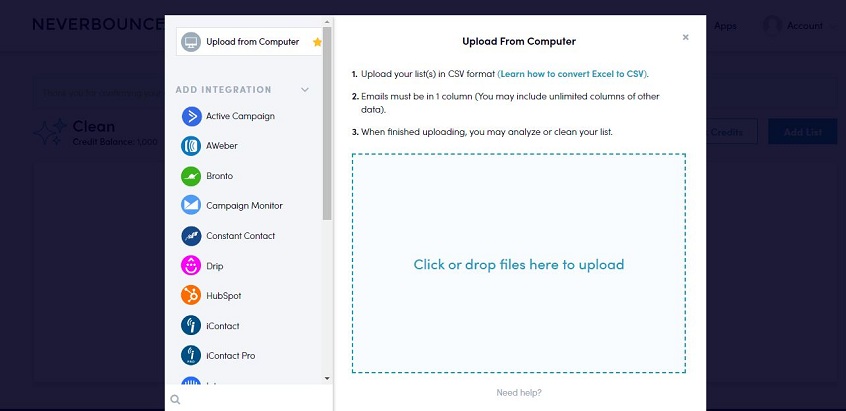 This is the most popular email verification tool available for marketers. Today, the tool has almost over 125,000 users. In fact, the tool offers you bulk email list cleaning that verifies and clean email lists for the perfect send. Even you can verify your customers' email addresses directly at the point of entry. With this tool, you can connect your email provider for automated cleaning, also ensures accurate and up-to-date data.
Features of NeverBounce
Mail server monitoring
Email bounce removal
Bulk email verification
Spam trap detection
Email integration
8. EmailListVerify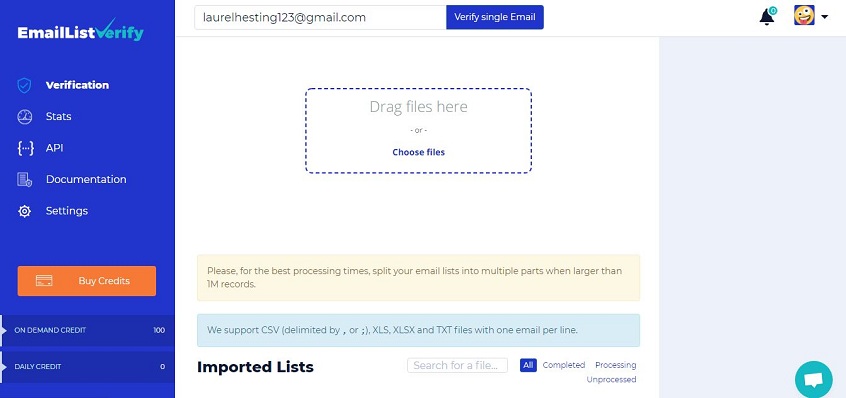 This is also an eminent email verification tool which is being used by many large organizations like MailChimp, Rackspace, and Shopify. The tool is very responsive as it has helped businesses scanned over 5 billion mail over addressed during their time in business. In fact, tool checks the spam traps, emails with bounce rate, and syntax errors.
Features of EmailListVerify
Checks bulk email list verification
Integrates your email list through CSV, XLS, or TXT file.
You can also eliminate invalid email addresses in real time
9. Mailfloss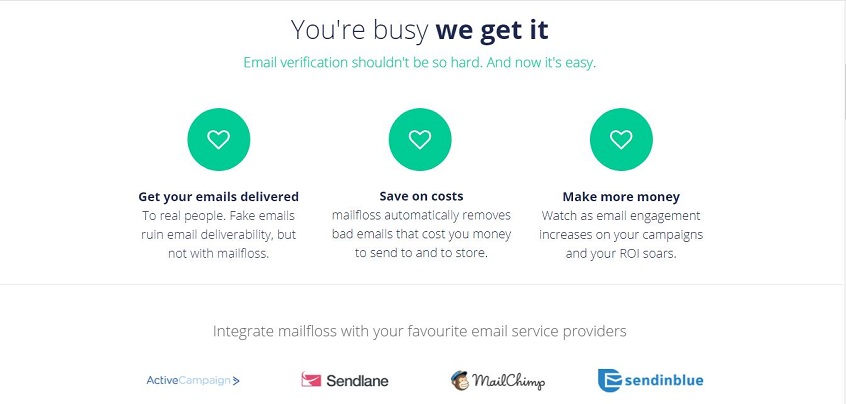 Mailfloss is very easy to use email verification tool to check your email list. The tool integrates a large number of email marketing service providers which allows you to verify and check your email list in bulk. Moreover, the tool supports a wide variety of email providers like MailChimp, ConvertKit, Mailerlite, etc. In fact, the tool detects invalid addresses, duplicate emails, temporary emails, and spam traps.
Features of Mailfloss
Bulk email list verification
The tool integrates a list of large email marketing service providers
It automatically clean up your email list on daily basis
Helps in controlling deleted emails
10. Email Checker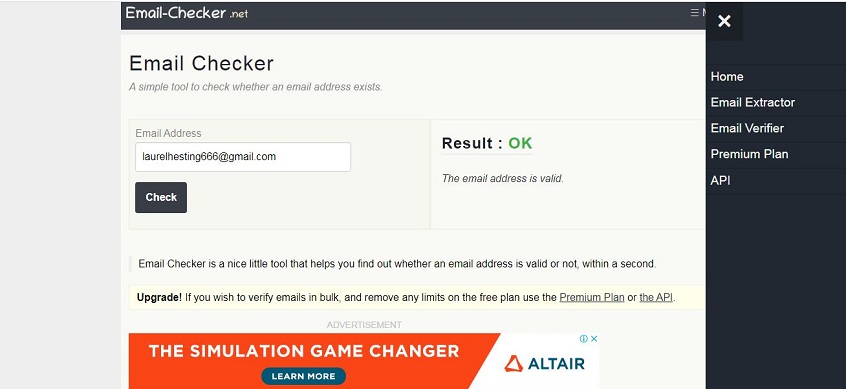 Last but not the least tool we have in the list is Email Checker. The tool is best in verification process which helps in removing email addresses with invalid domain and syntax errors. In fact, the tool also removes temporary errors and corrects if anything is misspelt.
Features of Email Checker
Provides you real-time verification API
Ecommerce integration
Integrates your email list with API to send lists to the tool
The bottom line
Email verification tools are indispensable parts of your business. The tool ensures that you have a clean email list. Moreover, the right tool will help in right deliverability of your marketing campaign by sending emails to right customers and high value contacts. So, I have discussed top 10 free tool above now you can decide which one is right for you. Improve your email marketing with email verification tool.
Subscribe to our website if you want to read more such interesting articles.
---