Digital Marketing Trends for 2020!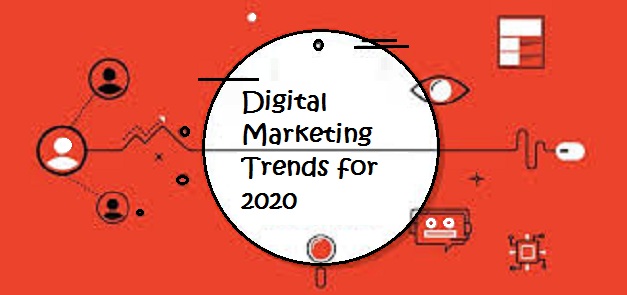 The new year 2020 is just around the corner and people have started preparation to celebrate it. But the celebration is enough to make New Year special? No guys, New Year is like an opportunity to make one's life much better, happier, and successful than the previous year. Agree with me? And this can only be possible if you apply to follow new trends for New Year. Basically, today's article is for every digital marketer or startups who want to get success in digital marketing. We all know that digital marketing is dynamic in nature and is filled with various tactics. So, where you should start? Which approach to consider embracing your marketing efforts in New Year? To answer all your questions, I have combined together the list of some digital marketing trends that every marketer should consider applying in 2020 to have a more fruitful and prosperous year.
Let's get started now.
S-M-A-R-T Digital Marketing New Year's Trends for 2020.
1. More Focus on Social Media Branding
We all know that social media is giant in itself. Marketers should consider it involving in their marketing strategy. Marketing without having an online presence on social media is like sowing on the barren land. Social media is also an engaging platform so don't forget to involve it in your marketing strategy. Customer interaction is a must for your business so once you focus more on the social platform there are chances you get high RoI.
2. Optimization of Website
Another trend is optimizing your site. There are many ways to optimize websites such as SEO optimization, voice search optimization, content marketing optimization, mobile optimization, etc. however, you must focus on 'voice search optimization' more. About 3.5 billion voice searches are performed on Google and with voice search, your website can deliver faster results at your user's convenience. so integrate voice technology as a marketing trend and get more traffic in 2020.
3. Produce more Meaningful and Engaging Content
You must have heard the adage, 'content is the king'. So, make your content king with a new year's resolution. Creating relevant, informative and meaningful content not only helps you engage with your audience but also increase the traffic to your site and ultimately increase your brand's reach. Your content must be able to address your reader's needs and educate them with more trust and engagement.
4. Invest in Video Marketing
Now people prefer to watch rather than heavy reads. Before creating heavy reads content you must consider your audience first whether they would like to read your content or watch 2-3 minutes videos with the same message. As per content marketing institute, "videos can generate about ten times more comments, shares, likes, and engagement than other forms of web content. Video production might charge more money, time, and efforts but it can offer a huge payoff and high ROI only if you make it as your resolution in 2020.
5. Optimize Your Online Presence
Every website operator wants to increase his traffic and it is only possible if you optimize your online presence to make it more user-friendly. It is only possible if you provide relevant information, understand the reader's needs, and add relevant keywords to the site. If your website isn't optimized in 2020 then you're running behind in the race. Make optimization as your 2020 resolution.
The Bottom Line!
I hope this blog was enough helpful for you to employ digital marketing trends in your strategy in 2020. If you think you're not in the Race or competition then you must start your New Year by adding above trends in your marketing. Once you consider these above trends, I'm sure they gonna become your success checklist to ensure that you're on the right track. However, you can check many other trends for your marketing to make it more effective and transparent.
The above trends will make your marketing more effective and engaging one. For another updates get in touch with us, till then keep reading.
---