Cookies are not just giving permission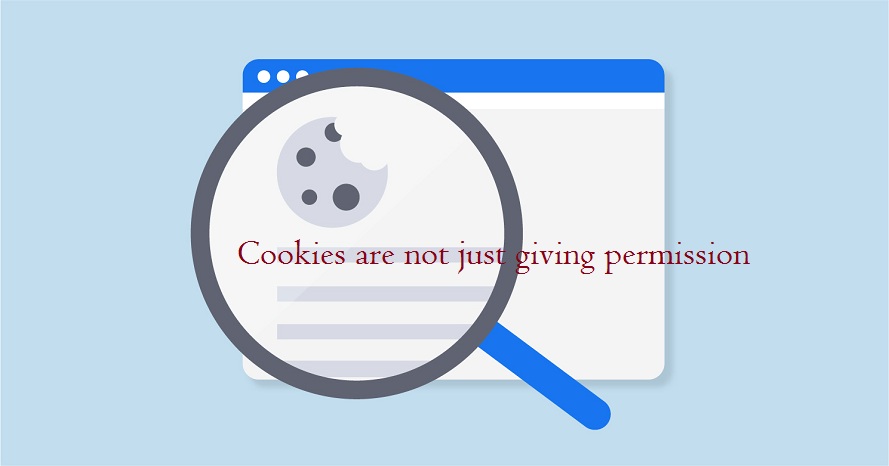 We all have heard about cookies. Wait, guys! I'm not talking about baked cookies rather I'm talking about one that we see on websites while visiting. Although I have also written an article on cookies which is "what happens when you don't allow cookies", here in this article, I will talk about specific parts of cookies such as their functionality in the various web application, what are cookies used for, types of cookies, etc.
So, if you have read my previous article on cookies then it will be easy for you to understand this article too if not then you no need to worry folks. I will start here with the basic concept first. So let's jump into the pool of cookie.
To begin with, cookies are basically a package that contains our information whenever we visit a website. These are the small files that are stored on a user's computer, laptop, tablet, or mobile phone. Every particular cookie contains the website's name and an ID for you.
Furthermore, cookies can hold any kind of information, for example, your visiting time on website, the items you added in your shopping cart, various links clicked by you, etc.
Let's see the types of cookies or internet cookies
– Session cookies
Session cookies are those cookies that last for the duration of users using the website. Normally, these cookies get deleted by web browsers when it quits. Session cookies may expire if you don't visit a website in a given time period. And if someone comes and uses your computer, they would see nothing on sites that use session cookies as they are required to enter a user name or password.
– Persistent cookies
Persistent cookies are also known as stored or permanent cookies. These cookies are stored on a user's hard drive until it expires or until the user deletes the cookie. Generally, these cookies have an expiration date of 2-3 years. This type of cookie collects the user's information such as web surfing or user preference for a specific website. For example Gmail.
– Third-Party cookies
Third-party cookies are basically set with the different domain name than the one which is shown in the address bar. For example, an advertising service (AdSense) also creates a third-party cookie to monitor which websites are visited by every user. Basically advertising agencies use these cookies as they don't want to waste money displaying them to people who aren't going to be customers.
Role of cookies in websites
I will explain this with the following points below:
When you add an item in your online shopping cart and leave the website without making a purchase. Later, you visit the website you will find that items are still in your cart.
You often open and close browser tabs for your email, Facebook, or some other site, you no need to log into every time you return.
You're on a website which you have visited earlier. Now you go to fill out the form and notice some fields are already completed with the information you used last time.
Though there are many other ways that cookies are used such as tracking and marketing purposes. These tracking purposes are often used to target better online advertisements. It also uses user behavior on a website to alter its designs.
Cookies are not just for giving permissions
Generally, cookies are what ask your permission so that you can get a good user experience while visiting a website. However, these days people use cookies for almost every purpose you can think of. You can use them for saving users settings such as name, language, location, or screen size. This enhances the quality of the service that you provide to your clients as you can optimize the service for a client and remember this optimization in the future.
For example, you can save the client's preferred language to a cookie and then show your site's content in the preferred language every time the client visits your site.
Certainly, there are many other things to do with cookies than this. For more information get in touch with us, till then keep reading.
---