Bing Webmaster Tools is now available in Arabic and Hebrew languages.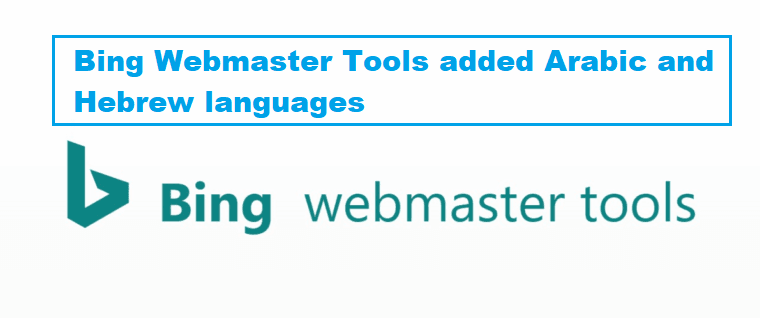 Bing webmaster is a renowned tool offered by Microsoft Bing. The tool lets webmasters and SEOs to add their websites to the Bing index crawlers. With this process, webmasters can see their site's performance in Bing and a lot more. Well, Bing webmaster tools is excellent for English users as the majority of people around the world understand English. Until now, Bing supports English as a preferred language because the campaign can target all the English countries. What about countries such as Israel and the Arab world where English is not spoken? How people will use this tool?
The good news for Arab and Israel people is that now Bing webmaster tools has added two new languages to make it easy for Arab countries people to operate this tool. These two languages you have already read in the title of this article, right.
If you want to know more about this then keep on reading the article below.
Bing webmaster tools added two new languages – Arab and Hebrew
About a day ago, there has been news hovering in the web world about Bing webmaster tools that it added two new languages. Well, it is true now the Bing webmaster tool supports languages that go from right-to-left. And the languages which the Bing webmaster tool supports now are Arabic and Hebrew. So yes guys, Arabic and Hebrew are written and read from right side of the page to the left, yes it is almost like the Urdu language.
How did we get to know about this? Fabrice Canal from Microsoft Bing informed on Twitter that the Bing webmaster tool is now available in two other languages that are Arabic and Hebrew.
He wrote on Twitter, "If you didn't notice yet, Bing Webmaster Tools is now also available in Right-To-Left languages as Arabic and Hebrew."
How Arab countries' people will benefit from the languages added in Bing Webmaster tools?
Guys, the languages which Microsoft Bing added in Bing Webmaster tools are quite beneficial for Arab and Israel people. You would know that these are those countries where people hardly speak English. And using tools that only prioritize and work based on the English language has no use in such countries. Therefore, Bing finally has added two new languages catering to the Israel and Arab world.
Here are few points that will help you know the benefits of new languages added for Arab people.
Digital marketers in Arab countries and Israel can now target the particular audience residing in local area.
Now marketers can display ads to target audience with relevant keywords.
Bing Webmaster tools make it easier for Israel and Arab world to enjoy the tools in local languages.
What will Bing achieve by adding Arab and Hebrew languages in its tool?
Well, every company wants to expand its audience and market across world, right. Bing is the second popular search engine used worldwide. However, its tools largely support and meant for English users but now Bing has made webmaster tools available for Arab countries as well that earlier deprived of using this tool.
Therefore, you can say that the ultimate purpose of Bing to add Arab and Hebrew languages is to expand its users in Arab countries as well.
Let's move ahead and learn how to enable Arab language.
How do you enable Arab and Hebrew languages in Bing Webmaster Tools?
The process to enable these two languages is very simple. What you all need to do is:
Log in to your Bing webmaster tools account
Go to Setting
In the setting, click on Language section. Just scroll down the languages until you see the two new languages added.
Finally, change the language to Hebrew and Arab.
Let's talk about the benefits of using Bing Webmaster Tools
– A mobile-friendliness test
Bing webmaster tool is an excellent tool for people who use it. The tool accesses your website for mobile-friendliness. You can easily view how your site looks on different sizes of screens. Moreover, the tool allows you to analyse webpages for SEO. You also get a set of SEO suggestions.
– Organic keyword search
Keyword plays a crucial role for any website because they help webmasters rank their site on the basis of this. The webmaster tools help you give valuable information about organic query volumes. You also get accurate keyword traffic figures to provide you better insights into traffic trends.
– Site move option
Bing webmaster tools is an effective tool as it allows you to send a notification to Bing whenever your site is moved to a new domain. This will also work when your site is moved to a new place. Ultimately, this will fasten the process of indexing in the search engine.
Let's sum it all up
Bing Webmaster Tools is a free service provided by Microsoft Bing. And the two new languages which Bing added in its Webmaster tools will help Arab and Israel people to use the tool in their local languages. No doubt, this is a great step that Bing took to expand its market in Arab countries as well. If you are a resident from Arab then you can avail the new languages added in the tool. Now you have the option also and you have read above how to enable the language.
For reading such articles on recent updates, you must Subscribe to our website.
---