Bing soon will present the sitemap diagnosis tool!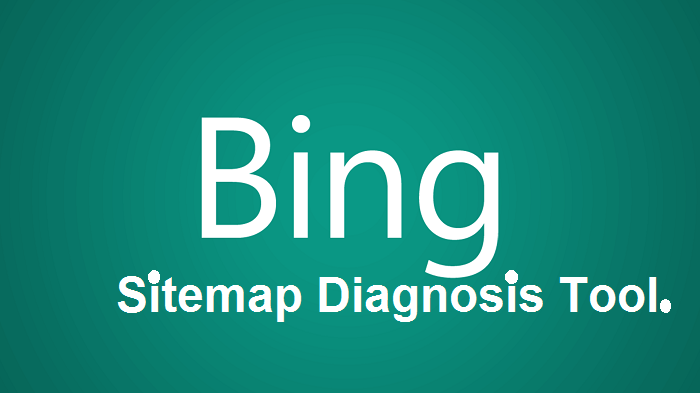 Bing (like Google Chrome and Mozilla Firefox) is a web search engine owned and operated by Microsoft. It provides a variety of search services like web, video, image and site map search products. Bing like Google allows webmaster to add their websites to Bing index crawler via Bing webmaster tools to see the performance of their sites and much more. However, Bing webmaster tool is often overlooked by webmaster but it's indeed a most valuable free SEO tool available to you. Though it's not a hidden fact that Google is the largest provider of search engine traffic for many websites, it would be no surprise if you consider Bing as the second largest organic referrer.
Albeit, my purpose of writing this article is to make you aware of the new tool which is being introduced in the list of Bing Webmaster tools, the sitemap diagnosis tool. So let's make a start now.
A new 'Sitemap Diagnosis Tool' will be introduced soon by Bing!
Bing is said to have been working on launching a new tool in the list of webmaster tools known as Sitemap Diagnosis Tool. Nagu Rangan, a Product Management at Microsoft working on Bing, on Pubcon stage said, "The Bing webmaster tools team is working on a sitemap diagnosis tools." This information is actually shared by Purna Virji, who was in the audience and works for Microsoft Advertising.
Now the question is how the new tool will help webmasters? The diagnosis tool will help webmasters debug common mistakes they make with their XML Sitemap. Purna also wrote on Twitter that the common mistake SEOs make with sitemaps files to set the lastmod date and time the sitemap was generated, instead of the date and time the web page content was added or changed.
What actually are sitemaps in Bing?
In Bing, sitemaps are actually an excellent way to tell Bing about URLs on your site that might be difficult to discover by the web crawlers. There are various techniques you can utilize as Sitemaps to submit to Bing such as:
XML Sitemap
Yahoo! mRSS and Bing mRSS
RSS 2.0
Text (a simple text file containing one URL per line)
Atom 0.3 & 1.0
What are the ways through which you can submit your sitemaps to Bing?
You have many ways or options to submit sitemaps to Bing. Let's read them below:
You can ping in Bing using a HTTP request
You can also advertise the sitemap in your robot.txt file using a Sitemap directive
After opening Bing Webmaster Tool account you can submit URLs directly from your account's dashboard or either you can go with full-fledged Sitemaps feature
The bottom line!
I hope this article helped you enough understand the new sitemap diagnosis tool in Bing Webmaster tools. Let me also clear you that this new tool in Bing has not released yet, Bing webmaster tools team is working on it and there is also no information of when the tool will release.
so if we get any information regarding this tool we will let you know. Till then get in touch with us so that you don't miss out any information.
---