Best 5 practices for anchor text optimization in SEO
SEO is the best practice that every webmaster performs for their website. Well, SEO is a wide concept in which many small elements play their role and one such element is Anchor Text. In case you don't know – Anchor Text is a clickable text in content that links a web page to another one. And optimizing anchor text is important for search ranking success. What mistake webmasters make is they over-optimize anchor text which eventually has a negative impact on the site's ranking. How to save oneself from over-optimizing anchor text? In this article, I will enlist 5 best practices for anchor text optimization in SEO.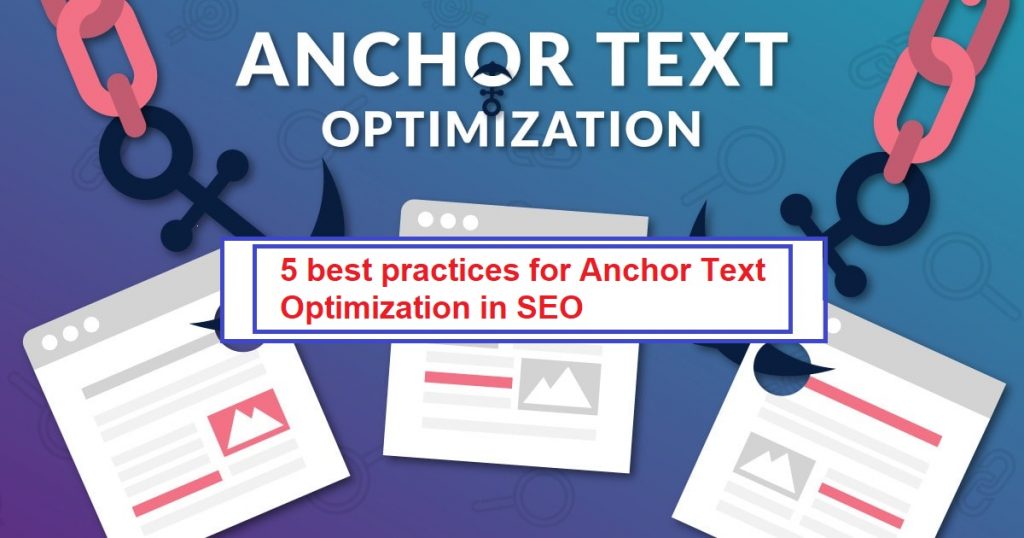 Before I talk about anchor-text optimization practices, first let's understand what anchor text optimization is.
Let's jump in.
The concept of Anchor Text Optimization
The anchor text optimization is the process of using the most suitable anchor or text both in internal and external content to help you rank better in search engines. And anchor texts for SEO is critical for your search ranking success. In SEO, anchor text is very significant as it is one of the indicators Google uses to check the relevance of the website. So you can say that it enables Google to determine what the web page is about and whether it is relevant to the chosen keywords.
Let's move further and talk about the 5 main practices of anchor text optimization in SEO.
Anchor text optimization practices you must follow in SEO
1. Keep the anchor text natural and versatile
The first practice you need to follow for optimizing anchor text in SEO is by keeping it natural and versatile. No visitor will click on a link that appears to be unnatural and spammy. According to Google, every part of any website, including links and their associated anchor text, needs to provide real value to users. Links must be put only where users expect to see them, so they can get informed about something valuable to them. Moreover, you must avoid using repetitive keyword-based anchors in your site as Google algorithm update is getting smarter every year. If you don't practice this step, you may get penalized by Google.
Make sure you link high-quality, relevant pages and disallow all links from low-quality and non-relative web pages. You should have links from site with high Domain authority, Page authority and Trust flow.
2. Put anchor text in a right place
Placement of anchor text links is one of the most important things you must pay attention to. Let me tell you that majority of people don't read an entire blog but take a quick overview by reading subheadings. So it is your duty to place anchor text where people likely to pay more attention, for example, headings, subheadings, paragraph breaks, images, etc. Never place anchor text amidst an ocean of words as it makes difficult for readers to see it. This becomes pointless of even including anchor text which is not even visible to readers. So the more easily your anchor text is visible, the more click-through rate you get.
3. Don't use links from spammy sites
Link building is a great practice to get more click-through rates to the site. Backlinks play a significant role in fetching traffic to the site but including spammy links will invite Google to penalize your site. However, with the hummingbird update, linking to spammy websites will help you gain short-term benefits. But it will damage your website's SEO performance and authority. So make sure you always link site which is authoritative and high-quality. It will help you make your site potentially run for the long term.
4. Avoid overuse of same anchor text
The right quantity and right proportion of everything is crucial. It applies to anchor text also. No doubt, exact match anchors can significantly boost your website SEO, but using the same exact match anchor everywhere can be a red signal to Google. But if you are not sure about the exact percentage of using anchor text then you can perform a competitive analysis. With this analysis, you will be able to understand how your competitors are linking internally and externally, and which anchor texts they are using to grow their digital marketing business.
5. Always add relevant anchor text related to content
Last but not the least – the anchor text optimization practice you need to follow is adding relevant anchor text. Placing an internal link with irrelevant anchor text on your own website will harm your search ranking. So this is true for backlinks with irrelevant anchor text. You all know how much Google is obsessed with improving the user experience. Besides, non-relevant and anchors with non-relevant links behind them lead users to non-relevant content, this is what Google does not appreciate at all.
Over to you
Anchor text optimization is a dynamic practice that evolves over time. This is the best practice that helps you get a high rank for your site. However, over-optimization will seriously harm your site. Therefore, above I have enlisted the best 5 ways which you can follow to moderately optimize anchor text in SEO. Always follow Google guidelines and authentic practices to avoid your site from getting penalized.
For more such interesting articles, subscribe to our website.
---