Algoroo Vs SEMrush Sensor, Which one you need to use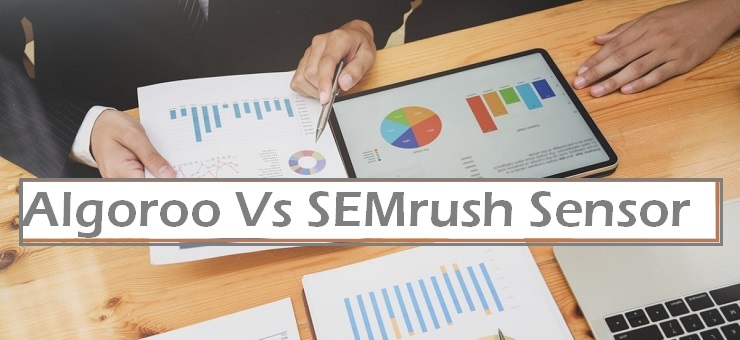 Every webmaster would know that Algoroo and SEMrush Sensor are Google Algorithm checking tools. Handling Google algorithm update might be herculean task for any SEO or online marketer. And having good understanding of Google algorithm updates can add glory to the site. But it is only possible if you use the right tool for checking the site performance and impact on the site by algorithm update. So this article brings a complete comparison between Algoroo and SEMrush Sensor tool. Just make sure you read the article till the end and choose the tool which you think is best suitable for your site.
Let's make a start. I will scratch from the basis first.
Algoroo vs SEMrush Sensor: a brief overview
What is Algoroo?
Algoroo is a Google Algorithm performance checker tool built by DEJAN. It also tracks Google's volatility ranking updates for your site through interactive tool. The tool also gives you a detailed overview and analysis of changes affecting SERP. Moreover, this tool monitors over seventeen thousand keywords for your website. The tool monitors fluctuations for about 17,000 keywords for desktop and mobile using a flux metric called 'roo.' So the higher roo means high volatility and low roo shows less fluctuations.
What is SEMrush Sensor?
SEMrush Sensor, on the other hand, is a free to use Google Algorithm tool. The tool is best to track volatility of Google's SERPs on the basis of daily changes in ranking. SEMrush Sensor is an amazing tool having lots of ways to cut the data. It displays volatility in real-time; you can also look at the previous data. Besides, the tool helps monitor Google's behaviour for your website. Any website owner can use this tool to determine the major changes taking place in Google algorithm or to their website.
Let's move further and talk about the feature of each tool.
Features of Algoroo
The tool monitors some selected keywords and looks for fluctuations taking place in website due to Google algorithm update.
Algoroo helps you improve your SEO quickly and efficiently and better ranks your website on Google.
With algorithm update calendar, you can look back on previous changes and updates.
Google algorithm changes integration.
Weekly winners and losers integrations.
Features of SEMrush Sensor
The tool provides you notification feature that you can set up to know any major volatility update.
You can divide data with SERP feature, country, device, and HTTP results.
You also get to see the percentage of all the usual suspects you find in SERPs including featured snippets, knowledge panel, top stories, local packs, etc.
It provides you scores update daily based on industry/category.
Dig deeper into both the tools below.
The pros of Algoroo tool
Algoroo tool brings lots of pros with it. The first benefit of using Algoroo tool is that it monitors thousands of keywords almost about 17,000. Moreover, it calculates data to find fluctuations taking place in your website.
Another advantage of using Algoroo tool is that it delivers quick SERP volatility. Search Engine Results Page volatility is the fluctuation in the position of website ranking in Google's search results pages. It happens when there is any change in Google Algorithm; you can easily notice the ranking fluctuation in your website.
The tool is best to provide a clear overview of important data. You can also see the weekly winner and loser data showing under the bar chart. With Algoroo, you can easily interpret the data.
The pros of SEMruch Sensor
SEMrush Sensor is the excellent rank tracking tool to monitor how well your site is ranking on Google over time or at the time of Google algorithm update. The more information you get about algorithm update, the much easier it would be for you to handle the website.
Next advantage of using SEMrush Sensor tool is that you can easily identify top competitors & spy on their online marketing tactics. Having deep knowledge about your competitors open up a new door for you to win the market competition.
Not only the tool helps you know the Google's algorithm volatility changes, but also allows you to discover popular search terms for paid campaigns & high-volume keywords to target with SEO.
The tool integrates with position tracking tool to measure the volatility of your own custom set of target keywords.
The bottom line
Algoroo and SEMrush Sensor both are the Google algorithm volatility checker tools. Both the tools are good for managing website performance by checking Google algorithm updates. Moreover, you can also keep an eye on your competitor's performance and improve your SEO. Don't forget that Google algorithm update is the most important update of web world. You must keep checking when the update is released and how it is impacting your site's performance. Now it is up to you which tool you want to use for Google algorithm update. Take a good decision.
For another interesting and informative articles subscribe our website. Till then keep reading and keep sharing.
---