8 Twitter Tools you must have to use for power tweets
Facebook and Instagram have their own relevant space in the digital marketing sector. In we look at Twitter then it is also a great platform that marketers use to advertise new items, sales, or even topics facing the business. However, the content you write on Twitter allows only 140 characters. Though Twitter is a very simple platform, you will see constant information from followers which might be massive for you to handle. It becomes difficult for you to send out content to your followers. What you can do? Guys, this is not a big problem you can use Twitter tools for power tweets.
In this article, we will talk about the top 8 Twitter tools you can use for power tweets. So keep your eyeballs here and read the article till the end.
Top 8 Twitter Tools you must use for power tweets
#1. Tweetdeck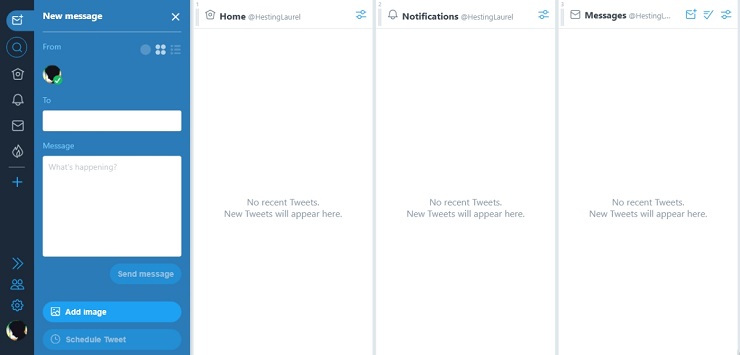 The first Twitter tool you should focus on is Tweetdeck. It is a dashboard management tool which gives users the ability to organize their Twitter and other social media accounts into easier to view and understand columns. The tool makes it easy to swipe swiftly between multiple profiles and DM and manage all interactions in a single go. The biggest benefit of TweetDeck is its ability to organize your Twitter audience into groups. It will also easier to create customized marketing communication.
Features of Tweetdeck
Notification alerts
Auto- update lists
Monitoring tools
Schedule tweets
LinkedIn column
#2. SocialOomph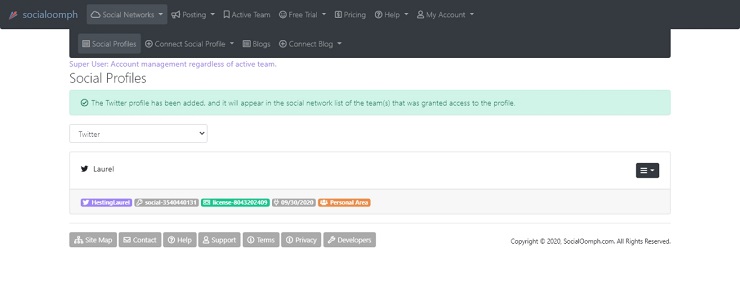 Let me tell you that SocialOmph is one of the most favorite Twitter tools. The tool provides you a long list of services and auto-following. SocialOomph allows you to create a handful of automated reply messages to your followers. How it will work? It will actually choose a reply from your group to replies. Ultimately, you can schedule tweets for the future at any date, time, and frequency.
Features of SocialOomph
Helps you send recurring tweets
Allows you to delete all DM or Tweets
Auto send DM to new followers
RSS feed to tweet
#3. AgoraPulse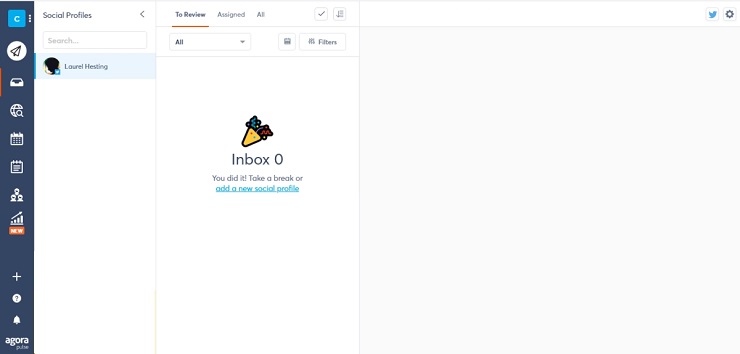 The next Twitter tool you can use to power tweet is AgoraPulse. This is the fastest growing social media tool supporting Facebook, Instagram, LinkedIn, and Twitter itself. Therefore, this tool is can be one solution for your Twitter social media board. Let me also tell you that AgoraPulse mobile app is the best in the market.
Features of AgoraPulse
It can automatically delete spam and helps you get rid of trolls
Provides you Chrome Extension
Helps you schedule post and social media calendar
You can monitor all Tweets, mentions from a single screen
Its team feature lets you monitor all tweets to team members
#4. HootSuite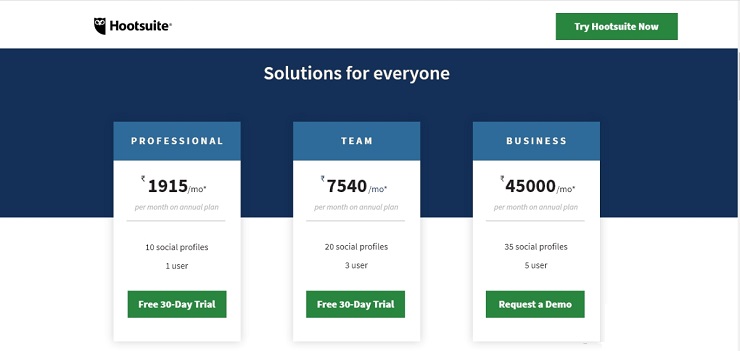 Who doesn't know about HootSuite? It is a social networking tool that organizes your posts, tweets, and LinkedIn updates. You can use both free as well as paid versions of this tool. However, both provide the ability to shrinks links down, publish posts for later, organize the list into groups, profile researching, and analytics. Even if you manage multiple twitter accounts, HootSuite is a great add-on that lets you re-tweet across multiple platforms.
Features of HootSuite
Provides you A/B testing and access control
Automated scheduling and assignment management
Campaign analysis and scheduling
Mobile integration and mobile alerts
#5. ManageFlitter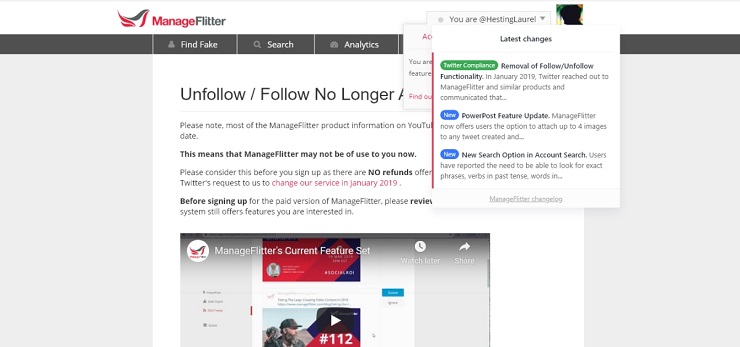 Are you a smart Twitter user? If yes, then this Twitter tool is for you. The tool is great to make your Twitter profile more eye-catching and engaging. It also offers you advanced analytics and offers unique features like power-post. Basically, the power-post will automatically schedule your post for optimum visibility & engagement. This is a free tool that allows you to use it in a smart way. Moreover, you can unfollow all inactive Twitter accounts using ManageFlitter.
Features of ManageFlitter
Social engagement and analytics
Social sharing and ads
Helps you maintain social campaigns
Provides you content calendar and content curation
#6. Tweriod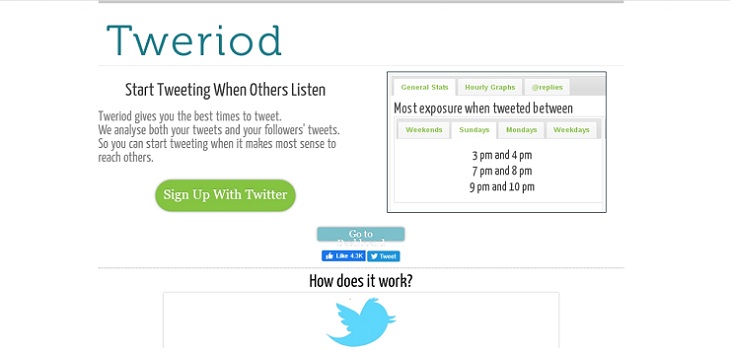 Don't you think a little bit of spying on social media is worth it? Yes, because there is nothing harm in watching and learning. And Tweriod is one such tool that helps you keep track of the time when most of your followers are in action. Using the Tweriod tool means getting to know your followers much better. Moreover, you can also use data from this tool to schedule your Tweets accordingly.
Features of Tweriod
Provides you best time to tweet
Helps you analyze both your tweets and your follower's tweet
You get to know when your followers are in action
#7. Buffer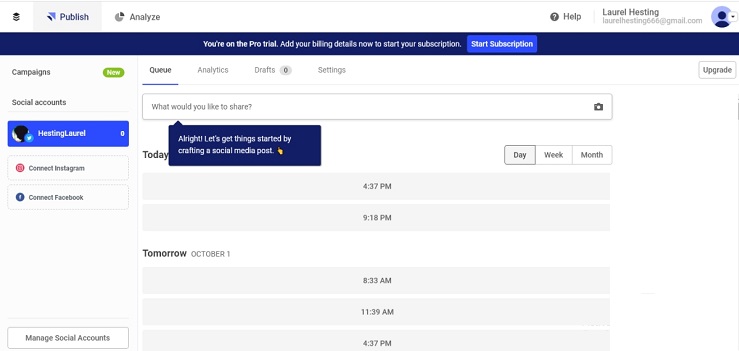 Like HootSuite, Buffer is a popular tool in the digital marketing sector. If you want to tweet in short bursts, the Buffer is a great tool for you. It means you can easily throw your daily content on the platform and then have an application automatically do the posting work for you. Whether you have a single account or multiple accounts, there is both a free and paid version available for it.
Features of Buffer
Social media and multi-media format sharing
Provides you analytics, insights, and informative social analytics
RSS feed connectivity
iOS and Android support
#8. Audiense

The last tool left on the list is Audiense. This is a popular enterprise-level Twitter management tool that is available for usual users like you & me. It's a certified Twitter product for every beginner. With the help of this tool, you can easily bulk follow, unfollow & find like-minded Twitter users. This tool is great for making the most out of your Twitter profile.
Features of Audiense
Helps you uncover Twitter follower key information
You can find new followers and target specific users.
Allows you to identify fans based on interactions
Accounts comparison tools
To sum up
These are the top Twitter tools that you should use to power your tweets. I have provided you a detailed analysis of each and every tool along with their features. I hope you understood them all. Now it's up to you which tool you want to use for your Twitter.
For another interesting articles subscribe our website, till then keep reading and keep sharing.
---