7 Tools to Easily Diagnose If You've Been Hit by Google Penalty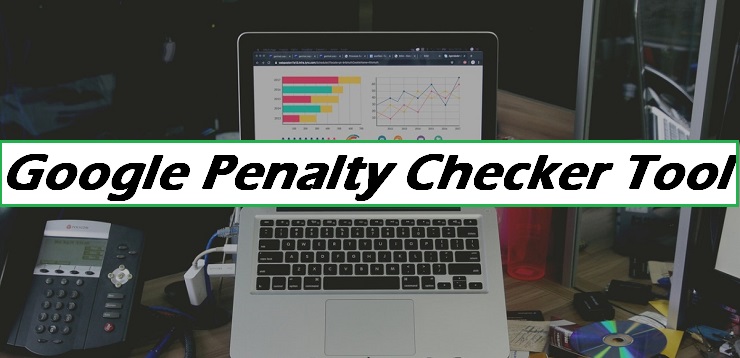 No SEO or digital marketer can afford to penalize by Google. Getting site penalized by Google is one of the worst experience that can happen to any marketer. It is also because Google is preserver as well as destroyer of webmasters. Google can either sail your boat across the river or left you alone in it. By this I mean it can penalize your site if your content conflicts with the digital marketing practices enforced by Google. But if you do everything in correct form and 100% right then you are probably safe.
In case, you are hit by Google penalty, how will you diagnose your site then? You need third-party tools to easily diagnose if you have been hit by Google penalty. In this article, I will enlist top 7 Google penalty checker tools for you.
Let's dive into the list below.
7 Best Google Penalty Checker Tools to Diagnose your Website
1. SEMRush Sensor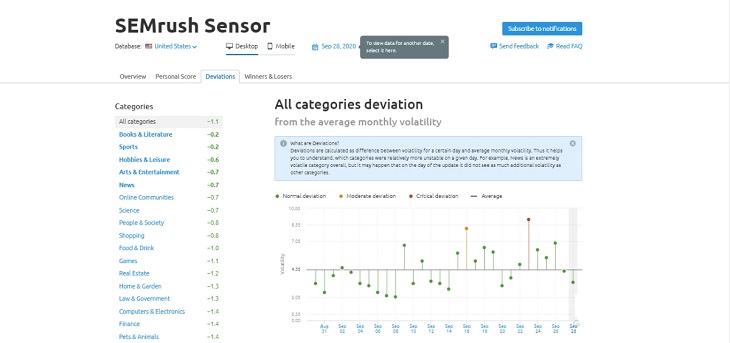 SEMRush Sensor is the most comprehensive and advanced SEO tool you have in the list on the top. The tool provides you plenty of information which makes it well worth the investment. SEMRush tells you a lot about Google penalties via its free tool known as Sensor. With this tool, you will find a lot of useful information on Goole algorithm update, and website in different categories. You will also get to know if any niche is hit by the latest update.
Key features of SEMRush Sensor
Gives you insights on SERP Volatility over the last month.
With winners and losers tab, you can improve your site.
Scores updated daily
Allows you to set up notification to stay informed of any major volatility
2. Penguin Penalty Checker Tool by Barracuda Digital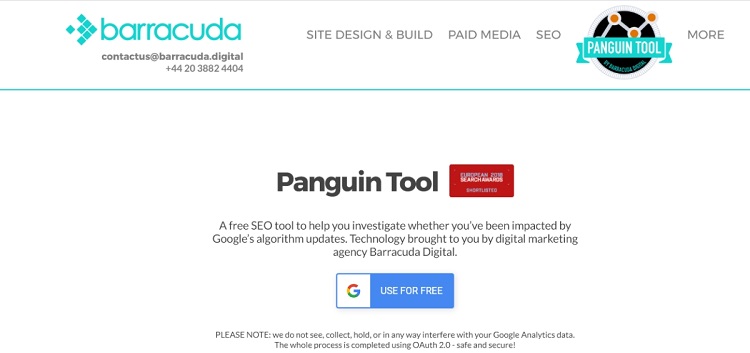 Another tool in the list we have is Penguin Penalty checker. This is a free tool which helps you investigate whether your site is impacted by Google algorithm update or not. To get started with the tool, all you need to do is sign in with your Google Analytics account to instantly see a map of your traffic and exact time of when Google update went live. No doubt, the tool is great as it can give you some valuable information about penalties you suffered. Moreover, the tool also provides you Google Algorithm timeline.
Key features of Penguin Penalty Checker
Shows you all the statistics visually with colourful graph
Simple and easy to use tool
Provides quick information for you with great user experience
It also provides you Google Algorithm timeline update
3. Fruition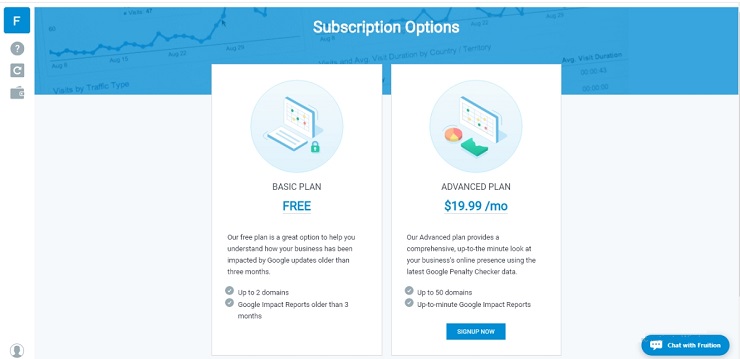 Next Google Penalty tool is Fruition. Though the tool is not renowned one in the online market, still it is very powerful tool for pinpointing exactly what made a difference to your site. This is a freemium tool which breaks down traffic information. It also provides you fine details and insights that will highlight if traffic drop is caused by penalties or not. To provide you accurate information, the tool needs data from at least six months of Google Analytics and 5000+ monthly visits to work. Fruition is easy to set up and gets ready in minutes.
Key features of Fruition
The tool is free for updates older than 3 months.
The paid version allows you to check up to 3+ websites including weekly updates.
By going premium you can unlock additional features of Fruition.
The tool is best for sites having at least 1000 monthly unique visitors and not for small blogs with low monthly traffic.
4. Cognitive SEO Signals – Google Algorithm Changes

If you want to monitor your site's evolution then Cognitive SEO signal is best tool for you to examine what's happening in your site. The tool offers Google Algorithm changes and signals as an option and is quite useful to check if anything is changing in the industry. Moreover, the tool helps you compare SERPs to previous day so you can spot significant Google fluctuations.
Key features of Cognitive SEO Signals
Tracks results on how Google ranking fluctuate on a daily basis.
The tool monitors over 100,000 for mobile, desktop and local rankings.
Provides you different options to check top 10, 20, or 50 results and also check top 3, 5 or 10 positions on the top page.
You can also check for Google Algorithm changes by location.
5. Accuranker Grump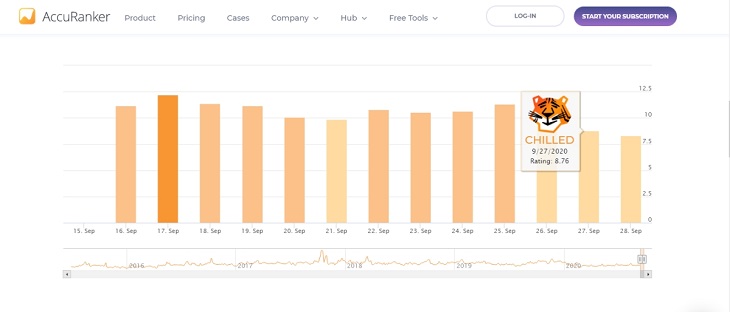 Every webmaster wants to know what's going on with Google Algorithm, right. Accuranker is one such tool that will help you find the answer. The tool shows how active the Google Algorithm have been updating recently and how likely a change is going to come today or in coming days that will impact your SERPs ranking. It can show you the fluctuations in rankings based on the mood.
Key features of Accuranker Grump
Each day the tool monitors 30,000 randomly selected keywords. And split 50/50 between mobile, desktop, and compares them to last day.
Provides you specific location insights for whatever you're located.
The tool provides you 4 types of moods: Furious, cautious, grumpy, and chilled. These 4 moods show the ranking fluctuations in Google.
6. Algoroo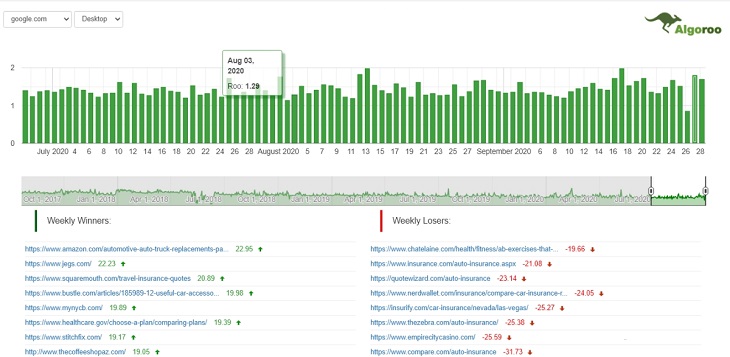 This is Google Algorithm tracking tool which is developed by DEJAN. The tool is best to monitor carefully selected keywords and looks for fluctuations. Algoroo is an excellent tool for tracking all kinds of Google algorithm updates. You get comprehensive overview and analysis of changes affecting SERP. It also shows you Google Volatility through an interactive tool which will allow you to change the time period via drag and drop button.
Key features of Algoroo
The tool provides you quick snapshot of the SERP volatility of your website.
Shows you both mobile and desktop data.
You can change the time period of report through drag and drop button.
Provides you data from 7 days to 2 years altogether.
7. Google Search Console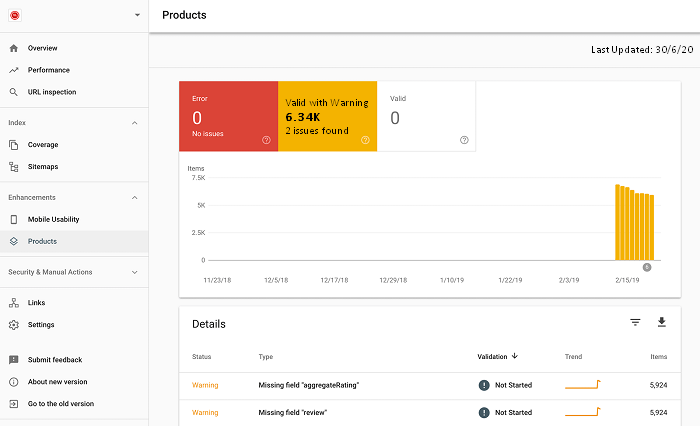 Who doesn't know about Google Search Console? This is one of the most popular tools available in the digital market. The tool provides you information on how your website is working, the number of visitors it has, trends, errors, and provides you some ways to fix them. With Google Search Console, you can analyse the overall performance of your website.
Key features of Google Search Console
The search console will show you if any manual penalty affected your site via notification.
Within Google Search Console, you get many inbuilt tool helping you find out any issues your site is containing.
Provides you insights on where you are getting visitors from.
Helps you know whether your site working well on mobile devices.
The concluding part
Finally, you have come to the end of this article. Above you have read about the top 7 Google penalty checker tool to diagnose your website performance. I hope you have read each and every tool thoroughly, now you need to take a decision as which tool you liked the most to implement in your website.
All the tools are best in their own, just choose the one as per your needs and requirements. Also subscribe our website to read another informative articles.
---