7 Smart Tools For Web Analytics.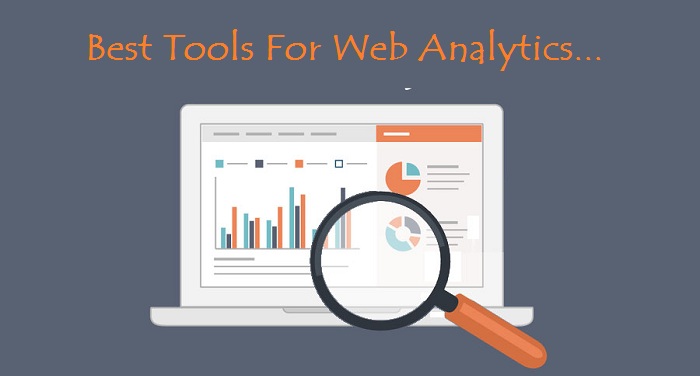 Whether you're a businessman, blogger or newly launched your online portal or website, it's very important to know how your website is working across all browsers and platforms. People put in so much efforts and money just to know their online presence. Still, they can't get the results.
This is where "Web Analytics Tools" come in handy to provide you detailed information about your website and its visitors. Web analytics will help you gain a deeper understanding of your website and provides you better results in the future. To know more about web analytics tool, just keep on reading!
I am going to bring you best 7 web analytics tools that you can utilize to gain more understanding about your website traffic.
7 Smart Web Analytics Tools For Your Website!
1. Chartbeat.
Charbeat is the best web analytics tool as it gives you real-time insights around your published content across various channels and devices. It provides you a detailed description of your website such as who is reading your content, which topic audience had an interest in, and which trending topic you can jump on. It also lets you see all your site traffic in a single page.
2. Adobe Analytics
Adobe Analytics can provide you extremely-detailed information by taking you're your data to the next level. With the help of this tool, you can find every minute detail about your visitor's journey and page views. This is how you organize the data you collect. You can also divide your visitors into groups. You can create endless visitors sections and compare their behaviors.
3. Kissmetrics
Kissmetrics is another web analytics tool that allows you to track the movements of your site visitors throughout your website. You can see the behavior changes taking place over time; you can identify the patterns and see the most recent referees among other stats. You can use this tool to increase your website conversion rate. You can use this tool for 30 days for free.
4. Mouseflow
If you're concerned about how visitors are using your website then you should go with this tool. This tool helps you analyze the behavior of your visitors, help you understand their problems and provides you solutions to fix them immediately. It also allows you to see how visitors interact with your forms and which filed of form is causing them to leave a form before completing it. All this aid you optimize your website conversion.
5. Mixpanel
It is a free web analytics tool. This tool is used to get actionable insight into your visitors' journey. It also helps you see how users are interacting with your products and campaigns. It measures engagement metrics and eases queries by allowing you to visualize data in less than 10 minutes. Mixpanel provides you ways to drive more engagement to your website.
6. Optimizely
With Optimizely you can check the performance of your website, products and revenue generation. In the present time, you can't experiment with your website based on guesswork. You need to use actual data to optimize your site for better results. This tool will help you test your design, user interface, user experience, call-to-action, and performance. You can use this tool to make a successful website and achieve your goals.
7. Hubspot
Hubspot is the useful web analytics tool that provides you details of some useful website visitors at your fingertips. It includes the report of metrics such as traffic, session duration, bounce rate, engagement, and average time on site, forms filling, and new visitors. It makes things easy for you to analyze the data in a smarter way. This is how you can drive more conversion rate to your website.
Conclusion!!!
Web Analytics tools provide you a deep insight into your website performance and tell how your inbound strategies are working. If you want to know more details of your website then you should consider using the above web analytics tools. They can provide you every minute detail of your website performance, visitors' happiness, and getting opportunities.
I am sure these web analytics tool can help you make smart decisions to optimize your site and marketing strategies for better results in the future. For more info and updates kindly get in touch with us till then keep reading.
---