7 Important E-Commerce Trends Which You Can't Ignore in 2020.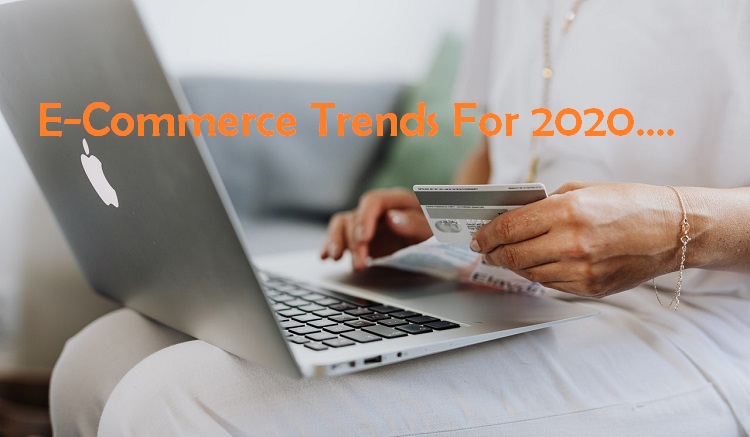 The e-commerce industry is continuously growing every year. As per the study, around 2.05 billion people made online purchases in 2019. It simply shows 21.55% of the global population shops on the internet. And it is expected that a number that will hit 2.14 billion in 2021. It is actually a massive pool of prospective customers. You can say that more online shoppers mean the rise of e-commerce platforms. And this is visible from last year's data because 2019 was a great year for the e-commerce industry.
The worldwide revenue of e-commerce amounted to more than 3.53 trillion USD. And the expected score is to grow to 6.54 trillion by the end of 2023. This actually shows how the e-commerce industry booming in the market. So, if you are into the e-commerce industry then you should look at the trends of e-commerce in 2020.
In this article, I will highlight 7 important trends in e-commerce that you can't ignore in 2020.
Top 7 important e-commerce trends you can't afford to ignore in 2020
1. Voice commerce will become more popular
The first trend you need to look at here is voice commerce. Yes, you're right it is voice search only. Voice search is growing rapidly, thanks to the popularity of the digital assistant. If you look at China, then it has 85.5 million smart speaker users, the US has 74.2 million, and the UK has 12.6 million. It only shows that there were about 100 million smart speakers were used last year. This actually expected to hit 225 million by 2020. In the US market, 22% of smart speaker owners bring something thorough devices. No doubt, today people prefer to use voice search than typing queries in the search boxes.
Basically, 60% of virtual assistant owners have made voice command purchases. This is the reason that big brands and companies will focus on voice command features by 2021 and they will also redesign their site to support voice search feature.
2. Mobile shopping will continue to rise
Mobile shopping has been in trend since smartphones hit the market. And today, people only use mobiles to make online purchases. No one will open the desktop or laptop to search for a particular product when they have smartphones in their hands. In fact, around 2 billion people around the world use smartphones for internet access. And you should not surprise if I say more than 60% of e-commerce traffic comes from mobile consumers. This actually makes a huge impact that e-commerce marketers can see in online sales. Here are many platforms that are boon for shoppers such as Amazon, PayPal, and Amazon Pay.
Additionally, mobile shopping will have a bright future. And this is the reason that mobile will continue to dominate online sales by 2021. It will actually drive 54% of sales revenue.
3. Artificial Intelligence will continue to make huge impact in e-commerce
The third trend you need to look at here is artificial intelligence. AI and machine learning make a significant impact in the digital marketing industry. AI tools help marketers and retailers to fully realize a strategy for personalization on their website. No doubt, AI and machine learning will play a huge role in the e-commerce sector. Basically, Artificial intelligence technology will allow retailers to deliver a greater level of personalization to their customers by learning from their behavior on-site. Any marketer can predict the future of retail by learning from the past about e-commerce through artificial intelligence.
No doubt, artificial intelligence is used basically for providing chatbot services, analyzing customer comments, and provide personalized services to online shoppers. Providing a more personalized experience to customers will help you get ROI.
4. Omni-channel is a key in e-commerce sector
E-commerce marketing is a part of digital marketing that needs to have a significant presence on online platforms. If you want to get success in e-commerce marketing then you have to make sure that your online presence is visible everywhere. You cannot tell your customer anything in a straight line. You have to ensure that your business is having a presence on multiple-platforms and multiple-devices. Try to be efficient and consistent across every customer touch-point is a significant trend in e-commerce in 2020. You can create accounts or pages on social media platforms such as Twitter, Facebook, Instagram, and LinkedIn.
In fact, omnichannel allows brands to connect more deeply with their customers by creating connected and integrated experiences. So make sure you also follow this trend for e-commerce marketing this year. The more online presence you have, the more people will connect to you.
5. Personalization is future
What actually personalization means in marketing? Why do customers want to personalize the experience? Let me tell you that today more than 50% of shoppers say that a personalized online experience is important. And 74% of marketers believe that personalization has a 'strong' or 'extreme' impact on forming customer relationships. Basically, personalization means collecting information about customers such as their name, contact number, preferences, interests, etc. and sending them products and services accordingly. It is actually a key to online shopping because it keeps customers satisfied for a long time. Any person doing online shopping wants some kind of help to find products; this is where personalization plays its role.
However, poor product recommendations will have a negative impact on your business. So don't do that. Try to provide those details about products that your customers are interested in otherwise they will frustrate and leave your site.
6. Visual commerce is on the peak
This is another amazing trend in the field of e-commerce marketing. Visual search is almost as dominating as voice search today. People have shifted their focus from text content to visual content more. No one likes to read content full of text, words, or lengthy sentences. They want to see how the product looks like by looking at the image which too contains information about the same product. E-commerce marketing means the online purchase and online purchase means no physical interaction between consumer and seller, right! And this is the reason people can't afford to trust marketers. Thanks to visual commerce which plays a significant role in it and will continue to do so in the future as well.
You can say that today online marketing has become an image recognition market. As per the data, visual commerce is set to grow from $20.19 billion in 2018 to $1888 billion by 2026. So how can you ignore this trend in the present year also?
7. Pay as you want – introduce newer payment mode like Cryptocurrency
This is the last trend in e-commerce that you have on the list. Today, online payment mode is well-known in the world of the online market. We have many payment modes such as payment by debit or credit card, PayTM, digital wallets like Google pay, Apple pay, WhatsApp payment mode, etc. and how can you forget about cash on delivery. Well, cash on delivery is quite old now.
Here I am talking about the new and fresh payment mode that is Cryptocurrency. Many of you might be familiar with this and many may not. But let me tell you that Cryptocurrency (such as Bitcoin, Ehterium, etc.) is a digital payment that is used for international transactions. This is actually a modern payment method which is becoming a requirement now more than a choice. You can also try it and leverage it in your e-commerce business.
Final track
I just only want to say that e-commerce marketing is continuously growing with the advancement in technology and changes in consumer behavior. If you are a part of the e-commerce industry then make sure you follow the trends and keep updating your business timely. Following the old marketing pattern in e-commerce will negatively impact your business. So make sure you follow the above trends I have discussed in this article.
For more informative articles subscribe our website till then keep reading and keep sharing.
---