7 amazing tools to create shareable social media graphics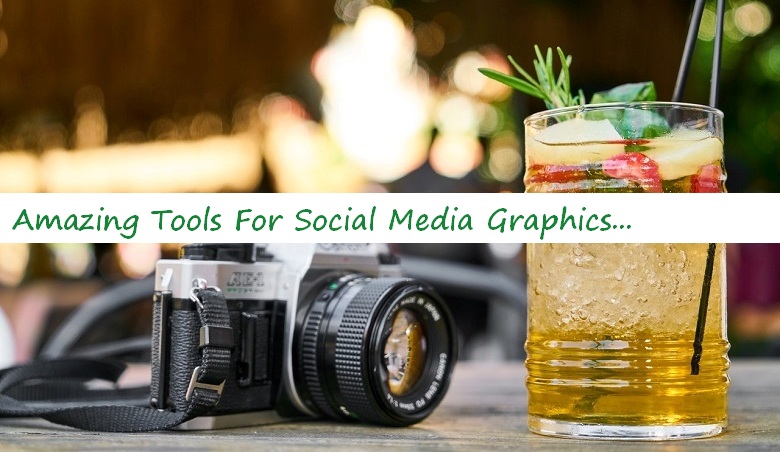 Social media is one of the most significant platforms in the digital marketing arena. It is not just a text or status update platform, rather it is more about the media sharing platform. Today, more and more weightage is given to visual and video elements particularly social media images. As per the research, 66% of all social media posts include visual content. In 2013, Facebook became the largest photo-sharing website, with its users uploading 350 million photos every day. Moreover, Tweeter with images receive 150% more retweets than tweets without images.
Do you also want to create sharable social media graphics? If yes, then you need tools for that. Don't worry you no need to go here and there because in this article I will talk about 7 amazing tools for you to create social media graphics that you can share.
Let's jump into the pool of tools below.
Use given 7 amazing tools to create shareable social media graphics
#1. Canva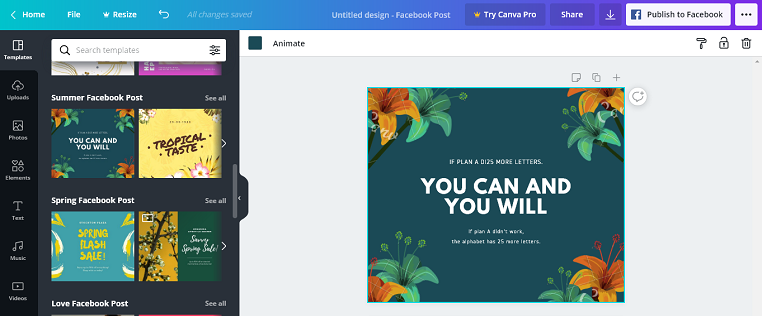 Who is not aware of the Canva tool? This is one of the best graphic tools available in the market. I would say Canva has everything that you need to design your social media graphics. It is available for desktop and mobile devices providing you full control over the design process. You can use Canva's templates for all your social media graphics from Facebook covers to Instagram stories. Furthermore, you can also create an extensive variety of designs, whether it is for social media, office, presentations, event invites, or infographics.
Features of Canva
Photo editing
Library of fonts
Layouts for every occasion
Drag & drop editor
Custom templates
Pricing
The best thing about Canva is that it is forever free but with limited features. The plan pricing starts at $12.95 per month.
#2. Adobe Spark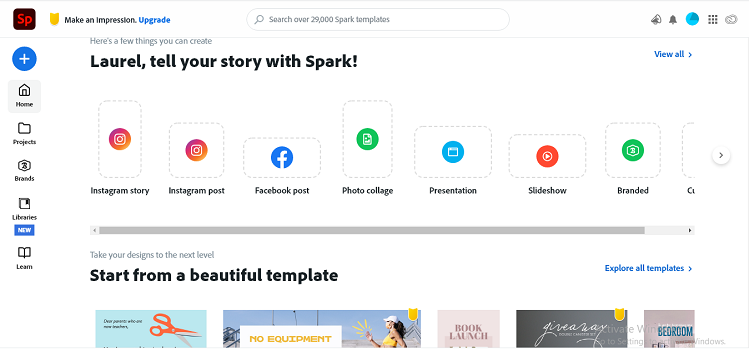 Are you looking for modern design to create social media graphics? If yes, then try Adobe Spark. This is the best tool for minimalistic and modern design. You can also choose dozens of professional templates classified by industry category, design type, and size. Then you can customize that template with Spark's easy-to-use tools. Moreover, Spark also makes it easy for you to change the design layout, you can change the entire template even. It also provides you two other project types such as Pages and Videos. Each tool on Spark is available as a mobile app so you can automatically sync between your computer and mobile device.
Features of Adobe Spark
Multiple fonts, design templates
Color and font customization
Web page design, text overlays
Audio import, video creation
Customizable branding
Pricing
Adobe Spark is available for free with limited features. The premium plan starts at $9.99/month for individuals as well as for teams.
#3. GIFMaker.me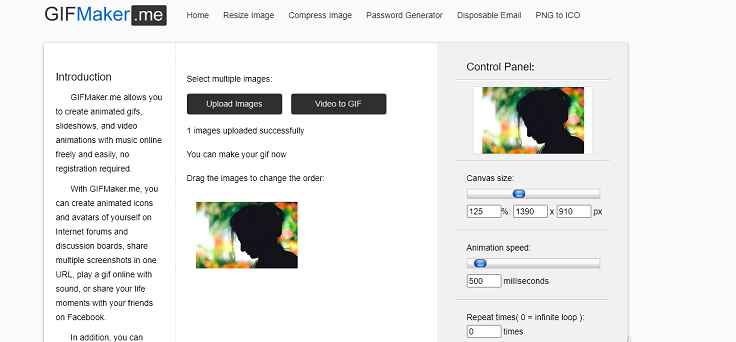 Is your goal to entertain social media followers? If yes, then why don't you do with GIF? I am not asking you to recycle popular GIFs rather create your own original GIF. And GIFMaker.me is one such tool that you can use to create animated GIFs in just a few clicks. Moreover, you won't need to waste your precious time figuring out how to use it as the tool is very simple and easy to use. All you need to do is upload pictures that you want to include in GIF.
Features of GIFMaker.me
Quickly create avatars for business and personal use.
You can share multiple screenshots in one URL
Helps you easily create, edit, animate, and add music to GIFs.
Pricing
GIFMaker.me is a free tool available for you. There is not even registration required to use this tool.
#4. Snappa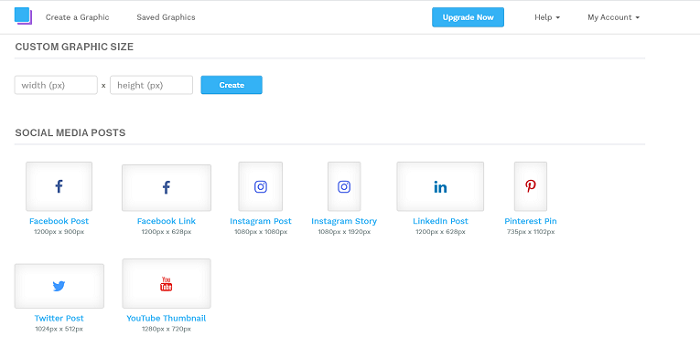 Do you want to create fully customized social media graphics with an advanced tool? If you are looking for one such tool then Snappa is the answer. The tool is a bit advanced so novice will not be able to use this tool. Nevertheless, it is fairly easy to use if you have some knowledge in the technical field. Though the tool provides you a quick video tutorial, the moment you sign up for a free trial. You start by selecting the image size, which you can customize. Moreover, the tool also offers you pre-existing sizes for headers and ads. To create social media images, you begin by selecting a background from the list of stock images, patterns, and colors.
Features of Snappa
Allows you to create custom graphics from scratch
Affordable pricing
You get endless customization options
Resize your best graphics in a flash
Pricing
Snappa is not a free tool but it does offer you 7 days free trial. However, the monthly plan starts at $15 per month, and the annual plan costs $10 per month.
#5. Picovico
Till now I have talked about the tools to create images for social media platforms. But how can you forget about videos? Social media videos are most engaging and unforgettable. If you want to convey your message through video, pick up the Picovico tool. It lets you create your very own video for free. The tool gets your photos and images to make a video. You can easily use this tool there is no technical knowledge is required. First, choose the style, and then add photos and text for the video. You can also add music to the video. 
Features of Picovico
Easy to use
Create unlimited high definition videos and export them to your device for offline view.
Available for mobile device
You get video style for every occasion
Pricing
Picovico is available for free at Google Play Store. But if you want to enjoy some advance feature then the premium plan starts at $6.25 per month (annually), or $9.49/ month (monthly).
#6. Gravit Designer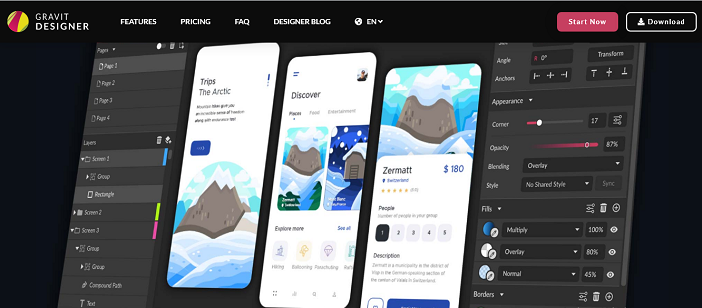 The next tool you can use to make social media graphics is Gravit Designer. The tool is very advanced and includes classic design functions of tools like Photoshop, Sketch, and GIMP – for layers, drawing tools, shapes, grouping, text, effects, and more. It has easy to learn interface. Gravit Designer is ideal for building your own designs from scratch. It has a small library of templates pre-sized for users like blog posts and social media images. In addition, you can also backup graphics with Gravit cloud. Just simply create Gravit account, enable the sync, and you'll be set to use.
Features of Gravit Designer
Powerful grid
Multiple styles and auto layouts
Export, powerful pages
Vector and text
Highly customizable and intuitive clean interface
Pricing
The tool offers you full-featured vector graphic designs without any cost. It is free to use.
#7. Piktochart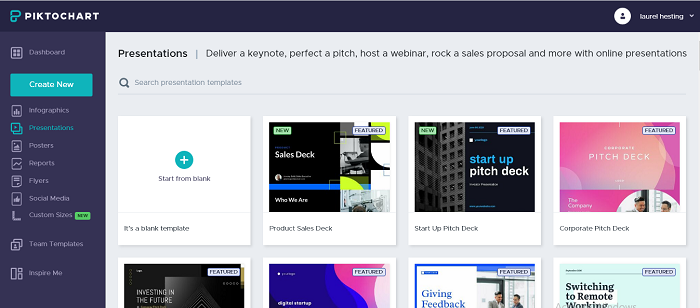 Do you have some facts and figures to share with your social media followers? If yes, then why not turn those facts into an infographic to catch the attention of your audience? You can do so by using the Piktochat tool. It is an online infographic tool that lets you customize professional-quality templates. It also helps you share the most intriguing facts and info in a more visually captivating manner. The tool is very easy to use you just need to select one of the templates from their collection, and then customize it with graphics, maps and charts. You can customize fonts, or add photos and icons.
Features of Piktochart
Free for basic use
You have a varied range of customization options
You can also select from the collection of professional-quality templates
Pricing
The tool offers you free templates but you can also upgrade to a paid version to get more templates. The lite version is $ 15 per month, and the pro version is $29 per month.
To conclude
Creating social media graphics would have been difficult 5 years ago. But now everything is advanced and modernized. You can get thousands of new tools to build infographics and finding the best one is a difficult task. Therefore I have mentioned 7 amazing tools for you to create social media graphics. If you are into digital marketing businesses then these tools will work like magic. You can choose the best tool of your interest, choice, and depending upon the budget.
Comment below to let us know what you want to know more. For another interesting articles subscribe our website, till then keep reading and keep sharing.
---