5 best Ways to Use Visual Content on Twitter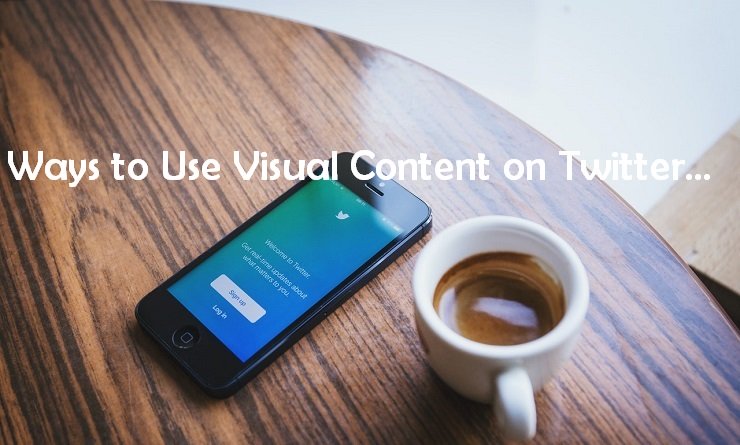 Visual content gets more engagement and traffic to the site than text-based content. Do you agree? Guys, visual content is a crucial part of any social media marketing strategy. If we look at the present social media platforms then Instagram is dominating the visual content. But there are many people who have a huge fan following on Twitter also. As per the recent analysis, tweets with images have a 125% higher engagement and more than a 300% boost in the clicks. Earlier it was very difficult to create visual contents but today things have become quite convenient.
Are you one of those who are planning to use visual content on Twitter? If yes, then you are in the right place. In this article, I will enlist 5 major ways to use visual content on Twitter.
Just have a look below.
Top 5 ways you should follow to use visual content on Twitter
1. Make sure to add Logo and Website Address to your images
The first way you should make use of visual content on Twitter is to add a logo and website address to images. This is a very small and easy step that will only take a minute to achieve your goal. It will also build your brand and company's reputation in the market. No doubt, people easily get connected with images irrespective of the platform in which it is shared. They only care about the image which represents your company and its brand. Ultimately, it will increase the engagement and you will see more traffic to your site. The advantage here is that no one can use your image due to copyright issues. In addition, you can also create a unique brand logo or watermark if you don't want to share your address with your visual content on Twitter.
2. Use Infographics to show examples
Today, infographics are valuable than text-based content. Did you know, infographic is read 30 times more likely to be read than purely text content. There is no doubt that infographics take more time to create but they are worth the effort since they build engagement so well. Infographics are eye-catching and creating beautiful, attractive, and eye-healing content requires more time and effort. Today, infographics are so popular as they are a visual representation of data in a clear and concise manner. This is the reason infographics are easy to understand. You can always use data representation to share examples to create charts.
3. Use worth shareable images on Twitter
What type of visual content do you want to share on Twitter? For a moment forget about your business and think about what type of visual content you share on social media. Most of you would say memes, GIFs, videos, funny quotes, or motivational quotes, etc. Have you ever thought why do people share such content? It is a very simple guy. These content drive engagement to the site and more people get to know about you and your company's products. Undoubtedly, these types of visual contents are very popular on Twitter and they get retweeted mostly. You just need to figure out the type of content that you want to share on Twitter and that will bring a lot of engagement to the site. Sharing valuable and authentic visual content helps build your reputation in the market.
4. Add video content also
Who doesn't like watching videos? Today, there is a huge demand for video content in the market. People prefer to watch video content more than just reading out the text-based content. If we talk about Twitter, then there is a huge audience that prefers to watch video content. So if you also share video content on Twitter, you will see a huge fan following your profile.
Make sure your videos are relevant and authentic about any product or service you offer. So sharing a small video of a few seconds will talk so many things that might be difficult to express through words. Moreover, you can also think of sharing videos of a specific occasion or event that your followers will love to watch. You can also share any video on trending topics this is actually the best way to grab the attention of a large segment of the audience in less time.
5. Add hashtags, keywords, and links to image descriptions
So this is the last way you can make use of visual content on Twitter. We all know that hashtags are very popular in the Twitter platform. And using hashtags bring engagement and add value to your content. Not only people recognize you, but also find your business authentic in the market. Most of you still would be thinking about why to use hashtags on Twitter, right. I tell you – Tweets with 1-2 hashtags have 21% more engagement. As per the survey, 55% of people more likely to retweet when there is at least 1 hashtag included. Make sure to add keywords in your images visuals also.
Final words
Guys, visual marketing is no longer an option in today's competitive digital market. Every digital marketer should focus on producing quality visual content that can drive traffic to their site via Twitter. No doubt visual content captures the attention of the audience than regular text-based content. Above mentioned tactics to use visual contents will definitely help you boost traffic, conversions, and clicks on your Twitter posts. You will definitely see the results once you follow these mentioned tactics.
For more interesting article subscribe our website, till then keep reading and keep sharing.
---