10 awesome ideas for small budget marketing.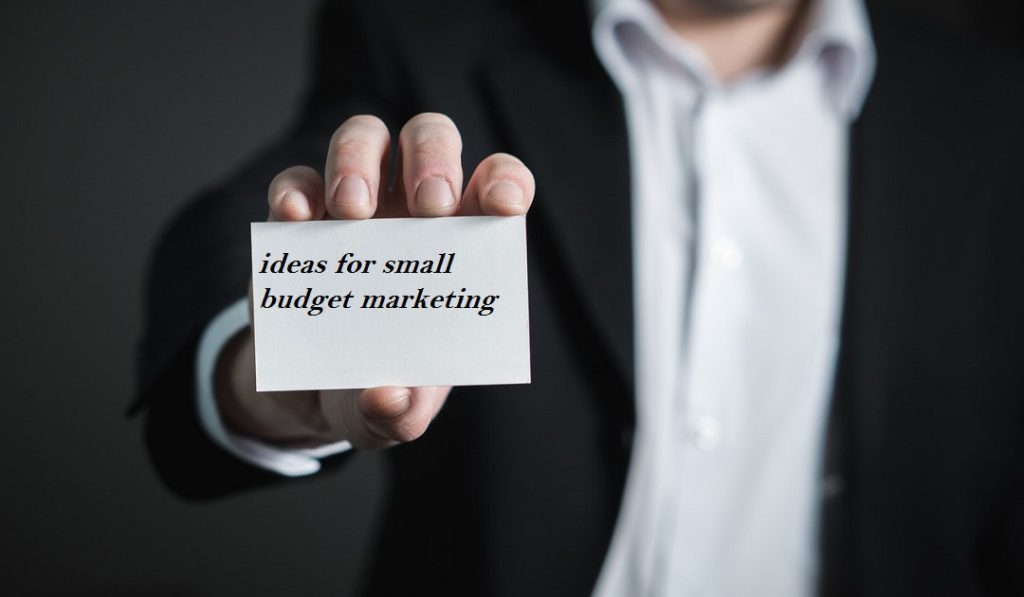 Want to grow your small business than follow these 10 ideas
Making budget marketing plan is a challenging task especially for small business or entrepreneurs. They have scarcity of resources they cannot make large amount of investment. Therefore today we are going to enlist 10 awesome ideas which is suitable for planning small business marketing budget, let's get straight into this:
Producing quality content
The first and most important step for small budget marketing, it would be good if you produce content by yourself. Well-structured organic content will give a huge boost to your business. Your business will grow if you produce original and organic content.
2. Create instructional videos
Expanding your business via video platform like YouTube is a great way of doing marketing at low-cost investment. But doing in a more organized or professional way can such as hiring experienced anchors that can speak for your business will going to cost you more.
But there is no need of such professional anchor. You can make small videos explaining a concept in one video. it will be enough, slowly slowly number of subscriber will increase on your channel.
3. Get-Ad promo credits
This is a great incentive for those business owners who cannot organize massive ad campaigns. So they can use discount and coupons available on paid Facebook and Google ads for organizing a campaign at affordable investment. Few web hosting services also offers discount code as a part of membership offerings. So make sure to take benefit from these types of offers.
4. Promote your business via social media platforms
Yes majority of social media platforms offers business specific account so go and create your business profiles over Facebook, Twitter and LinkedIn etc. This will help you in promoting your business in more efficient way. You can take as much advantage of digital marketing medium as possible.
If you able to plan effective campaign over these social media platforms than believe your business growth will be boosted to such a level that even traditional mediums won't able to achieve it.
5. Utilizing paid advertising method
If you want that more people connected to your business via online then this is also an effective method.
You can use paid marketing method. In this way you need to pay search engine to place your site/webpage on the top of search results for specific time period.  This method is good if you want to attract potential web traffic at faster rate towards your site/webpage.
Paid result will not cost you as high as newspaper advertisements, television commercials.
6. Effective use of Infographics
Believe it or not Info-graphics is the most efficient technique of attracting web traffic and people love to share them. More people share your links. Your business will reach to more diversified audience and you will able to generate quality back-links. If you don't care about money then hire an expert graphic designer. But here we are talking about small business owners then in that case you can hire a fresher or novice designer and guide him according to your need.
7. Creating a brochure
It is old but still an effective tool of marketing a brochure, tell all the details of your products and services. It's like an information package for consumers to learn about your business. The best thing about brochure is it can be prepared at low cost.
8. Become a radio guest
In today era advertiser or marketers think that Radio is dead but the truth is still far from being. The radio covers approximately 98.9 percent of Indian public. So using radio is much cheaper way of marketing. Your business promotion through radio will cost nothing. If your area has community stations for small business owners then become a guest on your community/area specific and reach to local people. Your business growth will be skyrocketed.
9. Doing business in partnership
Another great way of promoting business is to include partner. Through this way you can cut down the cost. If more than 1 brain will involve in marketing so it also increase the chances of expansion of your business across the India.
10. Create an e-mail newsletter
If you want to remain always keep in touch with loyal consumers then utilize the services of E-mail newsletters. An email newsletter is an email which is sent out on a regular basis to focus on providing informative content to subscribers.
---