What is White Paper in digital marketing?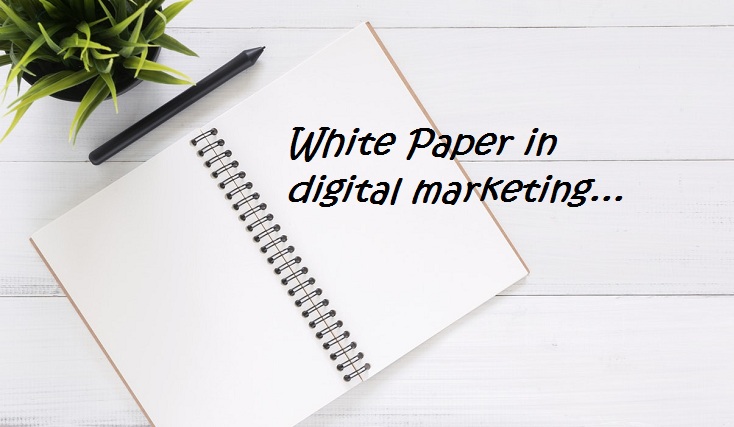 Digital marketing is all about two-way communications. And the task of a marketer is to communicate to customers and audience. You can see how communication plays a significant role in any business. Without effective communication between marketers or customers, I don't think any business can get success.
Therefore to make your marketing communication effective, today I am going to tell you about the most effective marketing communication tool i.e. White Paper.
So let's get started!
White paper in digital marketing!
The 'White Paper' is a digital document that contains an in-depth report on a specific topic that presents a problem and provides a solution. It is a marketing tool which has an advanced problem-solving guide. White papers are usually created by marketers to educate their customers about a particular issue related to the company's brand, product or service. Marketers also explain and promote particular mythology via white paper.
Although the definition of white paper varies from company to company, you can say that white paper is a commanding and authoritative report that focuses on a particular topic or issue and provides a valuable solution.
Now let's discuss the uses of white paper!
White Paper: An Effective use in digital marketing
The white paper is considered as an effective content marketing tool. It is used in digital marketing in order to display a major exchange of data between all the extensive customers facing issues. It will help them in forming a future decision and marketing strategies in a much more valuable and effective way. Basically, the white paper is used to increase traffic to the websites which help in more sales/revenue. Companies such as Amazon, IBM, SAP, Flipkart etc. maintain a lot of traffic to their websites, but they still can create a white paper and publish it on their group sites to launch marketing programs or campaigns.
As you can see how white paper is useful in digital marketing, let's move further and see the purpose of white paper.
Objective of White Paper
The white paper is generally created to showcase the target audience of a company and their domain authority in a topic.  And the following points will help you understand the purpose of white paper.
Educate the audience on various topics or issues related to the company.
Estimates the future of the company.
Expand your brand presence on various online platforms.
Generate more and more leads for your business.
Gets inbound traffic.
Primarily, the major purpose of white paper in digital marketing is only to solve the queries of the customers and provide them with effective solutions. Thereby companies will get more lead generation.
Now see the benefits of white paper!
Benefits of White Paper
Helps you in optimizing your SEO goals.
Helps you in knowing about your competitor's brand.
Provides you different ideas and solutions.
Offers your quality content in a more visually pleasing format as with visual format you can save a lot of reading time.
It can build credibility and trust within your target audience by publishing a white paper in specific groups.
Helps you in building your brand image.
Conclusion!
White paper plays a very significant role in any industry. It is a reporting which helps both customers and company. It is the most effective mode of communication in digital marketing. However, creating and publishing white paper alone is not sufficient. It is important to make the digital strategy first.
So if you're thinking of taking your business to the top then you must thrive to create a white paper for your digital marketing business too. It will help you to earn more success and growth for your business.
If you are looking for any kind of digital marketing services then you are at right place. Kindly get in touch with us for more updates.
---