What are the dos and dont's of SEO?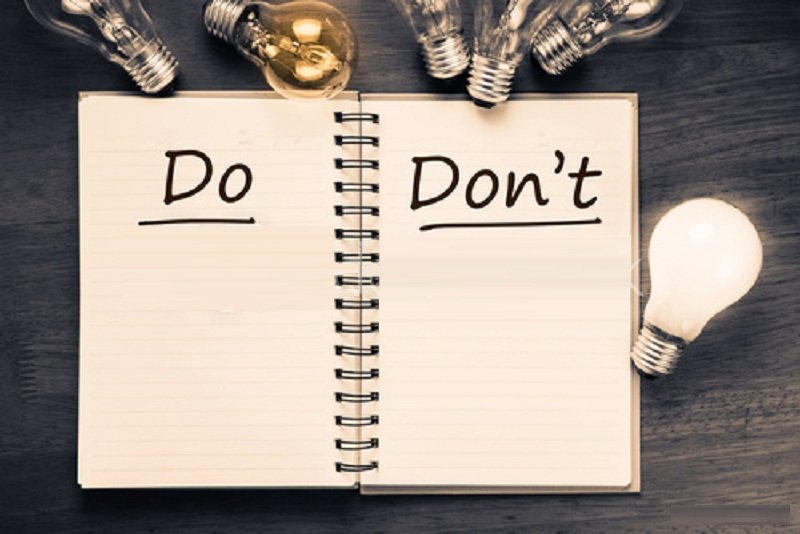 Get insight of the important Do's and Don'ts of SEO
Before moving ahead and getting involved in discussion about the "do's and dont's of SEO", it is important to understand about the SEO. I am going to discuss again here about the SEO. So kindly read the content till last.
What is SEO?
SEO stands for (Search engine optimization) it is the process of increasing the quality and quantity of website traffic. SEO increase the visibility of website and pages across the search engine results.
But today we are going to focus on major Do's and Don'ts of SEO let's get jump into this:
Do's
Use of long-tail keywords:
Don't afraid of using long-tail keywords especially when you writing post of up to 2000 words. Using the long-tail keywords with long post will benefit you for longer period of time. The long form content also allows you greater flexibility in terms of using Infographics, images, videos etc.
Apart from this use of long form content also helps in finding long-tail keywords more efficiently. It is the best SEO strategy.
2. Use of keywords metric:
Keyword is the essential component of SEO and plays a vital role in enhancing the site/webpage ranking. But choosing the right keywords is an art which SEO professional must possess. You can also take the help of keywords metrics for choosing the right keywords based on your content and the metrics were as follows:
Keywords difficulty
Search volume
Clicks
Return rate
3. Use of quality backlinks:
Backlinks are most essential tool for SEO professionals. Therefore always add high-quality backlinks in your site because they will impact your site/webpage ranking. Generate backlinks from most relevant and trustworthy websites of your business sector. But keep one thing in mind that generating quality backlinks is an art which takes time. So don't make rush and take your time and create quality backlinks.
4. Use of quality content:
In SEO culture this is a common phrase "content is the king" so always tries to produce organic and high quality content. If you use low-quality or copied content then the Google algorithm surely devalue your sites. It is better if you produce original, well research content. Internet user prefers uniqueness and stories from different perspectives so take advantage of that and try to write engaging content.
Don'ts:
Don't use same title with different posts:
This is a common mistake committed by many SEO professionals using the same title with similar post or throughout the content. It is not a good strategy.  The reason behind this when you use same titles on different pages of your website you make the task of search engine more difficult to find the diversity between the various blog posts. It is true that people use long-tail keywords as title on their blog posts. The major problem is that people use same long-tail keywords again and again with various articles which produce no results.
2. Don't copy external content:
Copying the idea or pieces of content from different websites won't harm you that much but doing this with external content can prove dangerous for you. Google algorithm can penalize your site or webpage.
3. Don't add irrelevant links:
Suppose you have visited some E-commerce shopping site but the link in that site takes you to the site full of explicit material. The E-commerce site does not have any relation with the linked site. I think almost majority of us faced this issue this is called unethical SEO practice of adding irrelevant low quality links whose sole purpose is only to manipulate page rankings. So don't do this otherwise your site and webpage can receive a penalty from Google algorithm.
Conclusion
Above mentioned DO's and Don'ts have chosen from wide list and if you will follow these recommendations then you will definitely achieve success at some point of time.
---