What are the digital marketing strategies for fashion brands?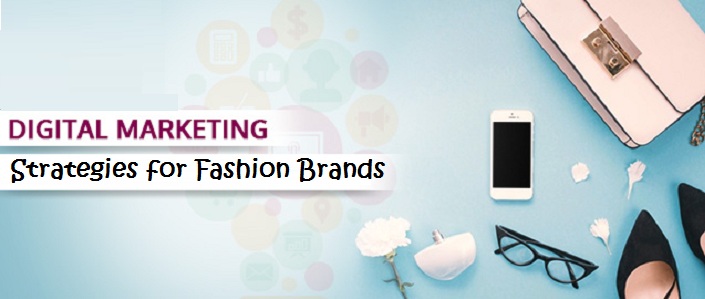 Are you a fashion marketer? Yes, then you must know that every fashion brand needs a good marketing strategy to stay ahead in the competition. As we all know that there are various fashion brands out there, but how do you distinguish yourself from others? This is the real challenge. An effective digital marketing strategy can be a good solution to this complication.
Digital marketing gives your brand a piquant start!
Digital marketing, if used in the proper manner, can boost your sales, enhance your brand presence and make your fashion brand more profitable. You can target your audience by making your brand available online.
So, if you're a veteran or novice to the fashion world- no matter where you lie, you need an effective digital marketing strategy. Below, I am going to share some productive strategies of digital marketing for a fashion brand.
Some effective digital marketing strategies for fashion brand.
– Create a website and start a blog
The very step into digital marketing is creating a website or blog. As the shopping habit of people has changed, they are preferring to shop online rather than visiting a physical location. For this you need to have a website after that you will go from a fashion brand to a fashion e-commerce brand.
– Attach an influencer to your fashion brand
Influencers are the people who have large fan followings such as actor, cricketer, politician, singer, etc. these people can command attention- when influencer posts, others follow. If you don't know some of the best social media campaigns revolve around influencers.
– Focus on depiction or visuals
Visuals are the focal point of every brand, but it's more important for fashion brands that are dependent on aesthetics to attract customers. If you upload images, pictures or videos related to your fashion brand, make sure it is high quality and looks good and attractive. You need to let your products speak for themselves via visuals.
– Connect with Social World
Social media is an indispensable part of digital marketing. Not only you can use it to connect with your audience, but you can also use reliable platforms like Facebook, Instagram, Twitter, etc. to show off and promote your fashion products.
– Engage with your audience
Until and unless you engage with the audience you can't convert them into your customers. The best way of engagement is to come up with campaigns, events and run a contest on Facebook, Instagram, etc. to tell about your fashion brand styles and products and highlight the shared values between your brand and the customers.
– Have a mobile presence
As now you have planning to go digitized with your fashion industry, make sure you have a complete mobile presence too about your fashion products. This is important as many customers see things they like as they go about on their day, if they happen to see something which you offer, but can't load it on your site. Then they will likely to go a competitor.
Conclusion!
For any fashion marketer, digital marketing is the best platform to engage more audience and generate more leads, but it can be possible only if you keep above strategies in your mind. Digital marketing provides you the right tools to engage with your audience, increase your fashion brand awareness, and maximize your profit simultaneously.
If you wants to apply above strategies in your marketing and looking to hire digital marketing agency then you are at right place. Get in touch with us for more updates.
---