Which Social media platforms dominated 2019?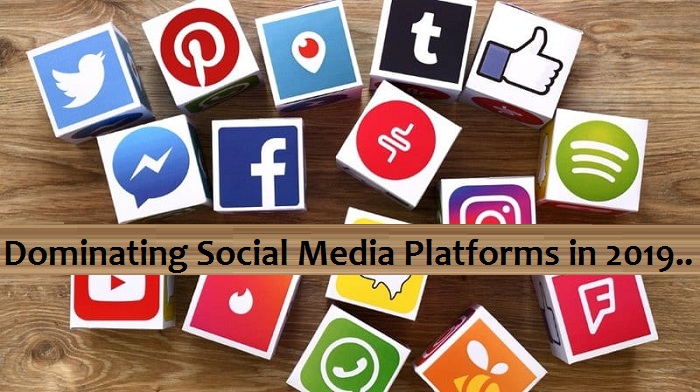 Let me start this blog by saying – a very happy new year to all. As you can read above the title of this article is "which social media platform dominated in 2019" I know it's a little bit puzzling you as to why the hell am I talking about 2019 if it is already 2020. Well, guys let me ask you questions – how do you learn in your life? Some learn from their past mistakes and some from their past experiences, right! Here, the past plays a significant role in our life as we get to learn from it so that in future we don't repeat the same mistake again. This is exactly the purpose of today's article.
In this blog, I will be highlighting some social media platforms which dominated in 2019. I'm writing this blog because social media has been a significant part of people especially businesses and marketers. As a marketer, if you want to grow your business then you must learn which social site dominated in 2019 and which will help you in your business in 2020. Let's make a start now.
Some of the major social media platforms which dominated in 2020.
Since the time social media launched it has changed the lives of millions of people in terms of interacting people, business engagement, or making it a marketing platform. So keeping this point in mind let's discuss below which social platform dominated in 2019 the most.
1. Facebook
Of course, Facebook is meant to be at the top of our list. Since Facebook is the social media giant it has around 2.38 billion monthly active users. Why Facebook been a dominated social media in 2019 is because it went through a lot of updates and changes. These changes were – more focus on Privacy of users, changes in logo and redesign, the Facebook messenger also got upgraded, and focus was on making community groups. Facebook also updated features such as playable ads, page recommendations, video metric updates, video creation kit, and press and hold videos. These updates and changed people liked a lot and they kinda benefited them too.
2. WhatsApp
You can say after Facebook, WhatsApp has been the second social media biggest network that is dominating because of the major privacy feature it provides to its users. WhatsApp has almost 1.5 billion monthly active users. I tell you why WhatsApp to was dominating it is because WhatsApp got new updates in it such as dark mode feature (first came in WhatsApp), delete messages, payment mode, QR code, and new group privacy setting feature. Because of these changes, businesses got so much benefit in their business as these changes are more of a privacy concern rather than just mere new updates.
3. Instagram
The best photo media sharing site. 2019 had been a busy year for Instagram as the range of updates that have helped to grow and evolve the platform and provide new opportunities for both users and brands. Instagram has around 1 billion monthly active users. It is the social network where product-based businesses, influencers, and celebrities can thrive. Instagram introduced features such as camera create mode, raising money with new donation stickers, buying products from favorite Instagram influencers, AR effect on photos, etc.
4. LinkedIn
LinkedIn is one of the best social networks of the professional sites established in 2002. As per the data, LinkedIn had over 600 million members registered across 200 countries as of March 2019. LinkedIn makes people relation more professional than friendly one as people here get connected with each other especially for job or job change. That's why not only in 2019 but every year users get an increase on this platform if you don't know then let me tell you that more than 50% of Americans with a college degree use LinkedIn.
The bottom line
Social media platforms are dynamic in nature they keep on changing and updating their sites with many features that ultimately benefit users and brands. As per the new changes and updates and the demand of the users, these sites dominate that particular year. You can see how 2019 was dominated by Facebook, WhatsApp, Instagram, and LinkedIn the most.
These social media sites went through a lot of new changes and updates this is the reason why they were able to dominate 2019 particularly. I hope these sites will keep dominating 2020 as well. For more updates get in touch with us.
---