What is Microsoft's redesigned advertising editor?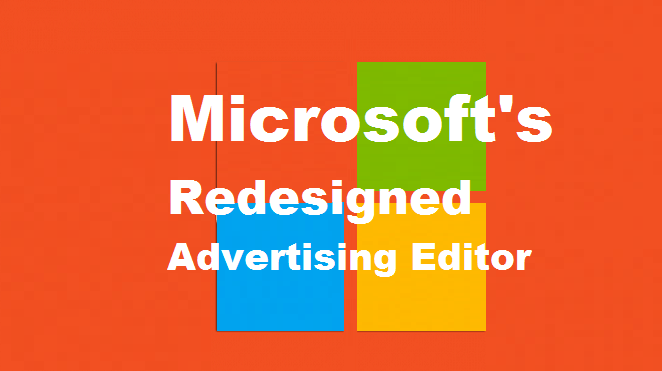 Advertisement is a part of every online or offline marketing campaign. Marketers try hard to make their ad marketing campaign successful. For doing this, they use different tactics and tools or editors such as Google Adwords, Google Analytics, ShortStack, Dynamic Ads, SEMrush keywords Magic tool, Google Keyword Planner, etc. However, I'm not gonna talk about any of the tools but Microsoft's redesigned advertising editor. And if you notice then I have used the term 'Redesigned' advertising editor rather than just Microsoft Advertising Editor. What does it mean? It is simple guys recently Microsoft announced that it has redesigned its advertising editor. Interesting, right! So, if you're a Microsoft user or planning to use it then this article is a must-read for you. I will start with the basics first then will go deeper to talk more about its newly added redesigned features in advertising editor and many more.
So let's get started now with the definition of Microsoft's redesigned advertising editor.
Microsoft's Redesigned Advertising Editor
What it is? As the name itself says it is an advertising tool that helps marketers edit their ad marketing campaign and helps in maintaining their work. In technical terms, Microsoft advertising (earlier known as Bing Ads Editor) is a service that provides pay per click advertising on both the Bing and Yahoo! Search engines. Moreover, Microsoft advertising is based on contemporary business world which is characterized by a high level of competition. This is available for both Windows and Mac.
The tool was basically designed to save time and improve the performance of your search marketing campaign. A few months ago, Microsoft updated this editor with many new advanced features and redesigned it for its users. Let's move on further to know more about it in detail.
Microsoft Advertising Editor gets redesigned with new look and features
You can call it the latest version of Microsoft advertising editor. As I told you above, Microsoft ad editor updated with a new look and features to make it easier to use. It is upgraded in looks and with additional features support. The redesigned coexists with a new look for the web interface which is now rolling out.
What are the new changes to see? You will feel the new user experience that would be familiar to Google Ads users. You will see the left-hand oriented navigation menus that anchor the Google Ads Interface and Overview Pages with visual charts. The Company said, "We've applied colors selectively and added the right amount of spacing around page elements, tables, graphs, and forms in order to reduce fatigue and information overload as well as draw your attention to the items that matter, "Our overall goal with the new, modern design is that you are better focused on achieving positive results with fewer distractions."
Additionally, the redesign includes updated fonts, colors, and spacing. Microsoft says, "The goal is to draw the users' eyes to the things that matter."
About the redesign feature, the tech giant Google also said that the new modern design aligns with the principle of Microsoft Fluent – the simple, clean and modern, like other Microsoft products. That way, users can enjoy a seamless experience between devices and platforms.
Here are some new features added in Microsoft redesigned advertisement editor
– Upgraded searching and filtering
Microsoft removed its pop-up dialogue-based search and introduced a simple search box. Now you can quickly type your name and in queries and narrow down the results. Let me tell you that the feature is in beta version now so you must fill the form Microsoft to get immediate access to it. Otherwise, wait for it.
– Responsive Search Ads
The editor now allows advertisers to create and manage responsive ads in bulk. It helps marketers to save time by enabling them to serve the right ad at the right time which results in better ad performance. Like the above feature, it is also available in open beta version.
– Zipcode targeting
Earlier, advertisers would rely on state-level targeting to reach customer, now it's not like that. The new version allows zip code targeting which means you can serve ads directly to the audience in the specific areas. From now on, advertisers will enjoy better ROI too.
– Undo/Redo
This feature allows you to default changed items to the real or original download state. With this feature, you can also undo/redo your last actions on the Microsoft advertising editor.
– Recommendations
Microsoft is testing several types of AI-powered recommendations in editor. The recommendations such as adding new keywords, fix campaigns that are limited by budget, set estimated mainline ads, fix ad groups that don't have any keywords, and fix groups that don't have any ads. However, these are not enough more recommendations will pop-up with a light-bulb icon over time.
Wondering why you should use Microsoft advertising editor?
There are many pretty good reasons to use this editor for your ad marketing campaign. These reasons are:
Allows you to start quickly to transfer your account data with Google import directly into Editor.
You can create campaigns, edit ads in bulk, and manage millions of keywords at once. Additionally, efficiently handle URLs, ad copy, budgets, bids, targeting, and ad extensions.
Editor makes your work easy and faster as you can sync campaigns and accounts, make changes or addition offline, and then upload your revisions with one click.
Discover new keywords and bids using the redesigned editor and easily add them to your campaigns.
Now you're allowed to manage multiple accounts at the same time, copy and paste from one account to another. Also, perform multiple Google Import simultaneously.
Final Takeaway!
Finally, let me tell you guys that the purpose of Microsoft to update its Advertising editor is to make it more user-friendly and enhance user's experience. You will still feel familiar with the editor like the previous one but yes with the new advanced features, you will like it more. Now you can make your advertising campaign a more interesting and eye-catching one. Above I have discussed everything about the new Microsoft redesigned advertisement editor, its new features and why you should use it.
I hope, this article was enough informative and helpful for you. Kindly comment below to let us know how you find this article. For more information get in touch with us.
---