What is ADA compliance for your website?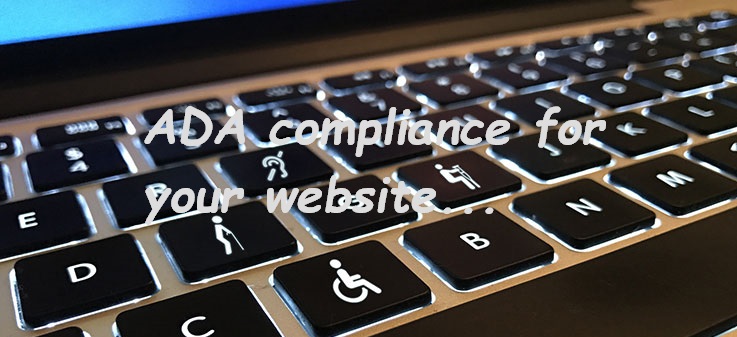 The best thing about having a website is a global reach. As your website goes live, you will want everyone to visit it. But it will not happen in a jiffy, because your website will take time to reach out to the audience worldwide. Here accessibility plays a vital role. If your website is accessible to all users (visual and disable) then you're renowned name in the market. In simple words, you need to design your website in a way that people with disabilities can also use it. How to make your website in a way that visually impaired people can also use it? Any guesses? With ADA compliance it is possible folks.
Wanna know what ADA compliance is? Let's read it in a detail.
What exactly the ADA compliance is?
ADA stands for Americans with Disabilities Act (1990). It is a regulation act ensuring the rights of people with disabilities. This act gives the full right to disabled people and makes sure that no digital property discriminates against people with disabilities.
According to ADA, "no individual shall be discriminated against on the basis of disability in the full and equal enjoyment of goods, services, facilities, privileges, advantages, or accommodations of any place of public accommodation".
The ADA low applies to:
Transportation
Public and private spaces
Telecommunication
Building codes
State and local government
Why your website should be ADA compliance? Read below 
There are many reasons that justify ADA should be there in your website. Let's read it below.
#You legally need to be compliant
ADA compliance is a rule that applies to every website. You must adopt the rules so that visually impaired people can also use it. In case, if your site is not ADA compliant, you are breaking the law and are at risk of civil class action lawsuits. Therefore, it's legal to have an ADA complaint about your site.
#Customers with disabilities
In the USA, 25 million people are visually impaired. 1 in 8 people in the USA has a hearing impairment. The total is 30 million people. It simply means if you are not able to make your website accessible to these people then you'll surely stay behind in the online market competition.
#Risk of losing local, municipal, federal government organization
If you don't abide by ADA compliance, you might lose new businesses from government entities and conscious procurement departments across the United States. As ADA compliance is a government action, you must follow it otherwise you will lose many new and profitable businesses.
Let's now learn some of the benefits of ADA compliance
ADA compliance is worth incorporating in your website. Let's see what some possible advantages of it are.
#ADA compliance enhances your SEO performance
The most crucial part of any website is SEO. Search engines crawl your website pages with more human intention. Therefore, if your website meets the web content accessibility guidelines, it will surely appear to users, search engines, and screen readers. All of this will ultimately improve your SEO endeavors.
#Helps you increase your target audience
Wanna increase your website traffic? Then apply ADA compliance on your website. In the USA, 50 million people are disabled. It means 19% of this country has a disability. Many people might be interested in your product, but if they're not able to access your site or navigate it then you'll lose out a large number of people.
#Your overall website visibility gets better
If you make your website accessible to all the people including visually impaired then your website visibility will increase a lot. You just need to make your website pages easier to read and comprehend. If you do so, your website will likely convert more people into perspective leads. With this approach, users will easily find the content they need.
#Helps in building your reputation
ADA compliance increases the website accessibility that fetches you more people to your website. Furthermore, the customers you will get to your site will also know how valuable they are to your business. You need to ensure that your customers are happy after visiting your website.
Over to you
Finally, the bottom line says here is that you must implement ADA compliance on your website. It makes your website easily accessible to people who are visually impaired. Not only you allowing people to access your site, but also you are building your reputation in the market. So make sure you abide by ADA rules and make your website accessible worldwide.
For more informative articles subscribe our website, till then keep reading and keep sharing.
---