What are the differences in Bing SEO and Google SEO?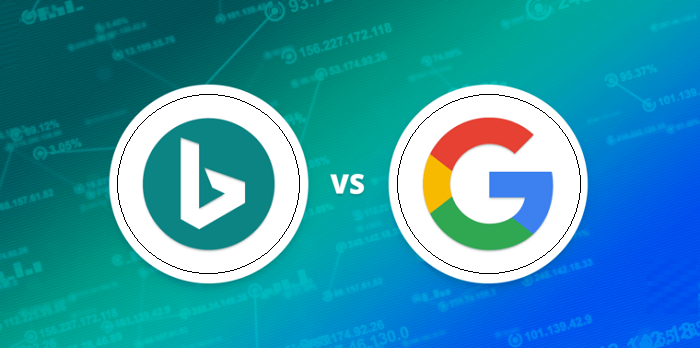 One of the most undenying facts is that Google is the most used search engine giant in the internet world. And marketers have easily forgotten the other search engines or contenders of Google. Google might be the dominating search engine in the web space, but there is one more search engine which isn't so far behind and it is Bing. Bing is also a search engine and a competitor of Google so if it's not a part of your SEO strategy, then it simply means you're surely missing out some of the important tactics of digital marketing. Anyway, you no need to get confused between these two search engines SEO.
In this article, I will walk you through the key differences between Google SEO and Bing SEO. So before you optimize your site for Bing or Google, make sure you understand the key difference between these two search engines.
Below given list highlights the major difference between Google SEO and Bing SEO.
1. Handling of keywords 
Keywords are one of the biggest differences between Google SEO and Bing SEO. Both of the search engines handle keywords differently. First if I talk about Google, then Google doesn't pay specific attention to keywords as it just understand the content behind every search query. However, Bing SEO pays more attention to targeted keywords and text on the page. Thereby, you get better ranking on Bing SEO with targeted keywords when compared to Google.
2. Meta-keywords
Meta keywords are the additional copy of included in HTML of your website. In 2009, Google announced that it will no longer consider meta-keywords to rank search results. So Meta keyword tag isn't a ranking signal in Google. On the other hand, for Bing, Meta keywords make a huge impact on search ranking. That's why Meta keywords have huge impact on Bing results.
3. Backlinks: Quality vs. Quantity
Both Google and Bing value the backlinks but when it comes to Google, backlinks matter a lot. Google gives more priority to high quality backlinks and might penalize your site if you try to build artificial link to rank your site. In case of Bing, quantity and quality both can be considered at the same time. However, Bing gives special preference to backlinks from domains like .edu, .org, and .gov.
4. Social media platform
Bing has clearly stated that social signals or media platforms play a great role in ranking a website. Social media is a key ranking factor for Bing, search results will display your Twitter followers, Facebook's friend rating of different business. Whereas Google doesn't give priority to social media and ranks are not affected by it. Anyway, having a better social media profile adds glory to the business.
5. Importance of Video, Image, and other content
Google ranks the site based on the quality content produced means Google is a bit text loving when it comes to ranking a website. The more quality content you on your website, the more Google favours your website. On the other hand, Bing prefers to understand video, images content rather than text content only. The more images and videos you content has, the more Bing will favour your website.
The final verdict!
Lastly, I just want to say that it is very important for you to understand the difference between these two search engines to get your site or page ranked on it. There is no doubt that Google still dominates the web space but you can always make a choice to try new one as you have already read above that Bing wins the race when compared with Google. Though it's completely subjective choice yet I believe Bing SEO search engine is more worth using.
For more interesting articles get in touch with us till then keep reading.
---